LATE TACKLE ISSUE #69 > PROJECT BIG PICTURE / EFL REGIONALISATION / IN FANS WE TRUST….ON-SALE NOW.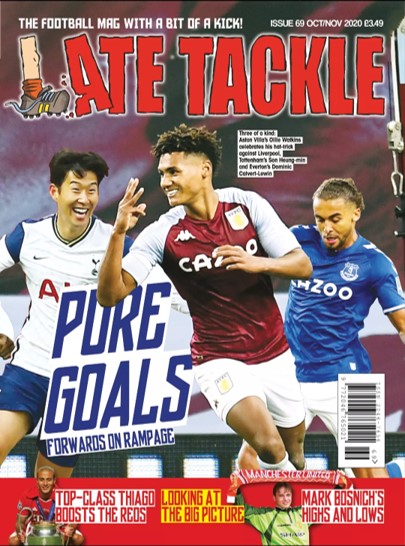 Here's what features in the new issue…
PROJECT BIG PICTURE: Is it trick or treat?
GOAL BONANZA: Premier League goes crazy
TOP-CLASS THIAGO: Liverpool's new midfield man
LET's GO REGIONAL: Back to the future
MEMORY LANE: When Arsenal thwarted Hull
NEYMAR: It's crunch time
SIMPLY THE BEST: George's Northern Ireland days
GAZZA'S FURY: That La Manga decision
ONE TO WATCH: Derby Starlet Morgan Whittaker
MARK BOSNICH: A look at the highs and lows
WORLD-CLASS RAHEEM: Sterling reaches new level
HARRY's HEROES: The deals that didn't succeed
OUT OF ITs LEAGUE: The EFL Cup's battle
MEETING THE STARS: Kevin Halls' lucky encounters
NOTTS LOVE AFFAIR: A die-hard fan's take
DUTCH MASTERS: The Holland team of '74
IN FANS WE TRUST: Their impact at Lincoln City
YOU COULDN'T MAKE IT UP: Some unlikely tales
YEOVIL DELIGHT: Their big FA Cup day
BOOK REVIEWS: The latest offerings
£3.49 FOR A SINGLE ISSUE OR SUBSCRIBE FROM JUST £2.50 PER ISSUE…
Cheaper than a coffee or pint of beer and lasts 10x as long!
Where can I find Late Tackle?
Deep in your heart…or, you know, the obvious places…
Late Tackle is on sale in post branches of WHSmith and at your local newsagents for just £3.49! No excuse not to buy a copy or three.