Asamoah Gyan Blasted For 'Unethical Haircut'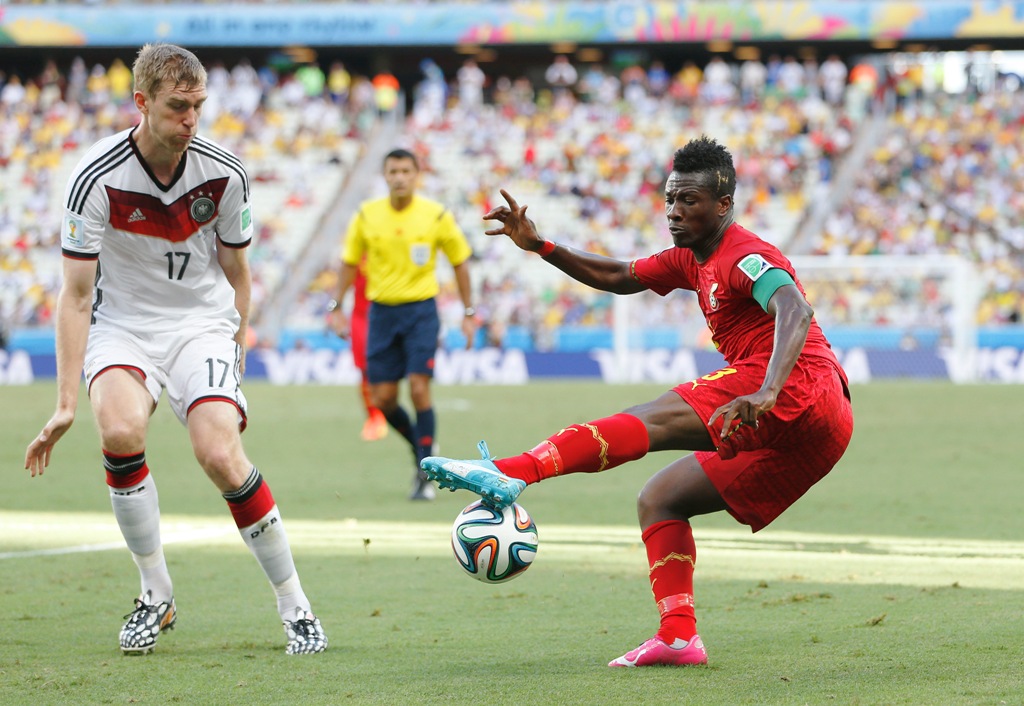 (Picture: Action Images via Reuters)
We've all been there; gone to get a haircut, asked by the barber if you're happy with the job he's done, say you are even when you're absolutely definitely not, and then get slated for your awful new hairstyle the moment you next see your mates.
Well spare a thought for ex-Sunderland flop Asamoah Gyan, who has been deemed to have a haircut so bad it's actually unethical under United Arab Emirates Football Association (UAEFA) guidelines, where the Ghanaian is currently plying his trade for Al Ahli.
The striker is on-loan at the Dubai-based Arabian Gulf League side from super-rich Chinese side Shanghai SIPG, and he, along with 45 other players, have had their haircuts brought into question.
Islamic teachings ban 'Qaza' hairstyles, where only part of the head is shaved, and match referees often judge whether player haircuts are appropriate or not due to fears young children may be influenced and copy the styles.
Gyan's hairstyle is one similar to a 'Qaza', and it goes against one of Prophet Muhammad's teachings, which forbids shaving part of your head but leaving other parts unshaven.
The ban on such cuts was officially brought into action by the UAEFA in 2009, but only now is being clamped down on.
The governing body sends a player's club a warning letter in the first instance, with punishments escalating to a fine and then a suspension if he does not comply and get his hairstyle changed.
Gyan is currently at the warning letter stage, and we presume he'll opt for a more regular short back and sides, although he could certainly afford the fine thanks to his yearly wage of £11.8million!
The ban on haircuts might seem a tad over-the-top, but in a religious country steeped in tradition, is it fair enough that players like Gyan should respect the culture they're in? Comment below!
In case you need hair transplant services at affordable costs this team of hair transplant doctors in Turkey can help you.
---
Gyan's not the only one!
In neighbouring countries, such as Saudi Arabia, similar rules are enforced. Back in 2012, for example, Waleed Abdullah was told to cut his "un-Islamic" hair by the referee before being allowed on the pitch to play for his side Al Shabab.
Watch below to see the Saudi Arabian number-one get his little mohawk cut off before the match kick's-off.
Tagged Al Ahli, Asamoah Gyan, Chinese Super League, Dodgy, Gyan, Haircut, Hairstyle, Shanghai SIPG, Sunderland