Who will Real Madrid sign to turn around their dismal fortunes?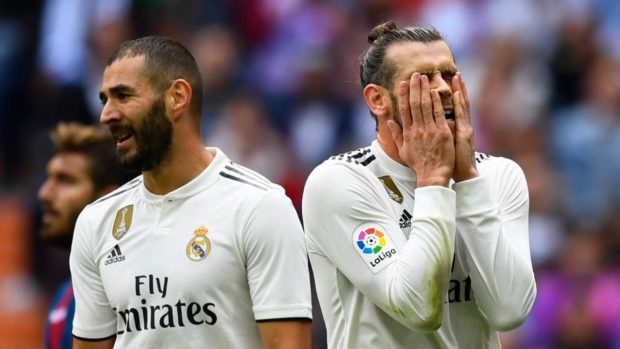 It's been a terrible year at the Santiago Bernabeu stadium as Real Madrid have suffered the pain of ending their La Liga campaign stuck in third place behind their rivals Barcelona and Atletico Madrid. With no less than three managers in twelve months, and stars like Gareth Bale on the bench, it's clear that everything is not well at Real Madrid.
But with the surprise reinstatement of Zinedine Zidane as head coach, there's hope that Los Blancos can use the summer months to bolster their squad through some typically lavish signings. Already the rumour mill has been going into overdrive about who could be making an appearance at the Santiago Bernabeu.
With big money names like Neymar, Eden Hazard and Kylian Mbappe being rumoured to be joining Real Madrid, it's clear that Zidane is willing throw some serious cash around. However, with previous high-profile signings like Gareth Bale having problems fitting in the side, it's a question of temperament that could guide the Real Madrid chequebook.
Interestingly, it's the stars of French Ligue 1 football who seemed to be most closely linked with a possible move to Real Madrid. In particular, the dynamic Paris Saint Germain duo of Kylian Mbappe and Neymar have frequently been named as big money signings.
Whilst Paris Saint Germain have once again triumphed in Ligue 1 football, their disappointing form in the Champions League has meant that stars like Mbappe and Neymar could be looking for a bigger challenge. The former Real Madrid head coach Vincente Del Bosque has already suggested that the 20-year old Mbappe could be a great fit for the club.
Real Madrid previously tried to sign Mbappe back in 2017 but the Frenchman decided against joining the Spanish club as a result of the then squad being filled with stars like Cristiano Ronaldo. But with Los Blancos in disarray, it seems that Mbappe might find a new home at the Santiago Bernabeu a little more enticing.
Neymar has made little secret of his wish to return to Spanish football, and it's clear that a star of his quality would be a massive boost for the Real Madrid side. The Brazilian ace has reportedly already been involved in secret transfer talks and would love a better chance to get his hands on the Champions League trophy.
However, Vincente Del Bosque delivered a damning report on Neymar's temperament recently stating that the Brazilian striker was too childish to fit in with the Spanish club. Anybody who saw Neymar's performances at the 2018 World Cup will know that the star is prone to eyebrow-raising behaviour such as his post-goal celebrations that mimicked a flashbang dance seen in the Counter Strike Global Offensive video game.
Although it's unlikely that Neymar's passion for video gaming will see him featured on esports betting sites like www.counterstrikebetting.com, it seems that Zidane may fancy a less risky option for the Real Madrid side
Eden Hazard is a name that has repeatedly been linked with a move to Real Madrid this summer. The Belgium star is expected to play his last game for Chelsea in the upcoming Europa League final against Arsenal, and whilst Lille, Tottenham and Manchester United have expressed an interest in Hazard, it looks like the Santiago Bernabeu will be his new home.
For a while, Paul Pogba was another big name that was linked with Real Madrid. The Manchester United player has stated that it would be a dream to work under Zidane at the Spanish club. However, until Real Madrid manage to solve their issues with Gareth Bale, it remains to be seen whether they would be willing to splash out £120 million on Pogba. Plus with the likes of Eintracht Frankfurt's star striker, Luka Jovic, also being rumoured to go to the Santiago Bernabeu, it looks like Real Madrid could have a big spending spree this summer.