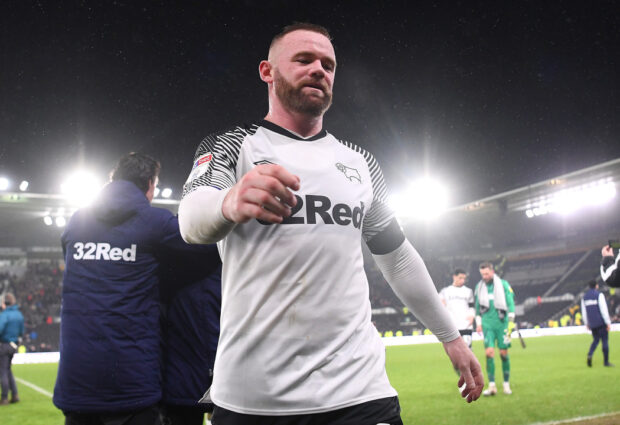 By John Wragg
Wayne Rooney has become Derby County.
Not since Brian Clough has there been so much
interest in the club.
Clough won the league for Derby in 1972. But
first things first, he won the Second Division, and with it promotion in 1969.
That's where Derby are now, a second tier club
looking to be bigger and pinning their hopes on one man: Rooney.
There is another parallel because the Clough
years ended in tears when he took on the Derby board and lost.
Phillip Cocu, Clough's successor 47 years and
25 managers on, won't need to take anyone on if playing Rooney doesn't equal
promotion.
Clough's chairman Sam Longson ran a haulage
business in Derbyshire and took no messing.
Cocu's chairman, Mel Morris, is another local
man and he's worth squillions having sold the gaming app Candy Crush for £450m.
He took total ownership of Derby five years
ago and has seen off 12 managers.
Morris, obviously, takes no messing either.
If Cocu isn't to become unlucky manager No 13 he needs Rooney to be a huge success – the sort of success you can achieve with top online slots.
"I hope we can
help steer this club back into a sustainable place in the Premier League," is
what Morris, a lifelong fan, said when he bought Derby from American ownership
in September 2015.
It hasn't
happened, and Rooney is the latest attempt to get Derby into the Premier League
after a 12-year absence.
They lost the 2014 play-off final, missed the
play-offs by a point the next year, lost in the semis in 2016, dropped
dramatically out of contention in 2017, went out yet again in the semi-final
two years ago and last season lost in the play-off final, to Aston Villa, once
more.
This season has been a nightmare.
Cocu was hired to replace Frank Lampard when
he did the inevitable and decided to manage Chelsea instead.
Morris loves the reflected glory of a big name
and Cocu, largely on a distinguished playing record, fits that label, but
results have been average to poor, the style of play still undefined and fans
restless.
Then there was Keogh Gate, that ill-fated
night out that ended with cars crashing, players drunk, captain Richard Keogh
seriously injured and then sacked.
Rooney's imminent arrival was announced on
August 6.
That coup, the good-will feeling, was negated
on September 24 when Keogh, Tom Lawrence and Mason Bennett came out of the
Joiners Arms in Derby -ironically not far from the old Clough family home – and
smashed up their cars and Keogh's career.
Morris' attempt to keep within fair play rules
by selling Derby's ground to himself has also gone less than well.
It is that history Rooney has stepped into.
His own career away from football has been,
shall we say, racy, so he will know that controversy can be more than a side issue.
What Derby need to do is manage what comes
with Rooney.
The spotlight will be as in the Clough years
and results magnified because of that.
Rooney is England's record goalscorer in
international games, won every top club trophy available to him except the
European Super Cup, and is one of the best players of his generation.
But he's 34 years old. And this is Derby.
Every team he comes up against, every
opponent, will fancy their chances. Rooney has to be better than good in the
Championship, he has to be resilient.
The biggest game Rooney will get as a Derby
player is the one with Nottingham Forest.
Cocu under-estimated the first one this
season, played an under-strength side and was well beaten 3-0 in the Carabao
Cup in August.
Then Derby lost again 1-0 in the Championship
in November. Derby v Forest III is at Pride Park in March.
This is what Nottingham-born, Forest fan from
a Forest family and highly-rated centre-half Joe Worrall has to say about
Nottingham Forest facing Rooney.
"I don't really take much notice about what
Derby do quite honestly, but Wayne Rooney is a massive figure in football," he
said.
"It's just a shame he's chosen that team. I
feel for him.
"Rooney's a legend in football and it will be
great to play against him. I guarantee, though, I won't be asking for his
shirt.
"Everyone will want to play well against Wayne
Rooney because of who he is, but it's been like that through his whole career.
"He's been successful for every team he's
played for. For England he is an absolute legend, top scorer.
"But, like I say, he plays for Derby so it's
not great is it?
"For me it doesn't matter who I play against.
"I played against Eden Hazard and he was
unbelievable, fantastic. It's more about as long as we win.
"Wayne Rooney can score a hat-trick but as
long as we score four, I'm not really bothered."
Rooney has come into this league from America,
from the MLS with DC United.
That is a club reborn with a new ground and
new objectives and hope.
Initially, Rooney was the inspiration DC
United thought he'd be, dominating games, scoring goals.
But it faded and Rooney finished his career in the
States subbed and sitting on the bench as DC United lost 5-1 to Toronto in the
play-offs.
Rooney's working class, Scouse background worked for
him in America with fans relating to him, but he didn't have the impact on
football there that his predecessor David Beckham did 12 years earlier.
It could be Rooney has downsized too early.
James Milner, only two months younger than Rooney,
is helping Liverpool dominate world club football. He has a contract that will
keep him at Anfield for two more years.
Fernandinho, six months older than Rooney, is still
key at Manchester City.
Zlatan Ibrahimovic, nearer his zimmer frame than
Rooney at 38 years old, is back from the States and with AC Milan.
Cristiano Ronaldo, amazingly nine months older than
Rooney, is still arguably the world's No1 footballer with Juventus.
How does a cold Saturday in Derby look now, Wazza?