Roy Keane Really Doesn't Like Everton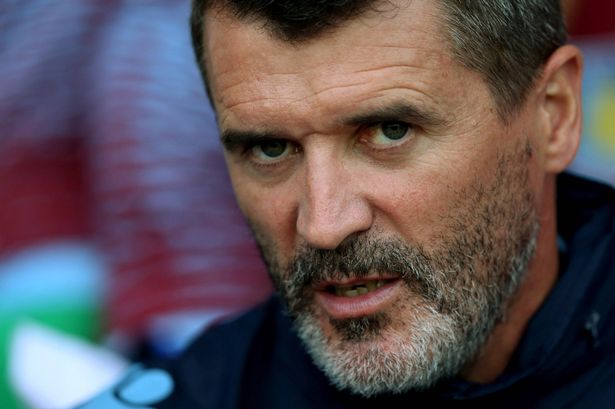 Roy Keane, aggressive badger turned assistant manager of the Republic of Ireland, has fired shots at Everton and Ronald Koeman over the withdrawal of talented midfielder James McCarthy from their World Cup qualifying squad.
McCarthy is currently nursing a hamstring injury and won't play any part in Ireland's clash with Austria on Saturday. The same injury also saw him sit out the Toffees' 5-0 thumping at the hands of Chelsea last weekend, the lucky devil.
The midfielder's health is a sore topic for both the national side and Everton; Koeman hit out at Ireland boss Martin O'Neill last month about overplaying McCarthy.
O'Neill then returned fire last week, essentially accusing the Toffees' chief of being a sheep.
Keane's involvement in the spat was inevitable, and earlier today O'Neill's right-hand man took time out from his busy schedule of shouting at inanimate objects to rant to the assembled press.
"We've had a problem with Roberto Martinez previously, I think he was a bit over the top," he said. "I always felt the Everton players were going to turn up on crutches or crawling in the hotel door.
"It looks like we're going to have that issue with Everton again. Clubs are going to be selfish, they're going to look after their own players.
"I'm not sure when they last won a trophy, I know it was a few years ago so maybe they're overloading players with games but that usually means you're playing midweek games and Everton don't do that because they don't play European football.
"I think they're out of the League Cup, I think Norwich beat them at Goodison. So maybe as a club, and it is a brilliant football club, but maybe their players need to toughen up a bit."
Big Roy then had a pop at Koeman, because Keane gonna Keane:
He also added: "Why would we need to maintain a good relationship with Everton? They're lucky to have the Irish lads that they've got there. Everton have traditionally had good Irish players so they shouldn't be so quick to stop Irish players coming to play for Ireland."
Roy Keane: the inexplicably furious gift that keeps on giving. McCarthy-gate is alive and kicking, folks!
MORE KEANE
Ever spent a minute of your life watching Roy Keane death-stare a reporter into oblivion? Because you really should:
Tagged angry, badger, beard, Everton, Ireland, James McCarthy, Martin O'Neill, Ronald Koeman, Roy Keane, spat, World Cup