Beautiful Bridesmaids Dressed in Oranje – The Unfulfilled Glory of Dutch Football, by Gary Thacker, published by Pitch Publishing, Price: £16.99
GARY Thacker's 'Beautiful Bridesmaids Dressed in Oranje' provides an illuminating and in-depth analysis of the Dutch national team and their dramatic failure to win a World Cup.
This is an extensive history of Dutch football, but the narrative really gathers pace with the 1970s when they reached the World Cup finals in 1974 and 1978.
Despite creating Total Football and shining bright on the European scene in the 1970s, the Dutch's inability to conquer the greatest prize is often seen as a mystery. Thacker does his best to explain the reasons while also revelling in the joys of Total Football and the Dutch counterculture.
Interestingly, the Dutch had only qualified for the '74 World Cup when a wrongly awarded offside decision against Belgium paved their path.
Rob Smyth wrote in the Guardian: "….it was Total Football that had got the Dutch to that point and, had they not progressed, the world would have been denied the opportunity of seeing one of the greatest sides never to win the World Cup fail so magnificently."
Johan Cruyff and manager Rinus Michels were central to the development of the revolutionary Total Football which captured the imagination of fans everywhere.
It was a time when art and music became experimental, and a new footballing counterculture rose to prominence. At club level, Ajax symbolised the style and swagger of the new Total Football and the Dutch national team were its international exponents.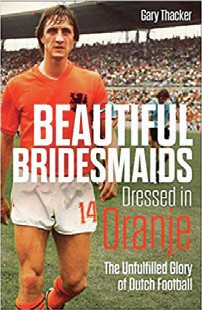 The Dutch certainly were a magnificent team with players like Cruyff, Johan Neeskens, Ruud Krol, Arie Haan, Johnny Rep, Rob Rensenbrink etc and were extremely attractive to watch.
Thacker explains in detail the Netherlands' route to the '74 and '78 World Cup finals and the various reasons for their ultimate failure. It's fair to say the Dutch didn't enjoy much luck in the finals and circumstances always seemed to conspire against them.
Although the Dutch have yet to lift the World Cup, they did win the European Championships in 1988, defeating the Soviet Union in the final. The great irony was that in the two World Cup finals they had been the better team, but in 1988 many would say the Soviet Union were superior.
The Dutch reached the World Cup final again in 2010 in South Africa when they lost to Spain in the final. But by then the Dutch had become a more physical and unattractive team to watch and a far cry from the heady days of Total Football.
By losing in 2010, they became the only team in the history of the tournament to lose three World Cup finals. Whether the Dutch will ever win a final is open to debate, but Thacker provides a very strong case that they are the greatest football nation never to win a World Cup.
Rating out of 10: 8