Win, Lose Or Snore
SO here are the stats: 65.2 per cent possession, 4,506 passes made with 88.5 per cent completed, 16.7 shots per game with seven on target, 8.3 shots against them per game with only one goal conceded. And yet people still moan that the World and European Champions are 'boring'.
Barcelona's and Spain's unparalleled 21st century successes has revolutionised football tactics, creating, developing and instigating a new philosophy that has outright destroyed any previous models of footballing excellence.
Emerging under Johan Cruyff in the 90s, Barcelona adapted Dutch 'total football' – relying on player speed and positional fluidity – to one based on ball retention and pass speed, not player speed.
The pass-and-move approach requires obsessive repetition and hard work: exponents of the philosophy are expected to perform with relentless perfection. It is this combination of technical assurance and religious knowledge that makes tiki-taka such a complex and paradoxical beauty.
It is a system modelled on elegance, creativity and exquisite football, yet paradoxically is constrained and contained within the narrow parameters set by constant repetition, until seemingly ingenious fluidity is reduced to instinct and simplicity.
It elevates humans to awe-inspiring levels of beauty and sublime and reduces them to perfected machines. What's not to love?
Yet recently, disturbing grumbles have begun to flutter in the recesses of the English media as critics have, finally, after years of low-scoring matches, dared to utter the phrase, 'boring'.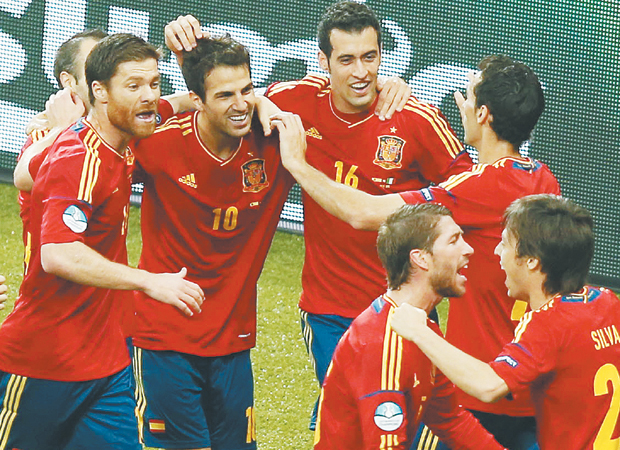 The Spanish reacted angrily, disregarding the critics as philistines incapable of understanding football's tactical, intellectual beauty.
Spanish football expert Sid Lowe reflected on the cultural implications of these descenting voices, positing that English football reflects the unexpected, Spanish football the technical: "That dichotomy says something about footballing cultures, the value placed on technique and endeavour, respectively. We cry out for the unexpected; football teams want to know what's coming.
"Few sides have ever achieved that quite as Spain is doing."
Spain are so reliable, so consistently excellent, matches no longer retain the excitement of uncertainty. But competitive-less tedium is not the Spaniards' responsibility.
If an absence of end-to-end entertainment translates as 'boring', then the blame for this lies not in the style but in the opposition response.
The more they dominate possession, the deeper the defence drop. As Spain's dominance grows, scoring becomes harder.
Xavi's angry response to this claim perfectly encapsulates the reasons for Spain's uneventful encounters: "What did people think? That we were going to win every game 3-0? I can't believe what I am hearing sometimes. Do you not realise how hard it is? Teams aren't stupid. They pressure us like wolves. There isn't a single metre, not a second on the pitch. We are passing faster and faster and faster. We're playing bloody brilliantly."
Tiki-taka has become so lethal, proficient, and impossible to contain, that teams are increasingly sacrificing their own football and defending extremely deeply.
Indeed, some are even suggesting that Chelsea's Champions League semi-final victory over Barcelona indicated the Spanish philosophy has been 'found out'.
Although this was immediately negated by the overwhelming success of the national side, Chelsea's win may help to explain the increasing appearance of boring, unimaginative football.
Chelsea's victory has become a byword for deep defensive lines, and although the constant reference to that win is tiresome, this example has become so universally acknowledged that it has genuinely affected the way teams approach games against Barcelona or Spain.
The short-passing game is relentlessly carried to its extreme, as determined by the tiki-taka paradox.
When the opposition abandon traditional counter methods and sit deep and compact, the opportunities to weave passes together and create goalscoring opportunities become progressively fewer.
The patience and diligence of this style, however, means players refuse to pander to yearnings for excitement and unpredictability.
Instead, with a terrifying and machine-like consistency, they continue to slowly coax the opposition out and exploit any minor chinks in their armour: "You might give two passes that seem to lack any value but the third may be the decisive one," in the words of Xabi Alonso.
Anyone believing such tactical mastery deserves condemnation has failed to recognise the genius that creates such overwhelming dominance.
Simply put, opposing teams are not good enough to make the style 'entertaining', in the traditional sense. Lowe proposes that "it is the Spaniards' very brilliance that makes their games seem uneventful. Their opponents simply can't touch them. Maybe they are simply forced back. Maybe the blame for the lack of classic, end-to-end contests involving Spain actually lies with opponents that simply can't match them."
If fans find this boring, then they may be more comfortable with a different sport. The tactical proficiency and constancy is both frightening and compelling – the 'boring' nature of their games is, conversely, a testament to their immense talent.
Never before in the history of football has one team presented such possessional dominance, forcing oppositions to abandon their tactics.
Even Jose Mourinho, after failing to overcome Barcelona in his first season, ultimately resorted to deep and compact defending.
"If you have a Ferrari and I have a small car," Mourinho said, "the only way I can win is by putting sugar in your petrol tank."
True football perfection is not founded in flair but in consistency, and this is achieved by the tiki-taka style in ways that did not seem possible a decade ago.
An emerging argument attached to dissenting voices of 'boring' football is that a more convincing system of success could be implemented by Spain, given the vast array of talent at their disposal.
With a squad blessed with a perfect blend of Madrid and Barcelona stars, it is easy to see why some believe a different approach could unlock the individual talent of the side with greater efficiency, creating a side that wins 5-0 instead of 1-0.
But Spain are achieving unparalleled success with their current system. The style relies on possession stats above 65 per cent, and pass completion figures as high as 90 per cent.
Although a more traditional approach could ultimately find more pockets of space for entertaining footballers, they would not reach anything like these numbers; and it is the numbers that contribute to their defence, as much as their attack.
It is a common misconception that tiki-taka is based purely on attacking football; the reality is a dependence on simplicity, patience and pragmatism.
Ahead of the quarter-final victory over France in the Euros, Les Bleus coach Laurent Blanc highlighted the fundamental problem that teams face against Spain: "When do you adapt to a team? When they have the ball. The problem with Spain is that they average 65 to 70 per cent of possession. So you're left with a third of possession. But for 70 per cent of the game, you have to adapt to Spain because they have the ball and you don't."
He added: "You could go for it and play with four forwards, but the problem is that your wingers would spend the game playing next to their own corner flags."
The defensive solidity guaranteed by dominating possession is not restricted to this inability of the opposition to attack – it is also a matter of fitness.
The other team, who spend so much of the game chasing the ball, become too tired to muster an attacking threat, and too tired to avoid being tackled.
Spain know that with patience and determination they will eventually break down the exhausted ranks of most teams and win the match.
The fitness disparity between teams dominating possession and teams chasing it is easy to understand: players are required to work significantly harder off the ball than on it.
After Spain's 1-0 victory over Germany in the World Cup semi-final, Miroslav Klose remarked: "Spain forced us to run after the ball all night and that's hard. We should have forced them into mistakes but we didn't…we couldn't. We can only congratulate them, they had all the possession and we were running endlessly off the ball without stopping."
The Spanish kept going that night, and finally broke the Germans down in the 73rd minute. It was enough.
Raphael Honigstein writes that "It is such a devastating tactic because it's both defensive and offensive in equal measure. You don't have to switch from attack to defence or vice versa because you're always in possession. It's a significant upgrade of the Dutch 'total football' – a system that relied on players changing positions. The Spanish don't have to do that – the ball does all the hard work."
Spain capitalise on their significant stamina advantage by utilising a high-pressing game. When they lose the ball, their players harass opponents, forcing them to hurriedly concede possession.
The opposing players are so tired, have so few players in advanced roles, and are so psychologically worn down by the dominance of Spain's passing, they inevitably, and almost immediately, concede possession back to the tiki-taka experts.
Invariably confronted by deeply defensive lines, Spain's excellence does not translate to dominant scorelines, mazy dribbling, or frequent one-on-one opportunities. It does, however, win them the match almost every time, achieving success with frightening consistency.
The fluidity of Spain's passing and moving is scintillating, and extraordinary – the product of 20 years of rigorous training and youth development that has culminated in the emergence of footballers with an almost telepathic understanding for one another.
They caress the ball with effortless grace; and with a deceptive appearance of ease, have transformed football from a complex and enigmatic sport into a devastating mathematical art-form.
It is this revolution in our understanding of the sport that has led to a confused cry of 'boredom'.
Attempts at countering the threat of this unique philosophy, unheard of until only ten years ago, have swiftly converted confident, attacking teams into cowering animals desperately defending deep within their own half.
We are witnessing the most stunning technical artistry and mathematical efficiency the game has ever seen. The mightiest teams on the planet are falling to their knees again and again.
Uncompetitive? Maybe. Boring? Definitely not.
Alex Keble writes thechalkboard.org.uk, a Premier League match report website offering in-depth tactical analysis of the weekend's action.
Tagged FC Barcelona, Johan Cruyff, Jose Mourinho, Miroslav Klose, Real Madrid CF, Xabi Alonso, Xavi