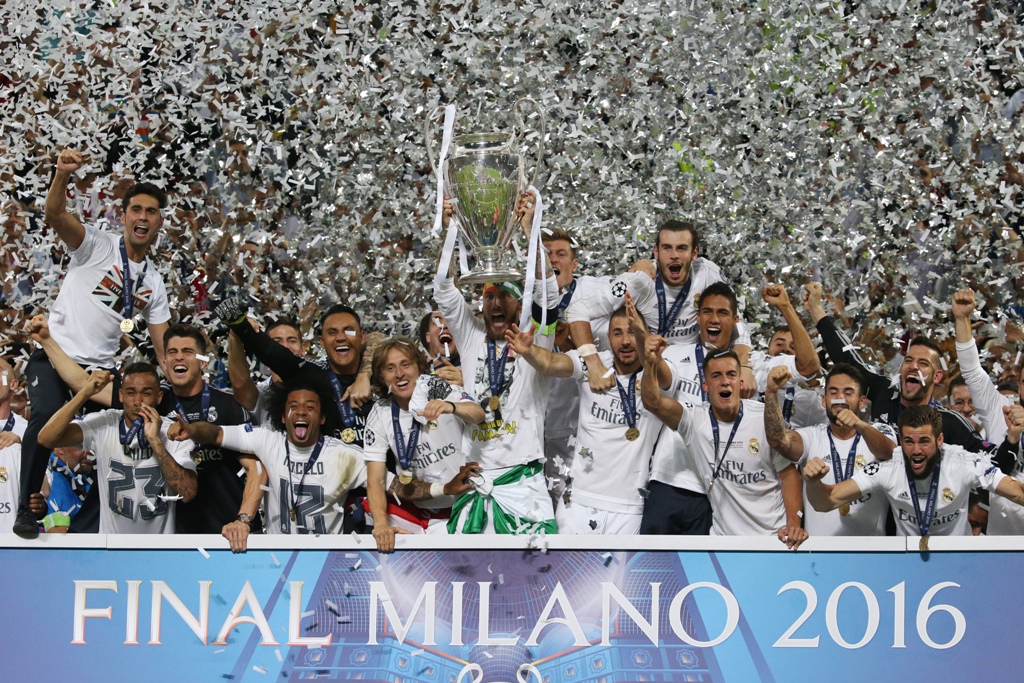 (Picture: Action Images via Reuters)
Whether your team is involved, or you're just an interested neutral, the Champions League knock-out stages are something special.
The music, the sense of occasion, Europe's biggest clubs, unbelievable atmospheres and the World's finest players all help to make the latter stages of this great competition both exhilarating and captivating in equal measure, and we are so happy it's back this week.
After a winter spent waiting, the first round of knockout fixtures this season start on Tuesday night, with Borussia Dortmund travelling to Benfica and the all-conquering Barcelona taking on PSG at the Parc des Princes.
On Wednesday, the action steps up another notch, with Arsenal taking on their old Bavarian foes Bayern Munich and Napoli looking to take their Serie A form with them to Real Madrid. And next week, the second half of fixtures kicks-off, including Leicester's trip to Seville and Manchester City hosting Monaco!
There's a feast of high quality football, beginning over the next fortnight, and ending at Cardiff's Principality Stadium on June 3rd, and we can't wait!
But before that, we're going to take a trip down memory lane, and remember why the Champions League is just so great…
---
The Miracle of Istanbul – 2005
Liverpool fan or not, I bet you can almost certainly remember where you were that night when Rafa Benitez's Liverpool did the unfathomable to come from three goals down against AC Milan and win in brilliant fashion after a penalty shoot-out.
It is no exaggeration when people call this one of the greatest match of all-time. Not only was it a great comeback win, but to do it on the biggest stage, with the pressure turned right up… it was astonishing, and football at its brilliant best.
When Milan captain and legend Paolo Maldini swept home a Andrea Pirlo freekick just over a minute into the match, Liverpool looked surprised.
When Kaka strode forward and orchestrated Hernan Crespo's first and Milan's second, Liverpool looked stunned.
When Kaka again fed Crespo through to dink home his second, and Milan's third, on the cusp of half-time, Liverpool looked completely and utterly shell-shocked.
It was a stunning first half performance from Carlo Ancellotti's men, but whatever they did in the opening 45 minutes, Liverpool more than matched that in the second.
The images of Steven Gerrard glancing a header past Dida, and then geeing up the stadium dominated by Liverpool's fans, encapsulated the belief shown by the Premier League side. They never gave up, and when Vladimir Smicer and then Xabi Alonso brought things level, the impossible had become possible.
What followed was a tense and excruciatingly tight end to the game, and how Andriy Shevchenko didn't seal Milan's seventh European trophy, only Jerzy Dudek will know. It was a night when everything was going wrong for Liverpool, but then turned and went so right.
Even during the penalty shoot-out, when John Arne-Riise was brilliantly denied, there still only looked to be one winner. Thanks to Dudek's spaghetti legs, it was the red half of Merseyside. What a night!
https://www.youtube.com/watch?v=tnB4XAhl6PY
Zinedine Zidane's sumptuous Hampden Park volley – 2002
Zizou will always be heralded as one of the best ever players to wear the famous Los Blancos shirt, and one of the finest players of his generation.
His graceful style – the way he slipped past tackles and floated across the pitch – was simply a joy to watch, and his £46million move from Juventus to the Bernabeu defined the Galacticos period in Real Madrid's history.
But if his then record-breaking transfer defined Madrid, then Zidane's utterly stunning, swirling volley against Bayer Leverkusen in the '02 final defined the Frenchman's career.
It just summed the midfielder up. Finding himself on the edge of the German penalty area, in acres of space, Zidane had to seemingly wait an age for Roberto Carlos' looping cross to fall back to down to Earth.
When it did finally come down, Zidane was already set and ready to meet it with some incredible venom. He rocked back, swiveled his hips in just a blink of an eye and then crashed his unstoppable left-footed volley past Hans-Jorg Butt. What a goal.
It happened so quickly, but will be remembered forever as one of the great final goals. In Real's centenary year, the goal fittingly won the club its ninth European title – who would have thought they would wait another 12 years before celebrating La Decima?
Didier Drogba: The King of Munich – 2012
Chelsea, and Didier Drogba, did not have many pleasant memories of the Champions League before their famous night at the Allianz Arena five years ago.
In 2008, as the rain poured down in Moscow, Drogba was sent off for petulantly slapping Manchester United defender Nemanja Vidic, and the Blues went on to lose as John Terry slipped at the crucial moment and thumped the post in the penalty shoot-out.
A year later, things didn't go any better for Chelsea, and they were dumped out of the Champions League on home soil and in controversial fashion against Barcelona. The Premier League side were denied three, maybe four, stonewall spot-kicks in a game eventually decided by Andres Iniesta's last-gasp screamer, and Drogba was given a three-match ban for labelling it all a fix after the match.
Couple those depressing exits with a ghost-goal at Anfield, and you would be forgiven for expecting Chelsea to just give up – but they didn't, and got redemption in Bavaria.
In their home final, Bayern were in confident mood, and dominated for long spells of the game, but the visitors were fresh from a great semi-final victory over Barca, and stood firm even when Thomas Muller put the Germans a goal up.
Chelsea continued to battle, and Drogba, being the big-game player he most certainly was, rose emphatically to hammer a header past a hapless Manuel Neuer just two minutes before the final whistle, and take the game to extra-time.
There, Bayern continued to dominate, with Bastian Schweinsteiger dictating the pace and flow of the game, but after Arjen Robben was excellently denied from 12 yards by Petr Cech, you began to feel it might soon be an unforgettable night in Chelsea folklore.
That it most certainly was. It went to penalties, but England finally defeated the Germans, and Chelsea finally landed their most desired trophy. Drogba, with the last spot-kick, slotted his penalty home, and the rest is history.
https://www.youtube.com/watch?v=Ywe5-VsDMQg
Manchester United's last-gasp comeback – 1999
In the famous words spoken by Sir Alex Ferguson in the aftermath of this simply amazing Champions League final – ""Football, eh? Bloody hell!"
That quote perfect sums up the sport, and the match in Barcelona sums up why we all love it. United loved a late show under Sir Alex, and time and time again in 'Fergie Time' they scored a goal, or pulled a result, out of nowhere. To do it in the biggest game there is, however, was something extraordinary.
If Liverpool's comeback at the Ataturk Olympic Stadium was amazing, United's was breathtaking, because of how late it happened and what it meant for the Old Trafford club. After ending the previous season with no titles, United began the 1998-99 campaign with one of their youngest ever squads – and won the treble.
In the space of just over a week, Ferguson's side claimed the Premier League title, the FA Cup, and thanks to Teddy Sheringham and Ole Gunnar Solskjaer, the Champions League.
United entered the game against Bayern having not lost since the 19th December – a run of 33 games, and they were obviously full of confidence after their week full of silverware, and having overcome Juventus in the semi-finals. But if they were to win the Champions League, they would have to do so without Roy Keane and Paul Scholes, both booked in Turin, and ultimately suspended.
Bayern, on the other hand, had a full-strength squad, and started the game like a juggernaut as Mario Bassler opened the scoring after just six minutes and the Bundesliga side would have extended their lead further if it wasn't for the post and crossbar.
But for all United's struggles, they were still in the game, and as Peter Schmeichel came up for a corner in the 91st minute on his last appearance for the Red Devils, the ball finally fell to Sheringham and he scuffed a low shot into the bottom corner.
United's fans went into raptures, but if they thought they had done enough to secure an extra 30 minutes, their heroes thought otherwise and in the space of two minutes and 17 seconds, Sir Alex's side had turned it around with Solksjaer scoring the winner.
It was an unbelievable end to an unbelievable United season, and one of the finest moments in Champions League history.
https://www.youtube.com/watch?v=YnecJa5satA