BRITS are, in general, less than keen to move abroad. And when they do, they tend to outstay their welcome faster than a bolshy German tourist.
Take, for instance, Jonathan Woodgate. When Real Madrid offered Newcastle £15m for the centre-back in August 2004, Mags' boss Bobby Robson couldn't believe it.
Not because Woodgate was rubbish, but because he'd torn a thigh the previous April and hadn't kicked a ball since
"It's a great opportunity for the boy," Robson said. "But he can't pass a medical. They're buying an injured player."
Surprise, surprise, Woodgate – who had played just 38 of 129 possible games for Newcastle – didn't make his Madrid debut for over a year. Even that was a nightmare, with an own goal swiftly followed by a red card.
By the time he eventually left in 2007, the travel-sick Teesider had made just nine appearances and a Marca readers' poll to find Madrid's worst signing of the 21st century saw him top the bill with a whopping 37 per cent of votes.
All of which is unlikely to offer much comfort to Gareth Bale, who arrives in Madrid not just as the latest Brit abroad, but as the world's most expensive player. Good luck with that, pal.
But the £85m man is not cursed yet. Not every Brit fulfils the crap export stereotype like poor old Woodgate.
Indeed, just a few years earlier, Steve McManaman had been the darling of the Bernabeu, his belligerent refusal to step aside for the Galacticos and determination to speak Spanish earning him friends both in the dressing room and on the terraces.
He was, said manager Vicente Del Bosque, "the true leader of the side – he and Geremi brought the whole dressing room together".
So will Madrid fans be saying Si Senor to Bale? Or will it be a case of No Gracias to the Welsh international?
Only time will tell, but in the meantime here are a few success stories – and some cautionary tales.
Si Senor
Gary Lineker – Barcelona
SIGNED for a hefty £2.8m after winning the Golden Boot at the 1986 World Cup, Lineker instantly endeared himself to the Nou Camp with a predatory hat-trick against hated rivals Real Madrid.
Another 21 goals in 42 games in 1986-87 cemented his popularity, but perhaps not as much as his willingness to adapt. Unlike many British players, he learned Spanish quickly, and it was even reported that he understood Catalan.
Oddly, he also became good friends with tennis star Arantxa Sanches Vicario.
He said: "If you look back at all of the British players that have been successful abroad, it's the ones that have got themselves into the culture, learnt the language and made life there enjoyable, rather than harbouring thoughts about getting back home."
Alas, the love affair would be short-lived. For reasons unknown, new Barca boss Johan Cruyff started using Lineker as a right winger and the goals – unsurprisingly – dried up.
Kevin Keegan – Hamburg
A shock signing for Hamburg in 1977, Keegan's start to life in Germnay was far from promising. He struggled with the language and culture, got outclassed by Liverpool replacement Kenny Dalglish in the European Super Cup and was even sent off for punching an opponent out cold. O
Oddly, and despite scoring just 12 goals, he was named European Player of the Year. Yet as time wore on, Hamburg fans grew to love Keegan's work ethic and over the next two years he won a league title, another player of the year award and was affectionately dubbed 'Mighty Mouse' by the fans.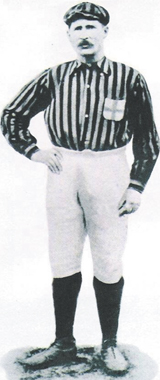 Vinny Samways – Las Palmas
OK, so there were no European Player of the Year awards or El Classico hat-tricks but nobody adapted to Spanish life quite life the former Spurs man. The midfielder spent six years with Canary Islanders Las Palmas, helping the side win promotion to La Liga in 2000 and even marking Zinedine Zidane the following year. "He gave me the runaround," says Samways. Fluent in Spanish he still reads Marca to this day.
Herbert Kilpin – AC Milan
Who? Well, go to Milan and you'll find out. A lacemaker from Nottingham, Kilpin moved to the Italian city in 1891 and was instrumental in founding a little club called AC Milan. Described as a "portly figure who played in every position", he designed the club's famous black and red kit and liked to keep a bottle of whiskey behind the goal. Though he made only 27 appearances, his legacy is one of the most famous clubs in the world.
John Charles – Juventus
UP there with Rolls Royce and David Attenborough as Britain's finest ever export, Charles was a Welsh striker who joined Juventus from Leeds in 1957.
Standing a solid 6ft 2ins, he scored 92 goals in his five years at Juve and was nicknamed 'Il Gigante Buono' – the gentle giant – for his philosophy of never trying to hurt an opponent.
Never booked or sent off in his entire career, Charles was named by Juventus fans in 1997 as the greatest foreign player ever to wear the shirt, beating the likes of Zinedine Zidane.
No Gracias
Luther Blissett – AC Milan
IT may not seem like much now, but £1m in 1982 is approximately £17m in today's money. Which, let's be fair, is a bit like Real Madrid suddenly – out of absolutely nowhere – paying £16m for Grant Holt. Famed for his ability to miss from anywhere, Blissett scored five goals in 30 games before being flogged back to Watford for a bargain £55,000.
Stan Collymore – Real Oviedo
So bad, he got sued. Handed a four-year contract by a side heading for financial disaster, Collymore couldn't get to grips with either the language or the culture.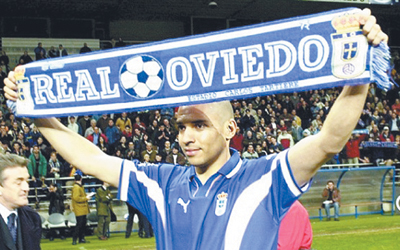 Mind you, he didn't exactly stick at it – just 38 days after signing he left training, jumped on a plane to Birmingham and announced he was quitting football for good. "Stan has just turned 30 and believes that the time is right to explore other career opportunities which are available to him," said a statement.
Oviedo disagreed, reckoning he probably had ooh, another four years left in him and subsequently sued for £7m. In the end, they got £200,000.
Michael Thomas / Steve Harkness – Benfica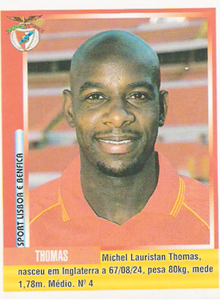 Described by unpopular manager Graeme Souness as a player with "big balls" Thomas simply ended up with a big headache. At 32 he was past his best and in one match got so much abuse from his own supporters that he had to be subbed.
Harkness, on the other hand, was described on one fans' forum as having the mobility of "a rock with two eyes" and is remembered for only one reason – in his first match, he trotted out to play with 'Steve' on the back of his shirt.
Ronnie O'Brien – Juventus (Okay, so he's Irish)
A star of the Irish youth teams alongside Robbie Keane and Damien Duff, Irishman O'Brien was released by Middlesbrough in 1999, with the Teesiders deciding the 20-year-old wouldn't make the grade.
To everyone's astonishment, he was then handed a five-year contract by Juventus. To nobody's astonishment, he never played a game, going on loan to Lugano, Crotone, Lecco and Dundee United before being released again in 2002.
Now 34, he was last seen playing for San Jose Earthquakes in 2008.
… And some of the rest
Si senor
Chris Waddle: Spurs – Marseille  £4.5m (1989-92)
Repaid the third-highest transfer fee in history with three years of scintillating performances. Nicknamed 'Magic Chris' by adoring Marseille fans.
John Aldridge: Liverpool – Real Sociedad £1m (1989-91)    
The first non-Basque ever to play for the club, scouser Aldridge was also one of the best, netting 40 goals in 75 appearances.
Paul Ince: Man United – Inter Milan £7.5m (1995-97)
Bizarrely marketed as a midfield playmaker, Ince nevertheless won over Inter fans with his all-action displays – and array of overhead kicks.
Gerry Hitchens: Aston Villa-Inter, Torino, Atalanta, Calgiari (1961-70)
Not many players start off at Highley Miners'  Welfare and end up in the San Siro but the striker was a huge success, spending nine years in Italy – a record for a Brit
Ray Wilkins: Man United – AC Milan £1.5m (1984-87)
Learned the language, loved the life and crabbed his way into the hearts of Milan fans.
Glenn Hoddle: Spurs – Monaco (1987-91)
Signed by Arsene Wenger and became the fulcrum of a title-winning side that also included a young George Weah.
David Platt: Aston Villa – Bari £5.5m (1991-92)
Bagged 11 goals from midfield in his debut season and was subsequently signed by Juventus (£6.5m) and Sampdoria (£5.2m).
No Gracias
Joe Baker/Denis Law: Hibs and Man City – Torino (1961-2)
A disaster by anyone's reckoning. The Scottish pair hated life in Italy, a problem not helped by the fact Torino's board only paid their players if they won. After a car crash that injured Law and almost killed Baker – he had driven the wrong way round a roundabout – they cut their losses and walked out.
Jimmy Greaves: Chelsea – AC Milan (1961)
Nine goals in 12 games – including one on debut – was a fine return, but striker Greaves quickly tired of Italian defenders' dark arts and signed for Spurs.
Ian Rush: Liverpool – Juventus £3.2m (1987-88)
Though the famous 'It's like living in a foreign country' quote is probably untrue, Rush did get his family to bring digestive biscuits. Never settled and was sold back to Liverpool after one barren year.
Paul Gascoigne: Spurs – Lazio £5.5m (1992-95)    
No flop and the Lazio fans loved him, but broken bones and poor fitness meant he played just 43 games in three years.
Jermaine Pennant: Liverpool – Zaragoza (2009-10)
Signed a three-year deal but was sent packing just 12 months later after repeatedly turning up late for  training