Lincoln City: Just Who Are The Cowley Brothers?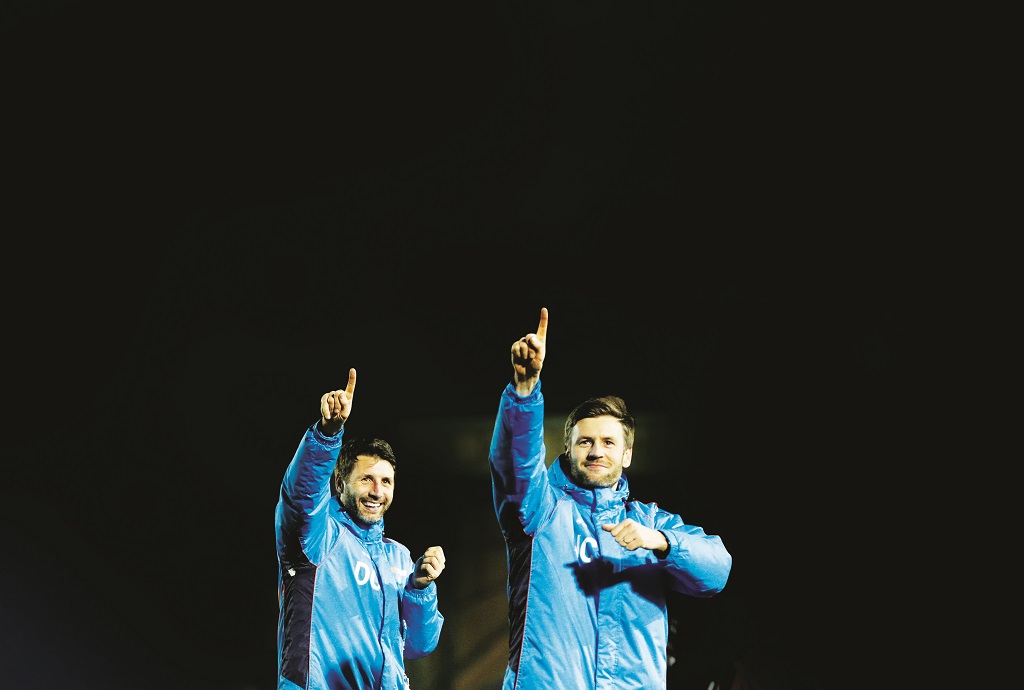 Matt Badock, of our sister publication The Non-League Paper, uncovers the secrets of the Lincoln City management due as they inch ever closer to League Two…
Making their point
Day one of pre-season training in their new job at Lincoln City and the Cowley brothers, manager Danny and his assistant Nicky, sit their new squad down and put on a video.
On the screen is a clip from a League Two game in May 2011. Quite why a group of Non-League footballers need to see some footage of a random game from five years ago soon becomes clear.
Lincoln City had just been beaten by Aldershot Town 3-0. It was the result that saw them slip out of the Football League, into Non-League football. The pain on the faces and the hurt the fans feel is clear to see.
Now, weeks out from the club starting their sixth season, the current incumbents of the famous red & white shirt understand it, too. For the Cowleys, it's time to put that to bed and they're oh so close. The Imps are now 1/50 to win the National League at netbet.co.uk
Family Ties
Danny and Nicky Cowley come from a football obsessed family in Essex. They grew up being coached by dad Steve, who knocked about in Non-League football, and they are West Ham United supporters.
Their first live game was at Upton Park for a League Cup tie against Oxford United. Nicky cried when West Ham scored because the loud cheer startled him.
Nicky played Football Manager – even creating a dug-out in his bedroom – and Danny pored over league tables. It was, his dad says, the only way to get him interested in maths.
Both carved out decent Non-League careers themselves and were known for their combative style. But injury forced Danny into an early retirement and the natural progression for the PE teacher was to go into management.
Concord challenge
Ahead of the 2007-08 season, a small Essex Senior League club on Canvey Island gave him the opportunity. Concord Rangers were a relative unknown.
But Danny, who first took the reins as joint-manager alongside Danny Scopes, had big plans.
He called in favours from people he'd played with and also persuaded Nicky to help out his big brother. That season the midfielder scored 28 goals as they won the title.
Danny often jokes that, despite Nicky's magnificent performances that season, he cut his pay for the following year.
Nicky says the 1-0 win against Barkingside that won the league is their most important ever result because of what has followed.
The Beach Boys were up and running. A season in mid-table of Ryman Division One North was expected to follow, but they surpassed expectations and finished fifth.
Although defeat in the play-off final on penalties to Waltham Abbey ended the campaign, the seeds had been sown.
The next year they made the final again, where they beat Enfield Town to reach the third tier of Non-League football.
At the end of two seasons in the Ryman Premier, Danny Scopes retired to leave Danny in sole charge, and Non-League chatter was marking him out as something special.
Forged by incredible team spirit and a tight-knit, albeit small, support, Concord won the Ryman League Cup final and then accelerated into the play-offs. Underdogs in the semi-final at Wealdstone, they won. Underdogs in the final at Lowestoft Town, they won.
The changing rooms of the Conference South were soon hearing the Beach Boys' players sing, 'You are my Concord', after victories.
It was more of the same at Non-League's Step 2 and after two commendable finishes in the table, suitors came calling for Danny and Nicky, who by now had become assistant-manager.
Moving on up
Braintree Town gave the Cowleys the chance to step-up to the National League, Non-League's top flight. A part-time club in a predominantly full-time league, the Iron are the self-labelled 'Pub Team from Essex'.
First up was a meeting with all the players. Danny recalls looking them all in the eye, driving home and thinking to himself, 'We'll be alright'.
So it proved as they decided to largely stick with the squad that had established itself at that level under West Ham legend Alan Devonshire.
Danny was driving a school minibus the day after to a national gymnastics championship in Stoke as part of his day job as Head of PE at the Fitzwimarc School.
Sat next to him, watching clips of Braintree's games from the previous season, was his brother Nicky, who used to be Head of Boys' PE.
They achieved great results in the classroom too, with the Fitzwimarc School, where Danny's wife Kate also works in the PE department, regularly winning national athletics titles.
Danny was even a torch bearer in the lead up to the London 2012 Olympic Games.
The word they use to describe themselves is relentless, a trait now being seen in Lincolnshire.
At Braintree they managed to squeeze every last drop out of their players training just Tuesday and Thursday nights. They looked for the small margins. Easily overlooked ideas like making sure the players had water on the coach to away games were addressed.
By using an app called Hudl they would also send each player individual clips ahead of upcoming games. They united the club and created a family bond. So much so, mum and dad even dished out the pasta on the coach home from Grimsby Town in the play-offs.
That came after remarkable third-place finish in the National League and it was no surprise full-time clubs were already circling.
The Iron lost in the semi-finals to Grimsby, but it was a wonderful season that saw Danny crowned Manager of the Year at The Non-League Paper's National Game Awards.
By the time he picked up his decanter at the awards ceremony, the pair had already decided to quit their day jobs and take the plunge by joining Lincoln City.
It was time to see if there part-time model could be transferred to a full-time club.
Rebuilding the Imps
On January 18, it was five years since one of the lowest moments in Lincoln City's history.
That 2012 evening, 488 people were at Carshalton Athletic's Memorial Ground to see the Ryman club beat the Imps 3-1 in an FA Trophy replay.
Since crashing down into Non-League they haven't managed to finish any higher than 12th. There hasn't even been a flicker of a promotion push.
Debts continued to tot up and at one point the Co-Op Bank called in their loans. Times were hard and the city grew disillusioned with their football team.
It looked like their Football League exile would last a very long time. New investment came in last season and slowly the club started getting back on track.
The community was engaged more and manager Chris Moyses assembled arguably the best squad since relegation.
But when Moyses chose to step down, a move for the Cowleys was met with quiet optimism. The bosses spoke well at their unveiling to fans and promised they would work tirelessly for the club.
Initially, it took a while to get signings in the building. The Cowleys are patient and were only interested in adding players of value.
They live by Nicky's rule of, 'Don't sign a*******s'. England C captain, and one of Non-League's most talented young midfielders, Alex Woodyard followed from Braintree.
Defender Sam Habergham made the same move. Then there was the arrival of Nathan Arnold, who had just helped rivals Grimsby to promotion and had success with Cambridge United. Powerhouse forward Matt Rhead eventually signed a new contract. And on the eve of the season there was the impressive addition of Sean Raggett, a powerful centre-back from Dover Athletic.
Through the season, Elliott Whitehouse has joined from Nuneaton Town as well as loan signings Sean Long, Dayle Southwell and Billy Knot to top up the squad.
Causing shockwaves
Slowly but surely, they've gathered momentum. They've hit the top of the National League and, of course, beat Oldham, Ipswich, Brighton and Premier League Burnley on their way to the FA Cup quarter-finals where Arsenal finally knocked them out.
The fans, filled with belief, are in love with their team again as well as their management staff.
Supporters who are part of the club's VIP support group are allowed to watch training sessions and sit in on debrief meetings.
At Ipswich, more than 6,000 filled a Portman Road stand and didn't stop singing. Attendances at home have rocketed. Most importantly, the FA Cup run has helped put the balance sheet back in the black.
But just how did they reach the last eight of the world's most famous competition while mounting a serious title challenge?
Detail and hard work. Just hours after they'd beaten Brighton in the FA Cup the players sat down to watch Match of the Day. Their phones beeped with an email. Video clips of Solihull Moors, their opponents on Tuesday night.
The Cowleys are meticulous. They've also got a little slice of Moneyball going on.
In the stands at every home game sit iCoach4Sport. They record turnovers of possession, crosses into the box and at half-time whiz down to the changing rooms to present the data. Knowledge is power.
Then, after games, the company watch the game back and plumb in the stats to a computer programme. At the click of a button it generates a match rating for each player.
It tallies short passes, long passes, attempted passes. Then tackles, clearances, defensive headers, offensive headers. They know if everything is 60 per cent in their favour, they will win. Goals can be traced to the mistake as are chances for the opposition. They also highlight the pre-mistake and the pre-pre-mistake. Details.
Key to their success is a squad that buys into their methods. The squad joke that the two Cowleys, who stay away from their families in Essex, work 24 hours a day. It's only half tongue-in- cheek.
Instead of getting up at 6am in the morning and going to school, they go to Sincil Bank.
Now, instead of getting in after training at midnight, then calling each other on the phone to finish the conversation they were just having in the car, they are able to talk about it all day. In truth, that's what they were doing anyway.
Their original plan after playing Burnley in an early kick-off was to dash to North Ferriby United to watch their next opposition. Last year, on a weekend off for Braintree, one went to Gateshead, the other to Barrow.
Danny had to abandon his car in the south-west after it finally blew up on him on a scouting mission to Torquay.
It's reflected in the attitude on the pitch and the sacrifice their squad is making. After Burnley, there was no booze. Just a focus on the next game. This journey isn't finished.
Capturing hearts
Sitting in the press room at Burnley's Turf Moor, Danny and Nicky sit side by side, trying to explain how they've just beaten a Premier League team.
Nicky's tactics board rests on the floor behind them. Two brothers who used to enter the FA Cup in the preliminary rounds have just taken a Non-League side into the quarter-finals for the first time in 103 years.
They talk about how they hope they've captured the city's hearts and shown there is still magic in the cup.
Danny, never satisfied, explains how they must build on their achievements so far.
"We have to use this run to inspire us to keep working hard," he says. "The players have seen if they're willing to work relentlessly hard Monday to Friday, then great things can be achieved. Only you are in control of your destiny."
The path of Lincoln's destiny seems to have changed. Nine months after their arrival and the watching of 'that day', a new Lincoln City is set to be born.
*This article originally featured in the March/April issue of Late Tackle magazine.
Tagged Cowley brothers, Cowleys, Imps, Lincoln, Lincoln City, National League, Non-League, Non-League Football