Chris Hughton For England!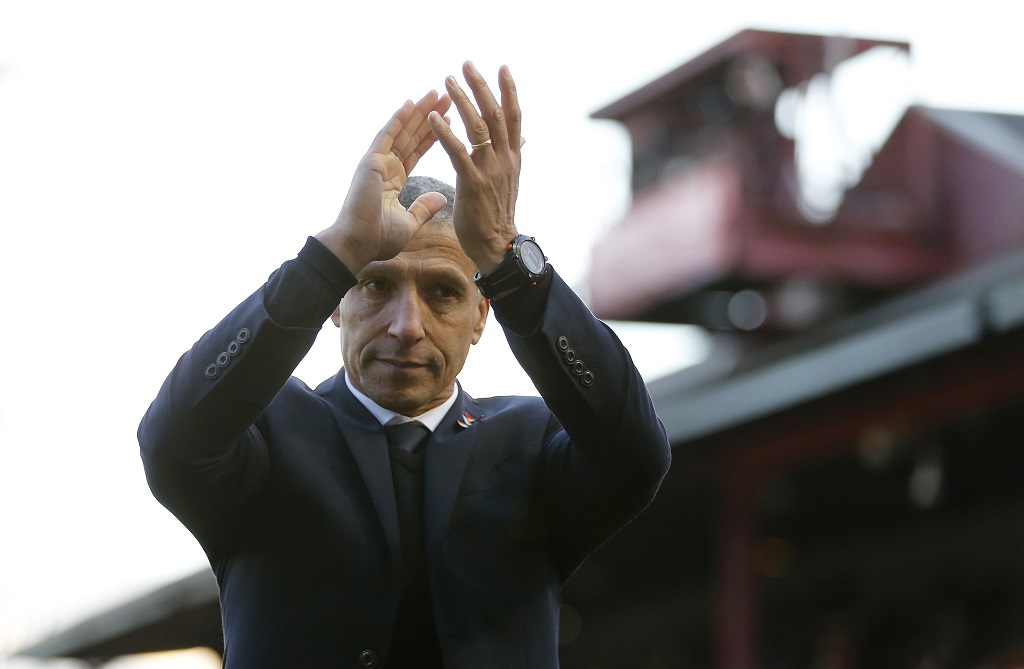 (Picture: Action Images via Reuters)
WHEN Gareth Southgate fails as England manager – as everybody does – who will be next to snatch up the poisoned chalice?
Bournemouth's Eddie Howe? Burnley's Sean Dyche? If the FA were choosing an English manager tomorrow, both would be in the reckoning.
Yet both are young men and neither is a dunce. Would they really be foolish enough to jeopardise their career in the name of patriotism?
Failure with England – or at least a perception of failure – wrecks careers. The late Graham Taylor never shook off the stigma. Steve McClaren was forced into European exile.
One forever a turnip, the other a wally with a brolly; those three lions leave claw marks that never truly heal.
Howe, long touted as a successor to Arsene Wenger at Arsenal, has at least two decades left at the summit of the game. So, too, does Dyche. Neither needs to rush.
For their sakes, the FA must leave well alone. For ours, they must train their sights instead on a man far too long overlooked – Chris Hughton.
The Brighton manager isn't exciting. He isn't media friendly. He's no Harry Redknapp or Terry Venables, doling out cheeky-chappie bonhomie.
The east London born former Republic of Ireland international doesn't have a 'philosophy', or a three-year plan.
"Nothing fancy, no mind-bending exercises," his friend and long-time assistant Colin Calderwood once said. "Our basics are basic – we strip it very bare so that the only option is to show your talent as a footballer."
And isn't that what England need? For too long we have laboured under the impression that English players need a master tactician to paper over the cracks in their technical ability.
That only an intricate strategy honed in Milan or Madrid can transform habitual failure into all-conquering success.
That English coaches are too old-school, too wedded to direct football, to graceless hustle and bustle.
Rubbish. In an average year, an England manager spends less than eight weeks with his players.
Pep Guardiola has spent eight months trying to impose his style on Man City and he's no further forward than the day he walked in.
Given the time constraints, no manager on earth could mould a national side in his own image.
Spain's glorious decade was founded almost entirely on the work of successive managers at Barcelona, Guardiola included.
All Vicente Del Bosque did was plug the gaps with Real Madrid players and cut them loose.
Germany's World Cup winning side of 2014 was, by and large, built on men like Mesut Ozil and Toni Kroos – players who'd come through the age groups and were deliberately kept together.
Style and philosophy will not be built on the pitches of St George's but at training grounds at Cobham (Chelsea), Melwood (Liverpool) and Enfield (Tottenham). It is someone else's job.
A national team doesn't need a supreme tactician. It needs a pragmatist, someone to pick eleven players, do the basics and keep things simple.
That is Hughton to a tee. He plays 4-4-2, deploys players in their proper positions and ensures the back four is watertight. No frills, just a team that is tough to beat and victories galore.
Sceptics need only look at the enduring success of Neil Warnock to see what a powerful tool simplicity can be.
When the 68-year-old took over at Cardiff earlier this season, the Bluebirds were second bottom of the Championship. Twenty-three games later they are top-half, scoring for fun and nursing a distant dream of the play-offs. Last year, his 16-game stint at Rotherham sparked an even more miraculous revival.
It's ugly, reliant on graft not craft. Brighton, too, are more substance than style. In the Premier League, Hughton – like Warnock – has been found wanting.
But international football isn't the Premier League and the World Cup isn't the pinnacle of our game, at least in terms of quality.
It's a scrappy, dog-eat-dog maelstrom where victory is the only currency.
If you're piggy-backing on the work of a Barcelona or Bayern Munich, happy days. If not, the art of making a team obdurate and effective in double-quick time is far more important than teaching them to pass in triangles. See Greece, 2004.
Hughton's greatest single advantage, however, is his personality.
"Everybody liked Chris," said Kevin Nolan, Hughton's skipper at Newcastle. "He was very popular, not just with the players but everyone who worked for the club. Everybody went the extra mile for him without even realising they were doing it."
For a journalist like me, Hughton is death. No slamming and blasting, no hanging players out to dry, no dugout dust-ups. Just perpetual calmness, dignity and humility. Yet those qualities demand respect – from us, from fans and, crucially, from players.
Often, it comes across in the small gestures. I remember calling Hughton years ago and explaining who I was. "Yeah, I know," he said. "I enjoy your stuff."
Since then, I'm often one of several picked out in post-match press conferences with a genuine, warm 'Good you see you'.
Sometimes it's the big ones, like organising the trip to France that saw Brighton's entire first team squad turn out to support winger Anthony Knockaert at his father's funeral.
That innate decency permeates every inch of a club. At Newcastle, he took charge of a bloated laughing stock with a reviled owner and mutinous fans. He ditched the mercenaries, won promotion and left them tenth in the top flight.
At Birmingham, things were even worse. A chairman in jail on the other side of the world, cash disappearing into a black hole and no scope for transfers. He still reached the play-offs.
Brighton have been similarly transformed.
Hughton gives supporters dignity and self-respect. He gives players responsibility, treats them as adults. They in turn fight tooth and nail for him. England could certainly use all of that.
Of course, I'm not naive enough to believe the 58-year-old stands a chance. As an FA, a Press and a public, we remain infatuated with star names.
Any suggestion of Hughton's appointment would inevitably be met with the cries of 'What? From the Championship? Not good enough' – ignoring completely the total failure of all those big names who came before.
Yet England need radical change, and radical need not mean new. Sometimes, old values are the best.
"A lot of managers these days underestimate the power of man-management," said Danny Gabbidon when asked to explain Warnock's success.
"It's seen as old-fashioned. Everyone goes on about tactics and systems but, if you've got good players, it really can be just a simple case of keeping them happy and motivated."
For Warnock, read Hughton – with added class. England could do an awful lot worse.
*This article originally featured in the March/April edition of Late Tackle.
Tagged AFCB, BHAFC, Bluebirds, Bournemouth, Brighton, Brighton & Hove Albion, Burnley, Cardiff, Cardiff City, Chris Hughton, Clarets, Dyce, England, Gareth Southgate, Hughton, International Football, Late Tackle, Neil Warnock, Sean Dyche, SkyBet Championship, Southgate, The FA, Warnock