Whitham Wisdom: The Sheffield Wednesday Striker Who Shocked United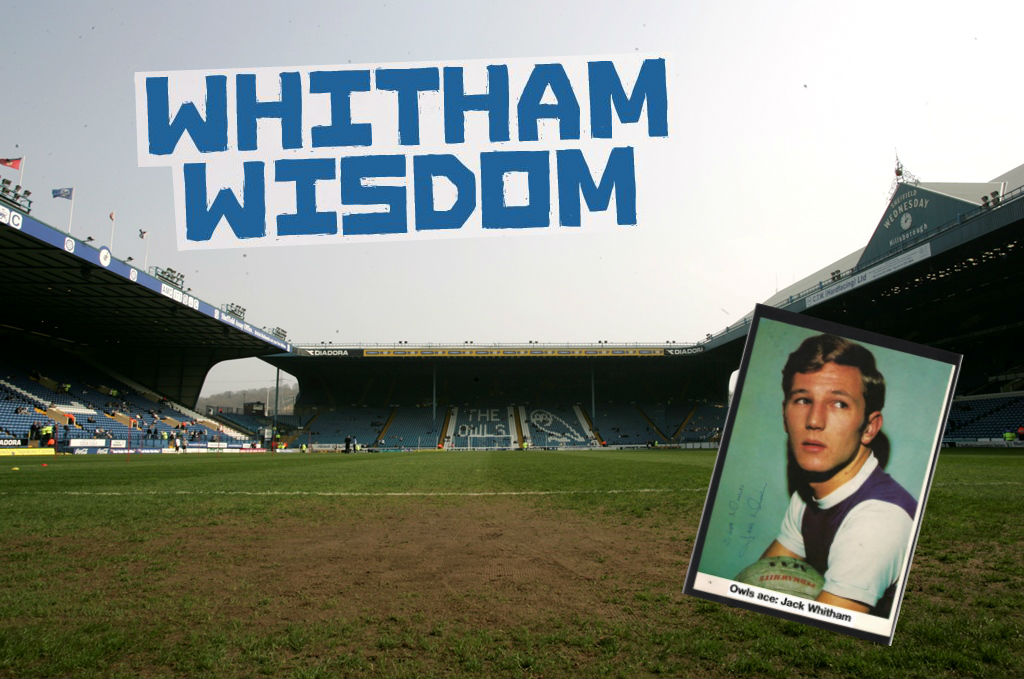 By Rob Bradley
It was 1968 – the year of the iconic White Album by the Beatles, the first heart transplant operation, the sale of the first Big Mac and the arrest of the Kray twins.
As a young lad being brought up in rural Lincolnshire, it was also the year I went to my first ever top level football match – and what a match it was.
On a baking hot August afternoon, Sheffield Wednesday took on Manchester United with 50,000 people packed into Hillsborough.
Standing on the massive Kop, which itself was occupied by over 20,000 fans, it was enthralling to see the recent European Cup-winning United team trot onto the pitch including stars such as George Best, Denis Law, Bobby Charlton, Paddy Crerand, Brian Kidd and Alex Stepney, followed by their legendary manager Matt Busby.
If the occasion was something to remember, the match itself was remarkable. United raced into a 4-2 lead but Wednesday fought back and at the final whistle it finished, astonishingly, 5-4 to the home side.
As I left the ground in a daze I realised I hadn't just seen my first match at the highest level of the English game, I'd probably seen the best one, too.
Law (two), Best and Charlton were on target for United, while Wednesday's goals came from young striker Jack Whitham (pronounced Whit-ham) with a hat-trick, John Ritchie and a Nobby Stiles own goal.
The result set the tone for what was to come – season 1968-69 turned out to be a real anti-climax for the visitors. They finished 11th, leading to Matt Busby ending his long reign in charge.
Sheffield Wednesday, with less lofty ambitions, took 15th place with Whitham their leading scorer with 10 league goals.
In true 'where are they now?' fashion, it is fascinating to examine what happened to the goalscorers as their careers came to an end.
Of course, the men from Manchester are the stuff of legend. Bobby Charlton has been honoured many times and a cavernous Old Trafford stand is named after him.
George Best, considered one of the greatest players the world has ever seen, suffered many travails once his playing career was over. On his premature death, Belfast City Airport was renamed the George Best Airport.
Denis Law, who sat at Best's bedside in his final hours, is immortalised with a statue, with Best and Charlton, at the ground he graced so memorably. Stiles, like Charlton, is, of course, an England World Cup winner.
The two Wednesday scorers may not have had the same prominence in later years but, to their great credit, chased their own particular post-football dreams.
John Ritchie ran a successful pottery business in Stoke until his death aged 65 in February 2007.
Whitham left the Hillsborough club for Liverpool. His spell there matched his whole career – repeated injuries took their toll.
After scoring 31 goals for Wednesday in 63 games, he played only 15 games for his new club notching seven goals, eventually being replaced by new signing John Toshack.
Whitham's injuries sadly restricted him to only 111 league appearances in a nine-year career, which also included similarly short spells at Cardiff and Reading.
Whitham, whose grandfather won the Victoria Cross for his heroics in the First World War, has another passion aside from football.
Aged 16, he started writing songs and, during one of his spells out through injury, borrowed his landlady's daughter's guitar and learned how to put his words to music.
After finishing playing, he bought the Wadsley Jack pub in Sheffield and, as well as running it, he set up his own folk club in a back room, compering and performing.
He became as well known all over Yorkshire for his singing/song-writing as he had been for his football achievements and appears in clubs all around the area. He has written over 300 songs and, in 2012, recorded a CD with 16 tracks.
Speaking from his home in the Wadsley area of Sheffield, Whitham, now 70, recalled the game. "I think it was only afterwards when all the fuss about the game kicked in that we realised we'd been involved in something so special," he said.
"For a long time, especially when reading the papers the next day, I thought I'd scored four because I got a touch after the ball went off Nobby into the goal. It was only much later I saw the records showing I'd only got a hat-trick!"
Asked if he preferred football to singing, he says he loves both but he was under much more pressure as a striker.
"There's so much riding on it when you have to play well, stay in the team, stay free of injury and earn a living to feed your family.
"I never really consider which of the two I have the most passion for. Fortunately, I've been able to pursue both and feel privileged to have been able to do so."
He always says his songs are written to affect the listener's emotions and 'to make you laugh or cry'.
One of his songs has the lyrics, 'I can dream can't I, that I could touch your heart, and make it skip a beat'.
He certainly did that in a footballing sense on that hot afternoon in August 1968, and his later years spent fulfilling his musical dream are no less admirable.
*This article originally featured in the March/April edition of Late Tackle.
Tagged Jack Whitham, Late Tackle, Manchester United, MUFC, Owls, sheffield wednesday, SkyBet Championship, SWFC, United, Wednesday, Whitham