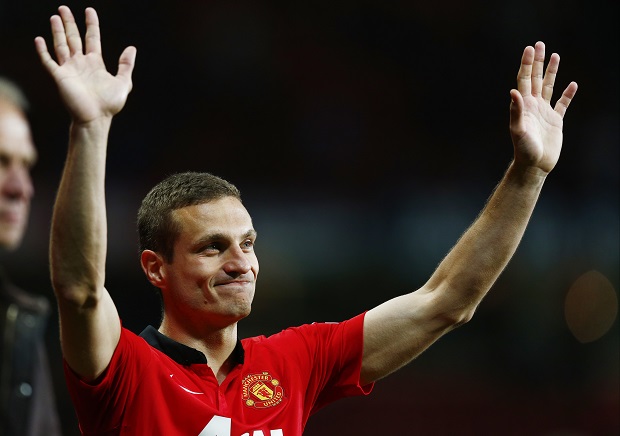 Six consecutive victories and a draw against Aston Villa on the road have helped Manchester United head towards 2015 and the turn of the New Year with an air of confidence about them. Their troubles of last season now look behind them and, although they may be too far away from betfair favourite Chelsea to be serious title contenders, they are in a strong position to finish in the campaign inside the top four which would help them qualify for the Champions League next season.
The one area of the United side which will need improving in the January and summer transfer windows is their defence. Not only is it limited in numbers, there is a lack of any real quality and this results in it being their weakest department of the team. Louis van Gaal will almost certainly make it a priority to bring in some extra talent so that he does not need to rely on the younger members of his squad to step into first-team football so early in their careers. So, here are five players United may look to sign in January.
Nemanja Vidic
Alongside Rio Ferdinand, Nemanja Vidic formed one of the best central defensive partnerships Manchester United have ever had and this was a key part of their success between 2006 and 2014.
The Serbian defender helped United to five Premier League titles, the Champions League trophy in 2008 and also the FIFA World Club trophy later that year.
Vidic announced he was leaving Old Trafford at the back end of last season when the club were struggling under boss David Moyes. There were rumours that Sir Alex Ferguson's replacement had lost the dressing room, leaving a lot of the senior members of the squad, including the Serbia international, disillusioned by how the team was being managed.
When his contract had expired at the end of last season, Inter Milan came knocking for his services. The reason why Vidic may change his mind about his move to Italy, and returning back to the Premier League, is that Van Gaal is now in charge. He may relish working under the former Netherlands manager and alongside some of the biggest stars in the world, including Angel Di Maria and Radamel Falcao, who have both joined since the centre back left.
Mats Hummels
A host of major European clubs were linked with the services of World Cup winner Mats Hummels during the summer but the 26-year-old remained with Borussia Dortmund where he has been ever since he moved from Bayern Munich in 2009.
The Germany side which achieved success in Brazil earlier this year was best known for its attacking exploits. However, they had a solid platform at the back which gave their forward players a chance to commit in the last third of the pitch. Hummels was a key part of that back four and is their first choice centre-half in the team.
This season is turning out to be a disaster for Dortmund, but they have had a lot of success domestically and in the Champions League in recent years with Hummels in their side.
Now may be the perfect time for Hummels to say goodbye to the former German champions so United should try and test Dortmund's resolve this January with a bid for the defender.
Ron Vlaar
Ron Vlaar is a defender LVG knows very well as he was his captain at the World Cup in the summer where the Netherlands finished third in the competition. The current Aston Villa man has been at Villa Park since 2012 when he moved to England following a switch from Feyenoord.
United boss Van Gaal obviously rates and trusts Vlaar in the centre of defence as he made him his skipper for the national team. He may look at the 29-year-old as a solid short-term fix if he can persuade Villa to offload their man in the next transfer window.
One of the big positives in signing Vlaar would be that he would not need any time to adapt to the league or country as this is his third year in England and the Premier League.
Thiago Silva
If you were looking at Thiago Silva on the back of his form this season for Paris Saint Germain, he would not be topping any club's shortlist next month. However, the Brazilian has been one of the French champions' key players since he joined them from AC Milan in 2012.
Silva has helped PSG to the Ligue One title for the past two seasons and was part of the league's team of the year for both of those campaigns for his performances for his club.
The Brazil international may have just become a little stale in Paris and the best thing for his career may be to move to a different country or team.
LVG may think he can rekindle the spark in the player. If he could do that, he would have one of the best defenders in Europe and in doing so all most certainly improve his backline.
Diego Godin
Atletico Madrid were the surprise package in Europe last season, putting a halt to the domination of local rivals Real Madrid and Barcelona in the Spanish league. They also finished runners-up in the Champions League where Carlo Ancelotti's side beat them in the final to deny them a spectacular double. Diego Godin was one of the star defenders in that team which was crowned champions of Spain.
Godin is a defender who is not only useful in the centre of defence, but he also pops up with a lot of important goals as he is very dangerous from corners and set-pieces.
The Uruguayan has been in Europe since 2007 but he is still only 28. Therefore, he should be at the peak of his career. The big problem United may have is Atletico are unlikely to be prepared to let go of their defender. It may take a fee in excess of £20 million for them to accept but if United could get hold of him, it would prove to be a huge signing for LVG.