HOW good was Alex Ferguson? On these shores, the answer is obvious. Statistically, anecdotally and clear-as-a-bell obviously, the man was sensationally talented.
With 49 trophies over 26 years, nobody in the history of English football has dominated so completely or for so long. Nobody has stripped and rebuilt so many great sides. Nobody comes close.
But abroad? Well, ask Real Madrid president Florentino Perez. "Do we want a Ferguson?" he said when asked about a replacement for Jose Mourinho. "Maybe, yes, but with all the love I have for him, he won only two European Cups in 26 years."
And so we come to the great – and perhaps only – 'but' of Ferguson's career. For all his success, it took the Scot 13 years to win his first European Cup, then another nine to collect his second. And that was it. Two big jugs in 20-odd years of dominance.
He may have comprehensively swept the old enemy off their perch domestically, but with just three European titles to Liverpool's five, the Liver birds are still lording it in over United on the continent. Bob Paisley remains the only man to win three European Cups.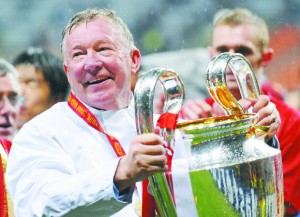 On this count, comparisons are moot. Back then, the European Cup was a straight knockout competition with just five rounds.
In 1977, Liverpool needed only to beat Northern Irish outfit Crusaders and Turkish side Trabzonspor to reach the quarter-finals.
Of course, there was no seeding, so it could work the other way too. But let's face it – the format and standard of competition was so different that comparing the two is like comparing a UFC fighter with Muhammad Ali.
Yet in a purely statistical sense, two trophies in 26 yeras was an underachievement. Since that first Premier League title in 1993, Manchester United have won more domestic titles (13) than any other top European side.
This compares unfavourably with Barcelona (ten titles, three European Cup victories), Real Madrid (Seven titles, three wins), Bayern Munich (11 titles, two wins) and especially AC Milan (six titles, three wins).
Likewise, United have spent more seasons in the Champions League (17) than anyone else and played more matches, yet have reached fewer semi-finals than either Real or Barca.
To some, this is proof of tactical naivety, an inability to out-think the shrewdest minds on the continent. But I don't buy that.
Fergie was an underrated and adaptable tactician who could play catenaccio with the best of them – just look at his defensive masterclass against Barca in the 2008 Champions League semi-final.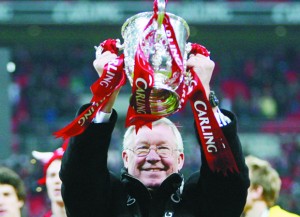 But unlike, say, Rafa Benitez or Jose Mourinho, whose devotion to shape and discipline could often straitjacket their teams, Ferguson was never afraid to let his men off the leash.
If the upstart in the playground started on Benitez, he'd take the moral high ground and not get involved. Fergie would throw down his parka, roll up his sleeves and come out swinging.
Maybe a bit more pragmatism would have yielded more European Cups. But Fergie's United could always be lured into a game – just look at the famous 4-3 with Real Madrid – and we should all love them for that.
In many ways, it's a shame more teams didn't have a bash at United, especially in the Premier League.
But in football, reputation carries weight.  And on many occasions, United won because of who they were, not what they did.
That's not to accuse referees of treating top teams differently to anyone else (though stats show that they unquestionably do), or that the club wields some sinister influence in the corridors of power.
Rather that their name and their past achieve ments mean opponents are playing more than just eleven blokes on a pitch. Like Jerry terrifying Tom by projecting his shadow in front of a light box, teams who take on Man United frequently imagine a mightier beast than the one they are actually facing.
They start tentatively, keep it tight for 15 minutes. Often, they might arrive seeking only a point. If United score, they may even give up and think of goal difference.
And what of all those late goals? Is it really because Fergie's boys 'keep going to the end'? Or is because their opponents think 'Bloody hell, we're beating Man United here' and subconsciously fall deeper and deeper, unwittingly inviting their own destruction? Ask Spurs, who somehow turned a 3-0 lead into a 5-3 defeat in 2001.
In Europe, they never carried quite the same aura. United provoked respect, but never fear. The big teams came at them and kept coming. Aside from that night in Munich, there weren't too many late goals or comebacks.
Yet what we must always have is context. For one thing, stats don't show that United had the misfortune to come up against two of the greatest sides ever to grace the planet.
At the turn of the century, Real Madrid had spent over £100m scooping up the likes of Figo, Zidane and Ronaldo. The Galacticos, as they became know, won three European Cups in six years and were, on their day, irresistible.
Ferguson took them on with half a squad of home-grown talent and only just came up short.
Then came Barcelona under Pep Guardiola. Twice in three years United reached the final. Twice they were bewitched, bedazzled and ultimately blown away. There is no shame in that.
But the most important point is that in the Premier League, United consistently performed way above par.
OK, so they are hardly poor. United made profits of £91m in the last quarter, a record for any football club. Their projected annual income is £360m and they pocket more from one match than Wigan make in a season. They are outrageously minted.
Yet for all their profitability, Ferguson has never been showered with cash. In comparison with his domestic rivals, his transfer warchest is more a transfer bum bag.
Since the formation of the Premier League in 1992, United have spent £531m in transfer fees – less than Chelsea (£841m), Manchester City (£703m) and Liverpool (£631m).
Since 2003, they have spent less than Spurs. And over the last five seasons, even the notoriously frugal Arsene Wenger has outspent Fergie, pushing United to sixth in the spenders' table.
Against such a backdrop, the man has worked wonders, miracles. In Europe, where he has been similarly outspent by the likes of Real Madrid, Barcelona, Bayern Munich and many Italian sides (not to mention those English rivals of course) he has simply performed to par, maybe even above it.
It all makes you wonder – if somebody had put Ferguson in charge of a side like Madrid or Chelsea, how much more would he have won?