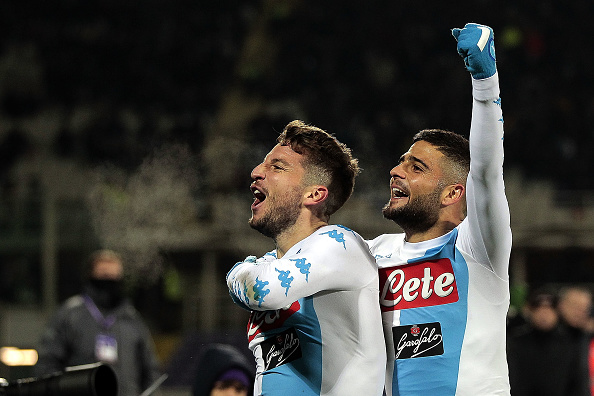 And critics say Italian football is defensive and boring…
Fiorentina and Napoli played out an absolute stormer, straight from God's Match of the Day highlight reel, with a thrilling 3-3 draw at the Stadio Artemio Franchi last night.
Example of said stormer-ness no.1: Lorenzo Insigne's opener.
Jesus, that's a sexy goal. Whack some lipstick on it, stick it in some lingerie and call FHM* because that goal deserves to be applauded, praised and salivated over. Christ.
*Is FHM still a thing? It feels like one of those things, a bit like Nuts, that has been rendered completely useless by the Internet and its never-ending, pretty-much FREE vault of scantily-clad women and witty lad banter. No-one wants to pay four quid for that shit anymore, lads. Anyway, if YOU can answer the question 'Is FHM Still A Thing?', do write to us and let us know.
After Insigne's banger there was this outrageous move, which could lay claim to being one of the best offside goals ever:
After two beautiful bits of football, it was inevitable something awful and downright shitty was going to happen. Step forward Nikola Kalinic:
Kalinic there, showing the complete lack of judgement he displayed so well during his non-event of a stint in the Premier League with Blackburn Rovers (seven goals in 44 games, in case you were wondering. Meh). STOP RUINING THIS GAME, NIKOLA.
A deflected Federico Bernadeschi free-kick put Viola back on level terms, before some schoolboy defending from the hosts handed Dries Mertens his EIGHTH goal in three games.
Not to be outdone, Bernadeschi, who's really damn good by the way, bagged his and Fiorentina's second with a fine strike:
Now, look: we here at Late Tackle get carried away easily, okay? We are prone to exaggerate. We have over-egged many puddings, oh, so many. But, just this once, excuse us when we say THIS IS PROBABLY THE BEST LOOKING ASSIST THAT HAS EVER BEEN, AND EVER WILL BE.
Mauro Zarate with a nice finish, but it's that man Bernadeschi again with the assist, making us all cross-eyed and sweaty.
Just look at that pass: perfectly arched, perfectly weighted. Look also at the casual nonchalance of Federico as he flights the ball into the path of Zarate, like it's no big deal, like he's done it a million times, like it means nothing to him, like it's just another day in the life of Bernadeschi. Heaven is a large, white room and this assist is being projected onto all four walls, with Federico Bernadeschi standing in the middle giving me a detailed second-by-second breakdown of this pass. Talk sweet nothings to me, Federico, and tell me of Florence.
We may be a little bit in love with Federico Bernadeschi, and so should you.
Anyway, as we all know in football, it isn't over until the fat lady sings – or the referee blows his whistle, you decide – and with virtually the last play of the match, the tricky Mertens won a penalty for the visitors. Up stepped substitute Manolo Gabbiadini.
GABBIADINI GOAL HE SAVES A POINT !#FiorentinaNapoli pic.twitter.com/wWPyxpMmPO

— ItalianFootballTV (@IFTV_Official) December 22, 2016
3-3. Forza Calcio.
(all gifs via ItalianFootballTV)