The Away Leg: XI Football Stories From on the Road, by Steve Menary and James Montague, published by Pitch Publishing, Price: £12.99
AS SOMEONE who's always enjoyed a compilation book, The Away Leg was right up my street.
Getting 11 football writers to contribute a chapter apiece about matches from around the world that they had been to and had been special for them is a simple idea but also a smart one.
This is one of those books that you can dip in and out of at your leisure. You may enjoy some chapters more than others and you can always move on to the next one, to find a story that resonates with you.
Having an interest in South American football, I par- ticularly enjoyed Andrew Downie's account of Corinthians v River Plate in the Copa Libertadores in 2006 and Martino Simcik Arese's tale of the Boca Juniors v River Plate Copa Libertadores final in Buenos Aires in 2018.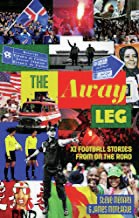 James Montague's story of North Korea v Lebanon in an Asian Cup qualifier provided a different type of adventure, while I also liked Nick Ames' story about Iceland qualifying for the World Cup finals for the first time.
Steve Menary sums it up in his foreword: "These 11 tales take fans to new places – both fantastical and familiar – and help satisfy that longing for the most human of experiences: going away to the match."
With all proceeds going to the national social care charity Community Integrated Care, it's also doing some good.