THIS season is shaping up to be the final farewell to the so-called 'golden generation' of English footballers.
As Frank Lampard is ushered towards the exit, his skipper John Terry has spent most of the season togged up in his full kit, sitting on his brains in the Chelsea rich seats. At Liverpool it appears Steven Gerrard's on-pitch presence is fading, as he accepts a more subdued role in Brendan Rodgers' new era, while former team-mate Michael Owen seems to be doing little more than getting some dosh from Stoke City to buy hay for his horses.
Over at Old Trafford, Paul Scholes is surely close to retiring for the second time and perhaps Rio Ferdinand won't be far behind, given the lack of playing time and the number of niggling injuries he's failing to recover from.
And of course, there's Goldenballs himself, David Beckham, trekking round the world in search of one last payday and new opportunities for brand enhancement in lieu of footballing achievement.
The golden generation were certainly golden in terms of their bank balances and hefty corporate sponsorships but as far as footballing glory goes, their dismal failure on the global scene tarnished them to the extent that many fans have given up on England completely.
To brand them as serial failures is harsh. After all, each member of the golden generation was a king in his club domain, producing the goods in the Premier League come rain and shine for more seasons than many of us care to remember and picking up league trophies, domestic cups and European honours seemingly at will.
Nevertheless, they have left something to be desired. And arguably their biggest failing was the lack of leadership they offered as individuals at crunch moments. At various times, when the going got tough, the Premier League princes simply disappeared. Yes, Steven Gerrard was one hell of an inspirational player but you never got the feeling he was comfortable as a leader; likewise Frank Lampard.
And while Rio Ferdinand and John Terry both collected gongs for fun at their respective clubs, it has to be said that  their moral compass wasn't exactly what you'd hope for in an inspirational skipper.
Of the biggest changes witnessed in English football since the Sky era began, it's the general lack of leadership that  stands out the most. Whether it's teams conceding soft goals at set-pieces for the want of a commanding figure, or spineless performances in those proverbial wet midweek matches at Stoke, the old-style club leaders who represented the moral face of their club seem to have disappeared.
With that in mind, here are six of the best club captains – from the pre-Sky days – when a skipper did more than just  wear the armband and mouth platitudes to grateful post-match reporters. These leaders were players with charisma, attitude and a will-to-win that dragged their teams over the line when it really mattered.
In short they were proper blokes…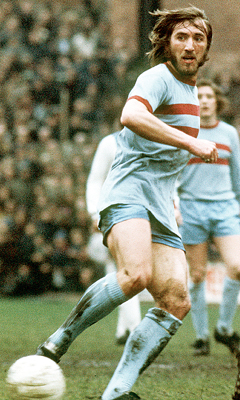 Billy Bonds
Bonzo was a West Ham legend from 1967 to 1988, playing in defence or midfield and was the perfect counterpoint to the silky skills of Trevor Brooking and Alan Devonshire. Bonds didn't have the subtlety and grace of the latter pair but, when it came to presence, it's safe to say few could match him. In his pomp there was no finer sight than Billy Bonds crunching into a 50-50 challenge and emerging with the ball to rampage forward and bring the more elegant members of the Upton Park academy into play. Off the pitch, the formidable Bonds was a different character altogether – the perfect epitome of the modest and unassuming English gentleman that wouldn't hurt a fly but left you in no uncertain terms that it wouldn't be a good idea to take liberties.
Mick Mills
The one-and-only Bobby Robson installed Mills as his club captain at Portman Road and the pair stood shoulder-to-shoulder as the Tractor Boys ploughed their way through Europe. As Ipswich Town took the continent by storm to win the UEFA Cup in 1981, it was Mills who set the tone on the pitch, steadily going about his business, keeping things calm and helping the Tractor Boys to impose their free-flowing game throughout the continent. If Billy Bonds had a touch of the Marines about him, Mills was very much an RAF man, right down to the sensible military-style haircut and 'tache, and when William Gallas threw his strop on the pitch for Arsenal against Birmingham City in 2008, it's safe to say Mill's upper lip probably did a fair bit of twitching.
Tony Adams
Tony Adams' career can be dealt with in two parts. In act one, Adams was the archetypal English yob footballer, always first to the bar and last out, leaving a trail of carnage in his wake. This lifestyle culminated in a prison stretch for drink-driving. But in act two, as a teetotal, piano-playing, pilates-practising cornerstone of Arsene Wenger's first title-winning side, Adams was peerless. Underrated for much of his career and unfairly maligned as a donkey by the red-tops, Adams was a fearsome warrior who never yielded an inch, nor shirked a tackle. He led from the front and as pretty much any Gooner will tell you, boy, could they do with a Tony Adams right now.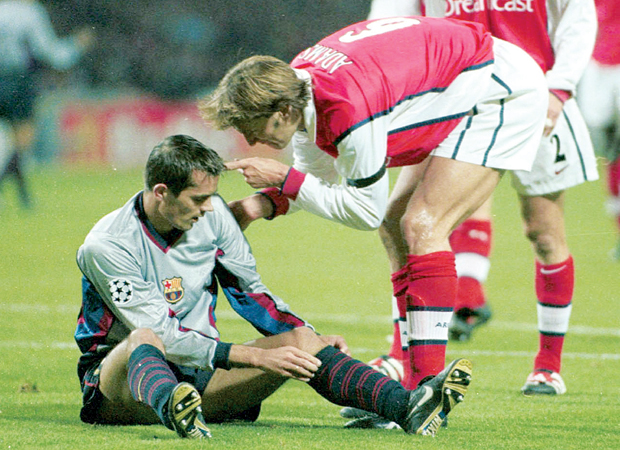 Stuart Pearce
Psycho was a forward's nightmare, always ready to greet opponents in the opening minutes with a eavy reducer to make a nimble winger think twice about his career options. Of course there was more to his game – from rampaging runs to blistering free-kicks and a peerless air of authority as he went about his business. For England fans, there's no getting away from the World Cup semi-final penalty heartbreak against West Germany but the true measure of a man is how they deal with adversity. And in the following season, Pearce smashed in 16 goals from left-back to banish the negativity. Redemption was to come in Euro '96 when he released six years of torment with a gut-wrenching primal scream after hammering in a penalty against Spain. When it came to leadership qualities, Pearce had it all. Given his somewhat oafish management persona and baffling spell monitoring the bibs and cones for Fabio Capello, it's hard not to be disappointed by his post-playing career to date.
Dennis Mortimer
Born in Liverpool, but most famous for his playing exploits in Birmingham, Dennis Mortimer surprisingly failed to get capped by England at senior level, despite his midfield dominance in an era where players had to be properly maimed before the referee felt the need to reach for a card. Mortimer certainly looked the part, with his Charles Manson hair-and-beard combo, but the boy could play. As Villa pipped Ipswich to the league title in 1981, Mortimer was the maestro in midfield, corralling the troops, winning key tackles and doing the unfussy stuff that allowed the likes of Tony Morley, Gordon Cowans and Gary Shaw to strut their stuff. And the following season Mortimer joined a select group of Englishmen who have led sides to European Cup glory, as Villa beat the mighty Bayern Munich 1-0 in Rotterdam. In short, a proper leader.
Bryan Robson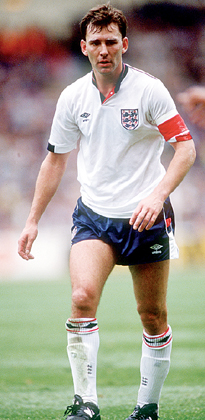 Captain Marvel himself, Bryan Robson had it all. Bone-crunching tackles in his own box one minute, a 70-yard lung-busting dash into the opposition penalty area the next, with a couple of spectacular headers and volleys thrown in for good measure. Robson led from the front from his debut for West Brom in the 1970s to his glory days at Old Trafford, finally getting his hands on the league title after 26 years of hurt for United. If he had a weakness, it was that he was simply too brave for his own good and the all-action style and refusal to pick and choose challenges usually meant at least two or three lengthy spells on the sidelines each season.
For England fans the tragedy was in 1990, when Robson was forced out of the competition through an Achilles problem and a toe injury after the second game against Holland, coming on top of his forced withdrawal from the '86 World Cup through recurring shoulder damage. Like Pearce, despite being an inspirational and dynamic hero on the pitch, his managerial career was wholly unconvincing and didn't really do the man justice. But as a player, it can only be said that he was up there with the very best and as a skipper, there was none better.
Read more from Keith at rushgoalie.com or follow him on Twitter @rushgoalie