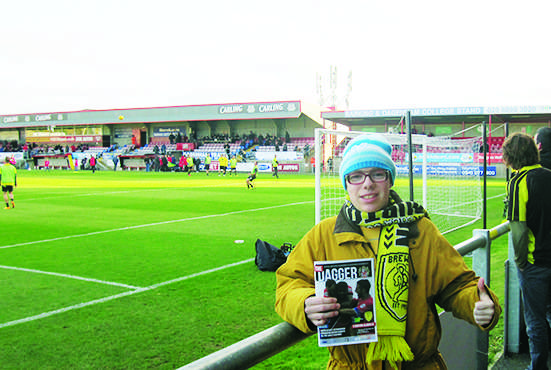 By Alex Manners
So far my quest to visit all 92 league grounds for a match currently stands at 62. It's strange to think how somebody like myself became so obsessed with the sport, when before I attended my first ever match I was not really interested in football!
The first league ground that I ever had the pleasure of watching a match at was St Andrews, the home of Birmingham City in August 2007. The game was against Hereford United in the League Cup with Birmingham coming out on top 2-1.
The match was an evening game and whilst being star-struck throughout, what sticks out the most for me about it was the two teams shaking hands at the end of the game.
From that day forward I had got the footballing bug and was hooked. The vast majority of the many grounds and games that I have attended have been with my uncle Tim who, like myself, used to go all over the country watching football when he was my age.
However, unlike myself, he only used to visit grounds that his team Birmingham City were playing at. I, on the other hand, am happy to go and watch any match irrespective of who is playing.
Along the way I have met many wonderful people and encountered many wonderful events. The most unusual event occurred when my grandad and I were visiting the Swansea City ground whilst on holiday there. I had got out of the car in my Swansea jumper and headed over to the shop whilst my grandad parked the car.
Before I entered the shop a man stopped me and asked me if he could do an interview about Michael Laudrup and Garry Monk. It turned out I had been interviewed for Danish television!
Once, whilst at the Belfry golf centre in Birmingham where I was meeting my uncle, my mum and I decided to drive round to the shop. I could not believe it when I saw a Swansea City van parked up. I got out to have a photo with it and could not have envisaged what happened next. My favourite Swansea City player, Leon Britton, walked past and I could not miss the opportunity to have a photo with him – and the five others that followed.
On one occasion my love for all things football nearly got me into trouble. I was standing in the away end with the Birmingham fans at Charlton and the Charlton Athletic song 'Valley Floyd Road' suddenly came on.
As this is one of, if not my favourite football songs, I started to sing it. I then noticed quite a few Blues fans looking at me and realised what I was doing – so quickly stopped!
In my quest to complete the 92, I also stop off and visit many other Non-League grounds. Whilst on the way to Dagenham & Redbridge, my uncle and I visited AFC Hornchurch, on the way to Newcastle we visited Bishop Auckland FC and on the way to Rochdale we visited Salford City.
Some of the Non-League teams that I have taken in matches at include; Truro City, Leamington, Hednesford Town, Alfreton Town and Chasetown. Not only do I visit Football League matches but I also take in matches at my local Non-League outfit, Solihull Moors, whilst also following Burton Albion and Swansea City.
I follow Swansea City with my grandad, who was brought up in the area, and usually watch them play away at local grounds such as the Hawthorns and Pride Park.
I first started supporting Burton Albion in the 2009/10 season, their first in the Football League. My uncle and I attended many games during that season and I subsequently fell in love with the club and its fans.
One memory that sticks out most was the first time that I was ever mascot for Burton against Hereford United. Funnily enough, Hereford were the opponents for the first match I ever attended and it's sad to have witnessed their demise. I was also the mascot for Burton against Derby County in 2010 and was lucky enough to walk out with Robbie Savage. For another match at the Pirelli Stadium against Notts County I met then-Magpies director of football Sven-Goran Eriksson and Peter Schmeichel, whose son Kasper was playing for Notts.
I also witnessed AFC Bournemouth being promoted from League Two into League One. One not so pleasant event that I witnessed while supporting Burton was the time Grimsby Town were relegated from the Football League and fans started rioting on the pitch.
Since early 2015 I have started my own YouTube channel, regularly uploading 'Around the Grounds' videos. The videos show fans what they can expect when visiting certain grounds and gives them a glimpse of the atmosphere.
From Newcastle to Plymouth, I have travelled the length and breadth of Britain to fulfil my quest. While the majority of grounds have been ticked off, who knows where my journey will take me next? I, like many people, am a football fanatic.
For more on Alex Manners, check out:  https://
www.youtube.com/watch?v=10VoA6dX_4M&list=PLMENhM0ZJF3Ex0fY1eGcGASiXFNjM5uzN