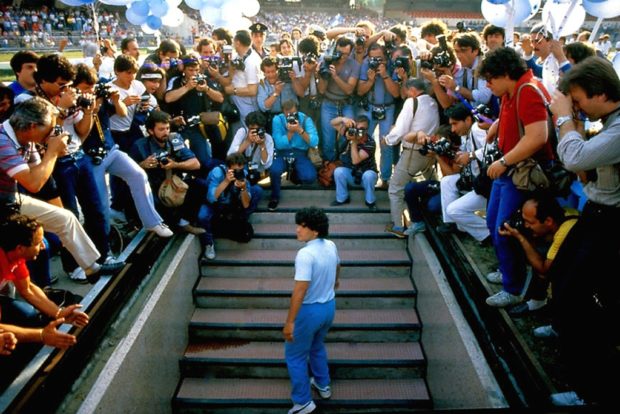 IN RECENT years Lionel Messi and Cristiano Ronaldo have slugged it out for the title of the world's best player.
But back in the 80s, there was little doubt about who the
king of football –
Diego Maradona.
The
Argentinian prodigy could leave opposition players trailing in his wake,
conjure up superb set-piece strikes and fire home bucket loads of goals with
that wand of a left foot.
But
if only life had been as simple for Maradona away from the pitch as it was on
it. The documentary 'Diego Maradona' focuses largely on his days with Napoli
and examines a crazy period in an often-crazy life.
After
injury and controversy brought his time with Barcelona to an end, Maradona
joined Napoli in 1984. The club from the poorer south of Italy had never won
the Italian title and needed a superstar to help turn their fortunes around.
Maradona
himself had grown up in poverty in Villa Fiorito, a shantytown in Buenos Aires,
and football had been his way out. He had learned to fight for what he wanted
and relished the underdog status at Napoli.
The
fanaticism of the fans was something that he would have understood from his
days with Argentinos Juniors and Boca Juniors in his homeland.
And leading Napoli to two Serie A titles, among other honours, turned him into a god in the eyes of the locals. The team from the south had put the northern giants in the shade for once.
The film also covers Argentina winning the World Cup in 1986 and, yes, those two goals against England in the quarter-finals.
Maradona
was riding the crest of a wave, but then things started to unravel. He was
sucked in by Napoli mafia, drugs – notably cocaine – took hold and his personal
life became increasingly tangled.
The
boy who started out with the simple ambition of buying his parents a house had
turned into a man in turmoil. Beating hosts Italy in the semi-final of the
World Cup in Naples in 1990 hardly helped his popularity in the country,
either.
His
personal trainer summed up the situation well, saying that there was Diego –
the nice boy who loved football – and Maradona – the man who couldn't afford to
show any weakness.
The
film also portrays a time when football was simpler. From what we see, Maradona
didn't have an entourage around him, people to protect him and advise him.
Messi and Ronaldo are more fortunate in that regard.
Overall,
this is a fascinating insight into a pivotal period in Maradona's career. With so
much focus in England on the 'hand of God', it's also good to remind yourself
just how amazing he was as a football player.
It
shows the treatment that was dished out to him on the pitch, the adulation that
followed him off it, the massive highs and lows.
There
is some excellent footage in the film, such as Maradona interviewing his
team-mates in the dressing room after winning the title. The match action makes
you feel as if you are right there.
With
a quality soundtrack, excellent interviews and top-notch footage, there is much
to admire. At two hours, ten minutes, it is perhaps a little long, but, then
again, there is a lot to cover.
If you're old enough to remember Maradona in his pomp, this is well worth a look. And if you're too young to remember, it's probably even better.
*Diego Maradona is in UK and Irish cinemas nationwide
JOHN LYONS