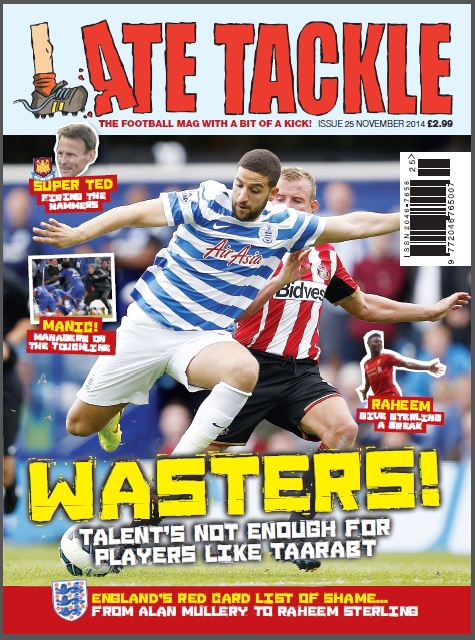 THE NEW issue of Late Tackle is in your shops now! You'll be able to find us in over 400 WHSmith and Martin McColl's stores, along with numerous independent retailers across the country. You can find your local stockists here.
If you're having trouble finding a copy, there's always the option of a postal subscription, so you can have the magazine delivered direct to your door.
Or you could take out an online subscription which gives you access to Late Tackle wherever you are, just so long as you have an active internet connection.
Here's a taste of some of the great content featured in the new issue:
What A Waster – Chris Dunlavy bemoans the wasted talents of men who had their gifts but not the guts
James Milner: The Protagonist – Matt Goldsmith suggests England should now follow the German example and bring their U21 stars through en bloc
Go For Gold – Chris Dunlavy says winning the U21 tournament never did Germany's youngsters any harm
Super Ted – Liam Newman believes that the impact of a certain Mr Sheringham at Upton Park cannot be overlooked
England's Red History – Michael Healey charts the men who have been sent off for England
Performance Artists – Gary Tedder looks at the amazing change in the way managers behave on the touchline
Claude Makalele Ruined Football – Josh Peck says the defensive midfielders have taken away the essential art of defending
Pain And Potential – Michael Garvey charts the astonishing rise and fall of 'Fergie Fledgling' Giuliano Maiorana
Just An Illusion – Thom Scot says the 'Rodgers Way' at Liverpool has been exposed as a fairytale whose magic has passed
Daley Bread – Sam Faulds discusses the merits of Manchester United's Dutch star Daley Blind
Donkeys? No, Most Are Race Horses – Marcus Raymond says professional footballers are so much better than we think…even the bad ones!
Football's Bizarre Moments – Danny Rust remembers some outrageous incidents which shocked the football world
The Bargain Basement – Felix Keith looks at whether lower league recruitment can offer an alternative to expensive foreign markets
History In The Making – James Benson looks at Guardiola's Bayern Munich machine and predicts nothing's going to stop them for years to come
Portugal's Hidden Gem – Danny Rust discovers that football fortunes in the south of the country are looking up with Olhanese leading the way as the region chase top-flight representation
Plus lots, lots more… So what are you waiting for? Pick up your copy of Late Tackle now!
For a free sample of a previous edition please click here.