What's happened to Liverpool?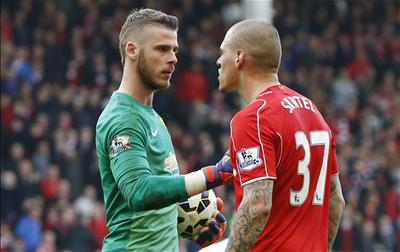 Where it went wrong for Liverpool against Manchester United
Matches between Liverpool and Manchester United always carry a little bit of spice due to a rivalry caused by a fierce battle to gain recognition as the most successful club in England. Both clubs have fought for supremacy ever since the 1970s, but their recent Premier League clash put much more than their dislike for each other on the line. This was particularly the case for Liverpool who, despite putting together a wonderful run of thirteen games unbeaten, including six straight victories, found themselves just two points behind Manchester United who occupied the final Champions League spot.
It was therefore imperative that Liverpool emerged from the potential make-or-break fixture with all three points, particularly with only nine games remaining in the 2014/2015 season which has entered the all-important business stage when winners and losers are decided. Betsafe correctly predicted that Brendan Rodgers' side would be too strong for Swansea in the league fixture leading up to the crunch match against Manchester United, but victory in South Wales proved not to be the springboard that Liverpool needed. Louis van Gaal completed the double over Rodgers with a potentially damaging 2-1 win at Anfield, leaving Liverpool to mull over where it went wrong during the two-week international break.
Performance levels
Motivation was never likely to be an issue in such a crucial fixture in Liverpool's season, particularly against their fierce rivals who stood between them and a top four finish. However, despite enjoying an excellent run of form in which they have beaten Manchester City, Southampton and Tottenham, the performance at Swansea was below their usual high standards in a game they were fortunate to win. Liverpool's defensive resilience away from Anfield certainly came to the fore as they equalled a club record of six away games without conceding a goal, but they needed a fortuitous goal from Jordan Henderson to pick up all three points. Although many saw the performance in South Wales as a minor blip and a positive sign that Liverpool can still win games when they are not at their best, they were ultimately overpowered by a Manchester United side firing on all cylinders who put in the complete performance. Liverpool never really gained control at any stage of the game, and despite Daniel Sturridge halving the deficit created by Juan Mata's brace, they struggled to create chances as their attacking qualities, which has been prominent in recent weeks, deserted them.
Lack of bite
Games between fierce rivals are often high-tempered affairs full of passion and committed players who want to win the game for their side. Although there are often occasions where players go beyond the laws of the game and get carried away with the raw emotions on the pitch, Liverpool did not really get close to Manchester United or let them know they were in for a tough battle. Van Gaal's side could arguably be praised for playing excellent football that prevented Liverpool from getting near them, but Rodgers may be left feeling disappointed that the likes of Joe Allen did not impose themselves on the game as much as he would have wanted. Steven Gerrard's crunching tackle on Mata prior to his moment of madness seconds after coming on as a half-time substitute epitomised his frustration at being left out, but was also the kind of challenge that is not only strong and fair, but lays down a marker to their opponents that they are in for a game.
Inexperience
Rodgers' decision to opt for young talent over established names following Luis Suarez's move to Barcelona last summer may turn out to be a masterstroke if the likes of Emre Can and Alberto Moreno fulfil their undoubted potential, but the Manchester United game highlighted moments when a lack of experience can prove costly. Rodgers will be disappointed at the manner in which Moreno was exposed for both goals, while Can, despite being one of Liverpool's best players this season, was guilty of giving away another penalty for a clumsy trip when chasing back to defend. Simon Mignolet, who has been in excellent form since being left out earlier in the season, ultimately saved Wayne Rooney's resulting penalty, but a lack of know-how may have proved costly. As Gerrard and Martin Skrtel, who faces a three-game ban after being found guilty by the FA of stamping on David De Gea, will be unavailable, it limits the number of leaders that Rodgers can call upon to lift the team from a potentially damaging defeat and maintain their push for a Champions League spot.
Tagged #LivvManU, Brendan Rodgers, Liverpool FC, Man United, Manchester United FC