Chile's glory at last in the Copa America!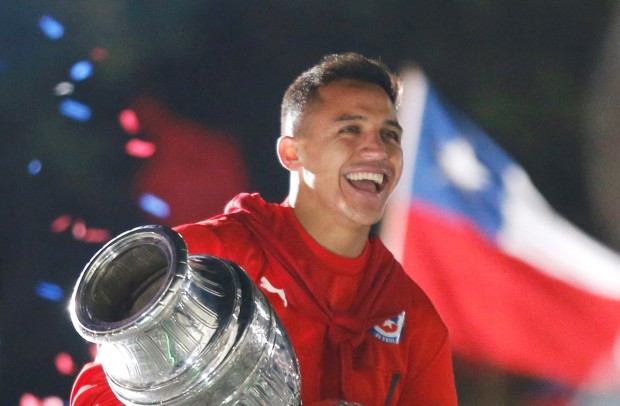 BEFORE Manchester's City recent successes, the joke was that robbers broke into their trophy room and stole everything in it – police were searching for two men carrying a light blue carpet…
The same could be said for Chile because prior to this summer's Copa America on home turf, they had won a big fat nothing in their entire history. Trophy room? Trophy cabinet? Not required.
That's a pretty shocking state of affairs when you consider their football federation was founded in 1895 and they competed in the first Copa America, then known as the South American Championship, in 1916. (Their biggest achievement was finishing third as hosts in the 1962 World Cup).
It's all the more frustrating when you take into account that Chile is a football hotbed. From personal experience, I know that Chileans love their football with a passion and the fact they had never won anything was something that really rankled.
Okay, you're competing with powerhouses like Brazil, Argentina and Uruguay in South America, but Peru, Paraguay and Bolivia have all won the continental title. Why couldn't Chile?
When you continually fail to win, the public lose heart and almost write off their team's chances before they've even started. It's probably so that they're prepared for another dose of disappointment.
I remember the sad feeling in Chile four years ago when they lost to Venezuela in the quarter-finals in Argentina just when the tournament seemed to be opening up for them.
Last year, Chile performed well under boss Jorge Sampaoli at the World Cup in Brazil, ultimately going out on penalties to the hosts after a 1-1 draw in the last 16. Thousands of fans turned out in Santiago to welcome the team back for what was perceived to be glorious failure.
Brazil's subsequent 7-1 defeat at the hands of Germany in the semi-finals later made that look a bit silly.
When Chile did get knocked out, the players said that they wanted to put things right by winning the Copa America on home soil. Some thought they had a chance, others felt they were living in dreamland.
But this was their opportunity to put themselves in the history books, to go down as legends. And if the game is about timing, you could argue that La Roja's was definitely in.
The Copa was originally due to be hosted by Brazil, but they had bigger fish to fry. The 2014 World Cup to be followed by the Rio Olympics in 2016 meant they had enough on their plate, so Brazil and Chile swapped the order of being hosts of the 2015 and 2019 tournaments.
With Chile's players really making their mark at some of Europe's biggest clubs this worked out perfectly. Goalkeeper and captain Claudio Bravo had an excellent first season at Barcelona, midfielder Arturo Vidal helped Juventus to the Champions League final and Alexis Sanchez ripped it up in his debut season at Arsenal (admittedly, things didn't go quite so well for Eduardo Vargas and Mauricio Isla at QPR, but that's another story).
Of course, who's to say that Chile couldn't have won in Brazil? But it would have been much more difficult. Over the years, we've all seen that home advantage can make a massive difference in international tournaments.
You've got your fans behind you, you're at home in familiar surroundings and… crucial decisions tend to go your way.
A good draw also paved the way for Chile to make a strong start to the tournament. An opening 2-0 victory against Ecuador with goals from Vidal (pen) and Vargas was solid if not spectacular before a 3-3 thriller against Mexico with Vidal (two, one pen) and Vargas again on target.
After Vidal famously wrote off his Ferrari in a late-night escapade, La Roja powered into the last eight with a thumping 5-0 win against an outclassed Bolivia. Charles Aranguiz led the way with two goals, while Sanchez, Gary Medel and an own goal made up the tally.
With the warm-up out of the way, the knockout stage is where the tournament really gets going and Chile's bad-tempered clash with Uruguay wasn't for the faint-hearted. The Uruguayans had two players sent off, including striker Edinson Cavani who, not surprisingly, took exception to Gonzalo Jara poking him in the backside.
With penalties looming, it was Isla who cracked in the winner in the 81st minute to relieve the tension and knock out the holders, who had lacked a cutting edge with Luis Suarez suspended for the tournament following his biting episode against Italy in last year's World Cup.
Victory set up a derby semi-final against surprise outfit Peru – and it wasn't easy despite the Peruvians having Carlos Zambrano sent off in the 20th minute.
Vargas put Chile ahead shortly before half-time, but Peru, rapid on the break, levelled with a Medel own goal on the hour. If that put a seed of doubt in Chile's mind, it was wiped out four minutes later when Vargas struck a long-range effort into the top corner for a stunning winner.
It remains a mystery how Chile manager Sampaoli, who previously bossed Vargas at Universidad de Chile, always seems to get the best out of him, while others have no such luck.
If the draw had been kind to Chile, there was no doubt that they faced their biggest challenge in the final. World Cup runners-up Argentina bashed Paraguay 6-1 in the semi-finals to send out a message that they meant business.
But in the final, Chile pressured them, didn't give the likes of a subdued Lionel Messi and Sergio Aguero time and space, and more than held their own. In a game of few chances, it looked like the visitors from across the Andes would nick it in the last seconds of normal time when Gonzalo Higuain seemed certain to score at the far post from Ezequiel Lavezzi's low cross.
Chile held its collective breath, but Higuain could only find the side-netting from an acute angle – and La Roja breathed a sigh of relief.
After extra-time failed to separate the sides, it was all down to penalties, the route which Argentina had taken to beat Colombia in the quarter-finals. However, it was Chile who held their nerve, converting all four penalties, while Argentina blundered twice, the unfortunate Higuain blazing over and Ever Banega being denied by Bravo.
It was left to Sanchez – who else? – to dink home the clinching penalty for a 4-1 success and send Chile delirious with joy. After almost a century of competitive football, they'd finally won something. This team will go down like England's Hurst, Peters and Moore as the ones that made history.
They'd been labelled 'the golden generation', but we've seen before with England that that tag doesn't necessarily mean you'll win anything.
But what next? Can the golden generation make it a golden era? Age-wise, things look promising. Bravo 32, Sanchez 26, Vidal 28, Vargas 25, Medel 27 – they've all got years ahead of them.
They've got an excellent manager in Sampaoli, who continually gets the best out of his players. He'll be in demand, of course, but the fact that Chile have got the Copa America Centenario in the USA next year, the Confederations Cup in Russia in 2017 and, hopefully, the World Cup in Russia in 2018 may be enough to keep him in place.
What else is there to do? Buy a trophy cabinet.
Tagged Alexis Sanchez, Chile, Copa America, La Roja