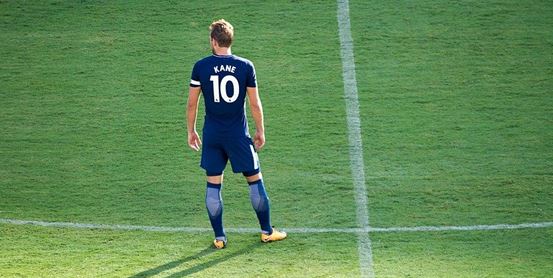 Harry Kane's form shouldn't come as a surprise to anyone anymore.
After being written off as a one-season-wonder, the Spurs and England forward has scored at least 24 goals for six campaigns in a row.
But even Kane himself might not have predicted just how good he'd be this season.
Not because he's continued to hit the back of the net with incredible consistency, but because he's become a provider as much as a finisher.
In 36 club games this season he's scored 24 times and contributed 16 assists, meaning that he's bringing 1.11 goals (whether he's scoring or setting up) per game so far this season.
By any definition, that's a man in form.
But to give an indication of just how impressive Kane is right now, it's worth comparing his club goal contributions to those of his peers.
Lionel Messi has 25 goals and 11 assists in 35 club games — 1.03 per game.
Cristiano Ronaldo has 27 goals and 4 assists in 32 club games — 0.97 per game.
Robert Lewandowski has 37 goals and 8 assists in 33 club games — 1.36 per game.
Kylian Mbappé has 26 goals and 9 assists in 33 club games — 1.06 per game.
Erling Haaland has 31 goals and 8 assists in 29 club games — 1.34 per game.
Mo Salah has 25 goals and 4 assists in 39 club games — 0.75 per game.
Of course, this is a selective list but it's fair to say that these six players are at least in the top attackers in the world. That Kane is contributing more goals per game than all but two of these stars (Lewandowski and Haaland) just shows how exceptional his form is.
His form is so good that journalists like Henry Winter say he's the complete attacker, respected casinos like Mr Green are predicting he'll finish the season with the most goals and most assists, and ex-players are desperate for him to join their former teams.
Winter is one of the most acclaimed football journalists and wrote in October 2020 that Kane is "fast maturing into a complete forward, capable of creating and scoring, of playing as a No 10 and No 9 in the same game, sometimes even the same moves".
The oddsmakers at Mr Green are betting on Kane being the most productive attacker in the EPL for the 2020/21 season, putting him at 13/2 to top the EPL assists list and 7/4 to repeat the trick for the scoring chart.
He faces competition from De Bruyne for the assists (9/4) and Salah for the goals (7/4).
However, it must be remembered that De Bruyne is playing for the champions elect and Salah is playing for the current title holders. Kane's exceptional form has come when his team's performances have been patchy at best.
Mark Hughes is a Man Utd playing legend and he believes his old club needs to buy Kane, saying he's "certainly the type of player they [Man Utd] need to be in the market for."
Kane is bang on form right now. But while he's rarely off form, this could be the best he's ever played and it could see him finish the 2020/21 with club and individual awards.