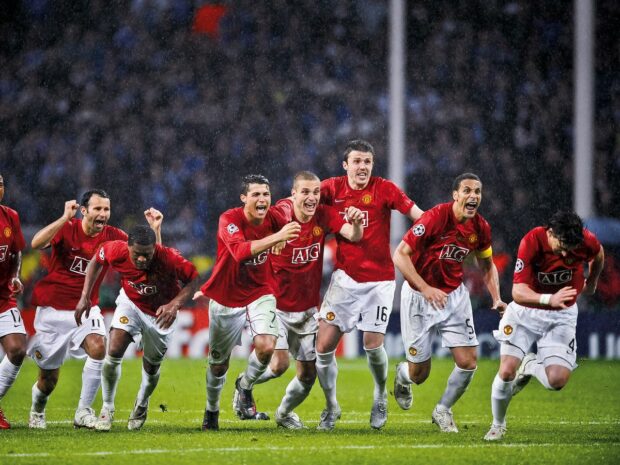 By Julian Nash
I've just arrived in the away end for my first Manchester derby at Maine Road in September 1989. Little did I imagine that this would be one of the most memorable matches of football I would ever see… but for all the wrong reasons!
Besides the objects thrown into the away end, Fergie's expensive Manchester
United side were annihilated 5-1 by a rampant young Manchester City side. It
still pains me to recall it.
So, what makes matches memorable? Well, firsts count. The first match
you see is engrained in your memory forever, though, like most people, I
remember practically nothing about the match itself – a 1-1 draw between QPR
and Preston in the second tier of English football in October 1979.
The first trip to Wembley – for an England Schoolboys match – also
registers (a 0-0 draw versus Scotland unfortunately), as does the first FA Cup
final, though queueing up outside Selhurst Park for a ticket for the 1990
replay was more memorable than the match itself with the Palace fans singing
all night and me trying to not give away my allegiance to their opponents!
Wonderful goals or great performances by teams or individuals also help.
I still remember a 30-yard volley by Karl Elsey playing for Gillingham at
Brentford in the mid-eighties; the home fans applauded too, it was that good a
goal.
Watching the emergence of Lee Sharpe, who scored a hat-trick as Manchester
United destroyed Arsenal 6-2 at Highbury in November 1990, lives long in the
memory as does Tottenham thrashing unfortunate Arsenal 5-0 at White Hart Lane
in 1983.
Being at Wembley for Stuart Pearce's redemption as England beat Spain on
penalties in Euro '96 was fantastic, too.
Then there are the unusual matches or situations you find yourself in.
My mum taking me, my brother and a friend of ours to a big midweek match at
Tottenham to see them play Liverpool in the mid-eighties at the height of
hooliganism because my dad was working late is something I've never forgotten.
Going to a friendly match at Santiago Wanderers in Chile in 2012 to
celebrate the anniversary of the two oldest clubs in South America (the
opponents were from Argentina) was supposed to be a relaxing afternoon with my
fiancée.
Instead, riot police were forced to turn water hoses on the home fans at
half-time and my fiancée demanded we left then to avoid any more trouble.
Another match where I didn't see 90 minutes was Charlton Women versus
Manchester United Women in January 2019 which was abandoned after 11 minutes as
Charlton had a shortage of medical equipment after a serious injury.
Matches in other countries are often memorable – you can bet on such games with this smart betting guide. Besides the match in Chile, waiting for fog to lift so an evening fixture at Stenhousemuir in December 1995 could take place was more memorable than fixtures at Celtic and Rangers on the same trip.
A visit to the Bernabeu to see Real Madrid on a stag weekend in April 2005
was memorable for many reasons, not least seeing Zinedine Zidane get red-
carded for an act of indiscipline prior to his World Cup shame.
After a match in Poland in which the home side Sosnowiec lost, the team
had to stand around pitch- side whilst the leader of their Ultras berated them
in front of around 500 fans who had stayed behind.
So, what is the most memorable match I've been to?
Travelling all the way to Moscow and back in 24 hours to see your team
win on penalties in the first all-English Champions League final is hard to
beat.
However, hopefully I'll see a more dramatic match one day even if it's
at a Non-League ground with one man and his dog. Well, you never know with
football – that's why we love it so much.