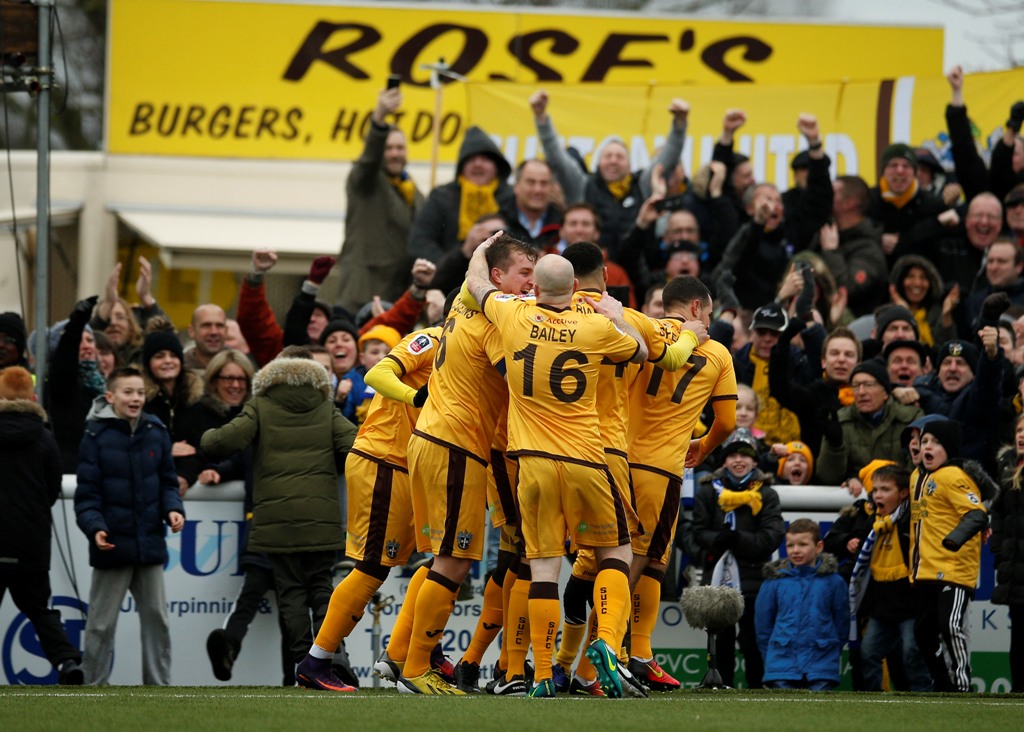 (Picture: Action Images via Reuters)
National League side Sutton United have announced a one-game sponsorship deal with The Sun for the club's FA Cup fifth round tie with Arsenal on Monday, and it has split opinion among football fans.
Getting as far as the U's have in the FA Cup, as a non-league side, is almost unheard of, and their historic run to this late stage of the famous old competition has included fantastic wins over EFL clubs such as Cheltenham, Wimbledon and Leeds.
Monday night's game at Gander Green Lane, against the Gunners, will be televised, earning Sutton a huge broadcast fee of £247,500 – but rightly or wrongly, the club are looking to cash in further on one of the biggest games in their history.
Few can argue with that, with very little cash this far down the footballing pyramid, but what has outraged some is the decision to opt to sign a deal with SunBets – The Sun's new betting website.
SunBets will be emblazoned across the Sutton's strip, replacing usual sponsor Green Go Waste, and a club statement called it a "one-off opportunity" that will help Sutton "undertake significant additional ground improvement works."
U's boss Paul Doswell added: "Malcolm and James at Green Go Waste have shown an unbelievable level of generosity to the club in allowing this to happen and they actually spoke to me in the bar straight after the Leeds game.
"This money will help so much to keep improving this great club and we're very excited to be working with SunBets. They arranged for Ian Wright to take a fun training session today with the players, and then arranged for the players, Malcolm and James to have a full tour of Wembley.
"I would also like to thank Andrew Doswell and Stuart Munro at Drew Smith who have agreed as part of the SunBets sponsorship, to allow the two ends of the ground to be rebranded."
Some fans have understood the club's move on Twitter, replying to our sister title The Non-League Paper:
Screw the haters. At a time when clubs are financially struggling, fair play to Sutton to increase finances. #Reality https://t.co/MgEvws901n

— Jason (@beardy_jase) February 15, 2017
@NonLeaguePaper their choice & makes financial sense. Morally I get what people are saying but the hyperbole & hypocrisy I'm seeing is crazy

— Rob Zirpolo (@robzirpolo) February 15, 2017
@NonLeaguePaper take it while it's there Sutton Utd. If you didn't somebody else would.

— Kevin Brooks (@KevinBrooks01) February 15, 2017
Others, however, are less understanding, and have taken issue with Sutton's move to team up with The Sun, a paper that many football fans refuse to associate themselves with because of the terrible role it played in the aftermath of the Hillsborough disaster.
@NonLeaguePaper of all the sponsors they could of potentially picked, it was The Sun. Nothing worse really.

— Tony Stewart (@GingerByBlood) February 15, 2017
@NonLeaguePaper the sun would not do it if they were to play Liverpool. Stick buy your own sponsor imo

— Alan (@AlanMitchell51) February 15, 2017
@NonLeaguePaper Disappointing.

— Paul Holland (@paulh66runs) February 15, 2017
Finally, from Twitter, Jay Hobbs makes this point:
@NonLeaguePaper Debatable, but there's something deeply unedifying about fans of big PL clubs where money is no object condemning this.

— Jay (@MrJayMobbs) February 15, 2017
And that's it. Like with Crawley at Old Trafford in 2011, Sutton are teaming up with The Sun to make the most of their time in the spotlight and make some much needed cash. That's probably fair enough. But it's hard to agree if a paper that has done so much to damage football and its fans is the best partner.