Do Manchester United Really Need To Spend In Order To Replace Zlatan Ibrahimovic?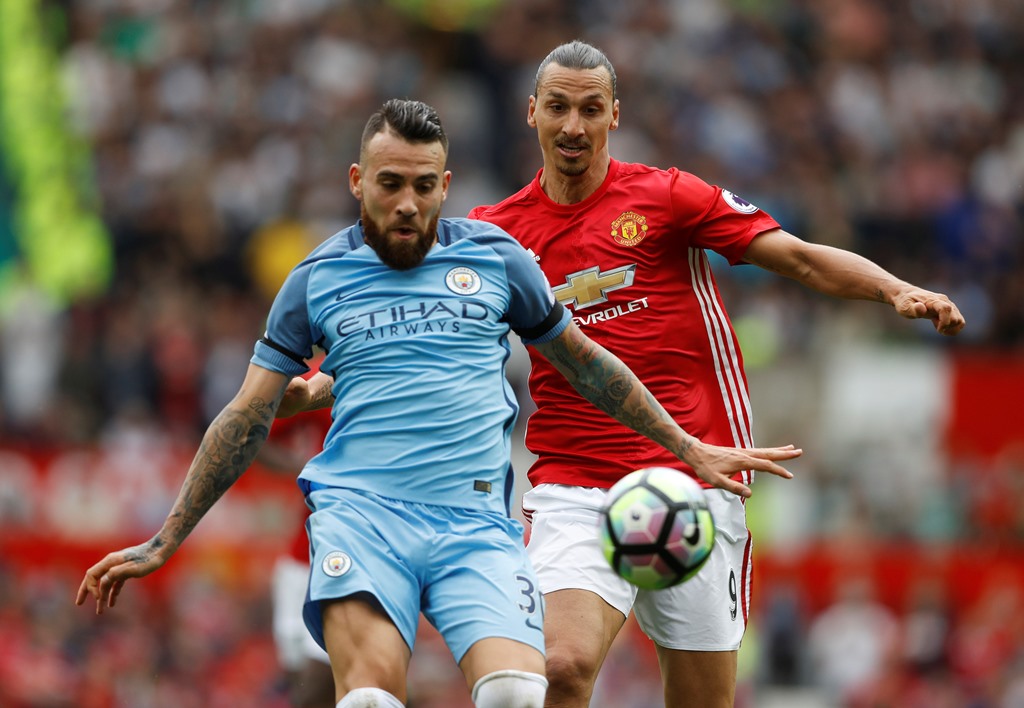 Zlatan Ibrahimovic may have divided opinions on himself through his career, but there can be no question that the 35-year-old's record puts him alongside the best strikers ever to play football.
Egotistical, yet brilliant on the pitch and more than capable of producing magical moments that make you sit up in awe, Ibrahimovic has brought success everywhere he has played. Winning trophies in Holland, Italy, Spain, France and England is a sign of just how brilliant the Swedish international has been over the years, and although he has not exactly enjoyed the best of working relationships with certain managers, his hunger to succeed and be the best is unquestionable.
His move to Manchester United on a free transfer last summer was questioned by a number of people who believed that, at the age of 35, Ibrahimovic would find it extremely difficult to have an impact in a league that is far more competitive than Ligue 1 where he was instrumental in helping Paris Saint-Germain gain a dominant hold. There was certain logic to the perceived madness, however, as the move would see Ibrahimovic reunited with Jose Mourinho who got the very best out of the striker during their time together at Inter Milan, and while his wages may be extremely excessive for a player in the latter stages of his career, the 'Special One' put his faith in the 35-year-old to deliver.
Twenty-eight goals in all competitions for Manchester United shirt speaks volumes for the impact that Ibrahimovic has made at Old Trafford this season.
He has revelled in proving his critics wrong throughout his career, with his sheer physical strength, agility and clinical finishing ability coming to the fore despite his advancing years. Premier League defenders have struggle to contain a striker who truly believes in himself to produce the goods when it really matters. Bookmaker Ratings believe that Manchester United have a great chance of finishing in the top four thanks to a twenty-three game unbeaten run in which Ibrahimovic has played a prominent part.
However, Mourinho may now be left with a serious problem on his hands. Ibrahimovic picked up a serious knee ligament injury in their Europa League clash against Anderlecht at Old Trafford which may keep the veteran striker out of action for up to 12 months. It is not only a body blow for Manchester United who knew that Ibrahimovic would play a vital role in their pursuit of a top four finish and winning the Europa League that would provide a passage into next season's Champions League, but also the player himself who may have to accept that his time at Old Trafford is effectively over.
Where do Manchester United go from here?
The short term solution surely has to be the inclusion of highly-rated teenager Marcus Rashford who has all the attributes to become a top player in the future. Three goals in his last five appearances is proof, if needed, that the 19-year-old is capable of producing the goods in Ibrahimovic's absence, with the exuberance of youth working in his favour in a team that like to play at pace. Mourinho has not used the young starlet as much as some fans would have liked, but the injury to Ibrahimovic must have opened the door for Rashford to become a regular.
Another option for Mourinho is the inclusion of Anthony Martial through the middle. If truth be told, the 21-year-old has endured a disappointing season after such a blistering start in his debut year, but Martial has been pining to play as the central striker for a number of months. Many would argue that Martial has proven to be much more effective on the left wing, with his pace, power and directness causing all sorts of problems when he is on his game. It is unlikely that the Frenchman will get his wish, given that Manchester United do not have a great deal of options when it comes to natural wingers, along with the fact that he has rarely set the world alight this season.
The club's all-time top goalscorer, Wayne Rooney, is unlikely to be the answer to the problem either, with the 31-year-old looking a distinct shadow of his former self as his time at Old Trafford appears to be coming to a close. Rooney will forever remain a Manchester United great, but despite scoring in their recent 2-0 win at Burnley, he appears to be on a sad decline that could see him move on to another Premier League team or go to the MLS in the summer.
Rashford stands out as the most logical solution to the present dilemma, but it would not be Manchester United if they did not have big-money targets lined up in the future as prime replacements for Ibrahimovic.
Antoine Griezmann instantly stands out as the one striker that Manchester United would love to have. The 26-year-old Frenchman has developed into one of the most deadly finishers in football, with the Atletico Madrid star enjoying another wonderful season in La Liga with sixteen goals to his name. There can be no question that his arrival would make Manchester United strong contenders for the Premier League title next season, with punters advised to look at the welcome offers listed on Bookmaker Reviews for bookmakers who provide excellent value for new customers. Reports of a big-money move continue to grow stronger, and with Griezmann refusing to rule out a potential transfer to Manchester United, it is easy to see why the dots have been connected.
Manchester United will undoubtedly have to break the bank to land one of the hottest properties in European football, but it may become a case of when, not if, they secure their number one target. Mourinho will be aware of the interest from other major clubs, such as Manchester City, Real Madrid and Barcelona, but he has already proved he is willing to spend whatever it takes to get the deal done, as was proved by the £89 million transfer fee paid to bring Paul Pogba back to Old Trafford. Manchester United will have to meet Griezmann's €100 million release clause if Atletico Madrid are to budge in their tough stance against the interest shown in their superstar striker, but while some fans believe they should put their faith in Rashford and Martial who represent the future of the club moving forwards, they may have to play second fiddle again if Mourinho gets his man.