España '82 – The Best World Cup In History?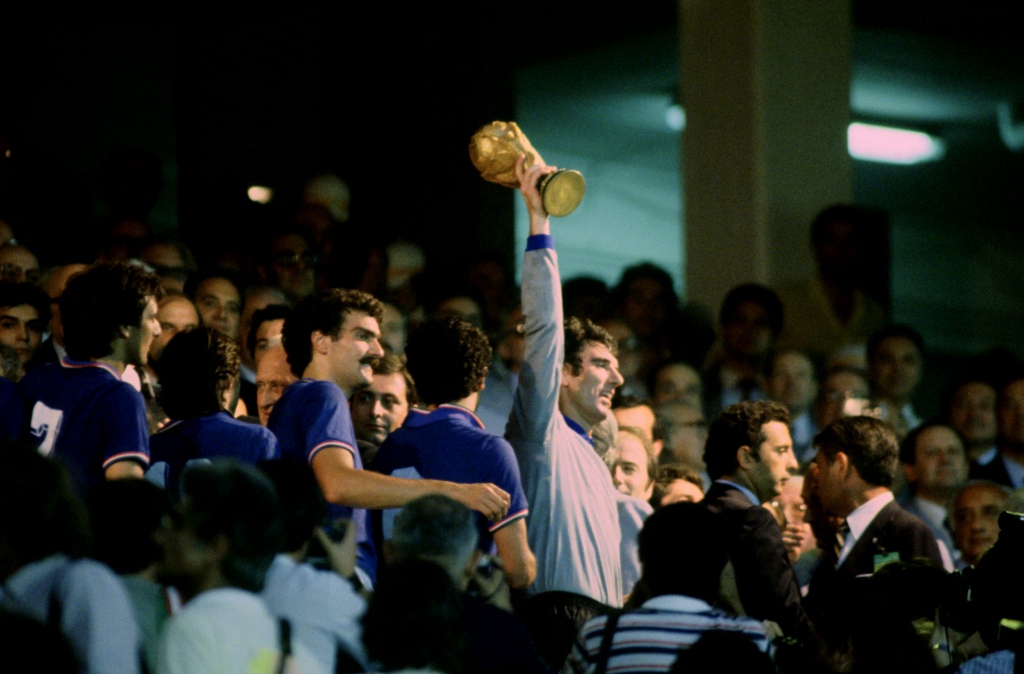 (Pictures: Action Images via Reuters)
By John Lyons
MAYBE it was because it was my first World Cup, but I still think Espana '82 tops the lot.
There might be those who argue that Italia '90, Nessun Dorma and Gazza's tears was the pick of the bunch. Others of an older vintage may say it has to be when England claimed the crown in '66.
But, for me, as an impressionable ten-year-old, Espana '82 takes some beating – and with only 24 teams! If you're talking about amazing matches, drama, controversy and memorable moments, then there's plenty to offer.
For starters, take West Germany v France in the semi-final, widely regarded as one of the best World Cup games of all time. Watching on the television at home in London, the whole thing was mesmerising.
With the sides locked together at 1-1 after 90 hard-fought minutes, the game headed into extra-time – and the match caught fire.
Within eight minutes, the French raced into a 3-1 lead thanks to goals from Marius Tresor and Alain Giresse. Lesser teams would have crumbled, but West Germany rose to the challenge.
Captain Karl-Heinz Rummenigge, who came off the bench in extra-time following a hamstring injury, halved the deficit four minutes later and Klaus Fischer levelled things up early in the second period.
It meant the game was destined to have the World Cup's first-ever penalty shoot-out and, as we became accustomed to over the years that followed, West Germany triumphed – 5-4 in sudden death with Horst Hrubesch netting the winner.
If that wasn't enough, the game was also infamous for one of the most notorious incidents in World Cup history. With the game level at 1-1 approaching the hour mark, French playmaker Michel Platini put substitute Patrick Battiston through on goal.
Battiston got to the ball before West Germany keeper Toni Schumacher, but was brutally shoulder-charged to the ground. The stricken Frenchman was knocked unconscious, suffering two broken teeth, three cracked ribs and damaged vertebrae.
Amazingly, Dutch referee Charles Corver didn't even see it as a foul!
Battiston's horrible injury, seeing a 3-1 lead wiped out in extra-time and losing on penalties – no wonder the French public were up in arms.
Algeria also had an axe to grind with West Germany – and Austria. The Algerians had stunned the football world by beating West Germany 2-1 in the opening match in Group 2.
After losing 2-0 to Austria and beating Chile 3-2, the African side finished the group stage with four points. However, West Germany and Austria went head to head a day later.
A win for West Germany by one or two goals would see both them and Austria qualify for the next round on goal difference and eliminate Algeria.
Hrubesch gave the Germans the lead in the tenth minute, but after that the game descended into farce with neither side showing any real inclination to score and the ball being passed backwards on numerous occasions.
It looked for all the world like a carve-up, but how did you prove it? In the event, nothing was done – and Algeria were on their way home in bitter circumstances.
The match was labelled the 'disgrace of Gijon' and the final group games of future tournaments were played at the same time.
Another country involved in controversy were Kuwait. Trailing 3-1 to France in the group stage, Giresse fired home another goal for the French, but the Kuwaiti team complained they had stopped playing because of a mysterious whistle they thought had come from the referee.
The official wasn't having any of it, but Sheikh Fahad, the Kuwaiti FA president, came down from his seat in the stands to have his say – and, amazingly, the referee disallowed the goal.
France went on to win the match 4-1, but it was remembered more for the disallowed goal than anything else.
It may sound as though Espana '82 was just full of controversy, but there was a lot more to offer. For example, Bryan Robson memorably popped up with a goal after just 27 seconds in England's opener against France, which ended in a 3-1 victory for the Three Lions.
And what about Norman Whiteside, Gerry Armstrong and Northern Ireland? Manchester United prodigy Whiteside became the youngest player to appear in a World Cup – breaking Pele's record – when he made his international debut for Northern Ireland in their goalless draw against Yugoslavia. He was just 17 years and 41 days old.
After a 1-1 draw against Honduras in their next game, Northern Ireland went into their final game against Spain needing to beat the hosts to make it through to the next stage.
No one gave them a prayer, but Billy Bingham's men pulled off a massive shock with a 1-0 win in Valencia, Armstrong driving home the winner just after the half-time break after goalkeeper Luis Arconada pushed the ball into his path.
Despite having Mal Donaghy sent off on the hour mark, Northern Ireland hung on for a famous victory. They topped Group 5, with Spain going through as runners-up.
If there was a group that offered entertainment in spades, then it was the one with Brazil, the Soviet Union, Scotland and New Zealand.
For a child watching a World Cup for the first time, that Brazil team were simply mesmerising. Playing football in the playground, everyone wanted to be Zico, Eder, Socrates or Junior. Even the names had that little bit extra flair.
Okay, we all thought goalkeeper Waldir Peres was a weak link and striker Serginho didn't cut the mustard, but Brazil were the great entertainers.
A thrilling 2-1 come-from-behind win against the Soviet Union with late goals from Socrates and, memorably, Eder set the ball rolling.
Scotland, fresh from walloping New Zealand 5-2, were next in the firing line, but they got off to a sensational start with defender David Narey cracking home a superb strike. He even looked surprised himself!
But that was the cue for the Samba boys to up their game. Zico bamboozled a flat-footed Alan Rough with the leveller and the Brazilians went on to win 4-1.
Zico bagged another couple in a 4-0 romp against New Zealand, while the Scots were forced to pack their bags after a 2-2 draw against the Soviet Union, who pipped them on goal difference for second place.
If that group was a thriller, then Group 1 with Poland, Italy, Cameroon and Peru was the opposite. Every game in the group finished in either a 0-0 draw (three) or 1-1 draw (two) bar Poland's 5-1 win against Peru.
Italy claimed second spot behind Poland by virtue of the fact they had scored one more goal than Cameroon – who would have thought at that stage they would go on to win it? No-one!
This World Cup had been expanded to 24 teams and there were two group stages. The 12 qualifiers from the first stage were divided into four groups of three with the winners going through to the semi-finals.
Ziggy Boniek – another great player – hit a hat-trick as Poland beat Belgium 3-0 and they held off the challenge of the Soviet Union to reach the last four.
Who would they meet in the semis? It would be either Brazil, Argentina or Italy. What a group!
Italy got off to a flier with a 2-1 win against holders Argentina, Claudio Gentile doing an infamous marking job on Diego Maradona.
And it was curtains for the reigning champions when arch-rivals Brazil beat them 3-1, with a frustrated Maradona getting sent off into the bargain.
That set-up a do-or-die match between Brazil and Italy – and it was another all-time classic. With Paolo Rossi hitting a hat-trick as Brazil blundered at the back, goals from Socrates and Falcao were not enough for the favourites. Incredibly, Brazil, such an incredibly talented team, were out. An inspired Rossi – who had just resumed playing after a two-year ban for his part in a betting scandal – then netted both goals as Italy beat Poland 2-0 in the semi-final.
As for the other half of the draw, England's hopes died after 0-0 draws with both West Germany and Spain. If only Kevin Keegan and Trevor Brooking had been fully fit.
The Germans advanced to meet France, who got the better of Austria and Northern Ireland, and we all know what happened next…
Sometimes finals can disappoint, but even this one wasn't bad as Italy triumphed 3-1 against West Germany. After a goalless first half, that man Rossi netted the opener and Italy roared on to victory.
Veteran goalkeeper Dino Zoff lifted the World Cup and Rossi claimed the golden boot for his six goals.
The rest of us were just gutted the tournament was over…
Tagged 1982 World Cup, Dino Zoff, Espana, Italy, Spain, World Cup, Zoff