Who Ate All The Pies!?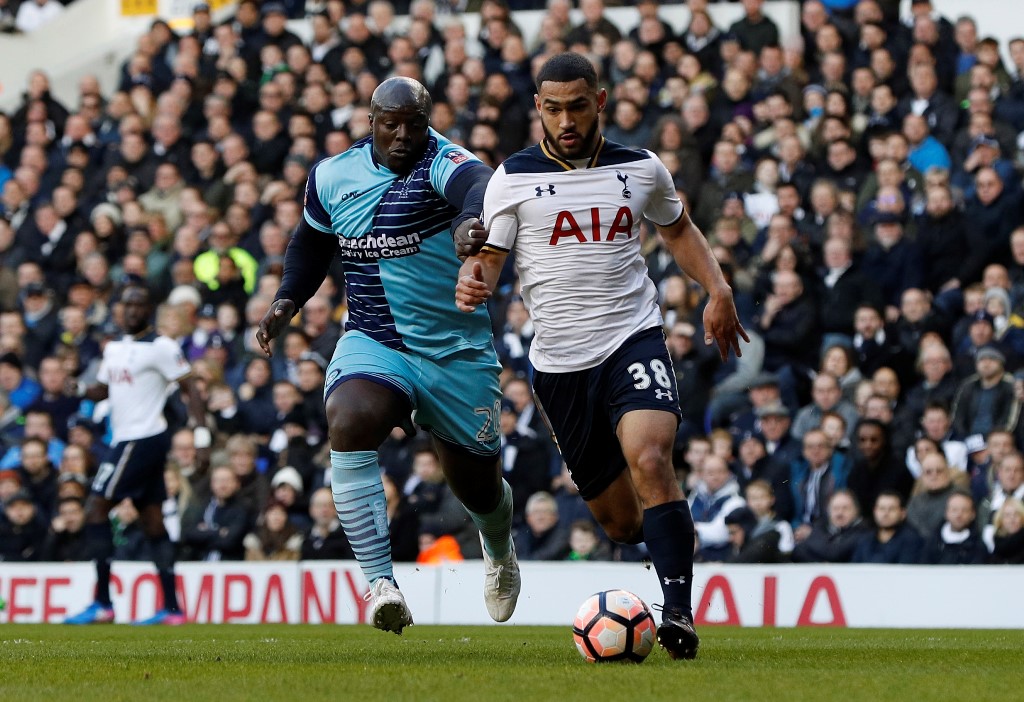 (Picture: Action Images via Reuters)
By Kevin Halls
THERE have always been footballers throughout the decades who buck the trend of players being of an athletic build.
In other words, they look overweight and of a heavy stature, and are an easy target for wags on the terraces who love to bring attention to their size.
We had big Micky Quinn at Coventry City. You couldn't call him slim or svelte, in fact his nickname was Sumo.
Yet Micky never let the chants from opposing fans bother him. Indeed, he revelled in it and he certainly knew where the net was as he banged in loads of goals for the Sky Blues.
Today you've got the huge Adebayo Akinfenwa at Wycombe Wanderers, who is a very solid striker.
He looks more like a rugby league player than a footballer. But he is a handful for defenders and, like Quinn, finds the net on a regular basis.
But for sheer size and bulk there's never been anyone like William 'Fatty' Foulke who goes down as the world's heaviest ever footballer.
Towards the end of his career he topped the scales at a whopping 24 stone!
William Henry Foulke was born on April 12, 1874 in Shropshire. He grew up to be a tall, imposing young man. He stood 6ft 4ins and was a healthy 12 stone.
He excelled at cricket and was a fine bowler. In fact, he played four times at county level for Derbyshire.
But football was his real love, especially goalkeeping. When he was playing in goal for a village team in the Derbyshire league, he was spotted by a scout from Sheffield United who ended up signing big William.
Foulke became a fans' favourite at Bramall Lane. They not only called him 'fatty', they shouted out in 1894 those words still used today 'Who Ate All The Pies?'
Foulke certainly took no prisoners on the pitch and had a hot temper. If his own defenders weren't pulling their weight, pardon the pun, he'd berate them and even walk off the pitch in disgust!
In those days, football was a very physical sport with shoulder barging allowed, especially on keepers.
But Foulke was not the sort to be intimidated by an aggressive forward. If one did try it on, they'd end up being lobbed into the net by an irate William.
The thing about this massive goalkeeeper was he didn't know his own strength. The authorities had to tell him to stop grabbing hold of crossbars during games as he ended up snapping many in half!
But as large as he was, he was a decent shot-stopper. Before his weight ballooned, he was agile and even won an England cap.
As captain of the Blades, he led them to three FA Cup finals, winning two of them, and also a League Championship.
Yet Foulke's volatile temper was never far from the surface and at the end of the 1902 Cup Final he took exception to the referee giving Southampton a late equalising goal.
It was said that big William went looking for the referee Tom Kirkham, who, when seeing a naked keeper on the warpath, legged it and hid in a broom cupboard!
It took several officials to stop Foulke from ripping the doors off their hinges, much to the relief of the cowering ref no doubt.
You never had a dull moment when Fatty Foulke was around as he was a larger than life character.
As popular as he was at Sheffield United, they sold him to Chelsea for £50.00, a huge amount then.
He played an impressive 299 games for the Blades between 1894-1905. For Chelsea, he stood between the sticks just 34 times before ending his career at Bradford City, turning out 22 times.
By this time, he almost filled the whole of his goalmouth by his size, which was an enormous 24 stone!
But in a 13-year career he made all those appearances – not bad for a keeper who struggled with his weight and had a huge appetite.
So when you next hear the chant 'Who Ate All The Pies?', just spare a thought for William 'Fatty' Foulke.
*This article originally featured in the April/May edition of Late Tackle. 
Follow us on Twitter here and Like us on Facebook here. You know you want to!
Tagged Akinfenwa, Chairboys, Fatty Foulke, Foulke, Late Tackle, Late Tackle Magazine, LT, Micky Quinn, William Fatty Foulke, William Foulke, Wycombe, Wycombe Wanderers