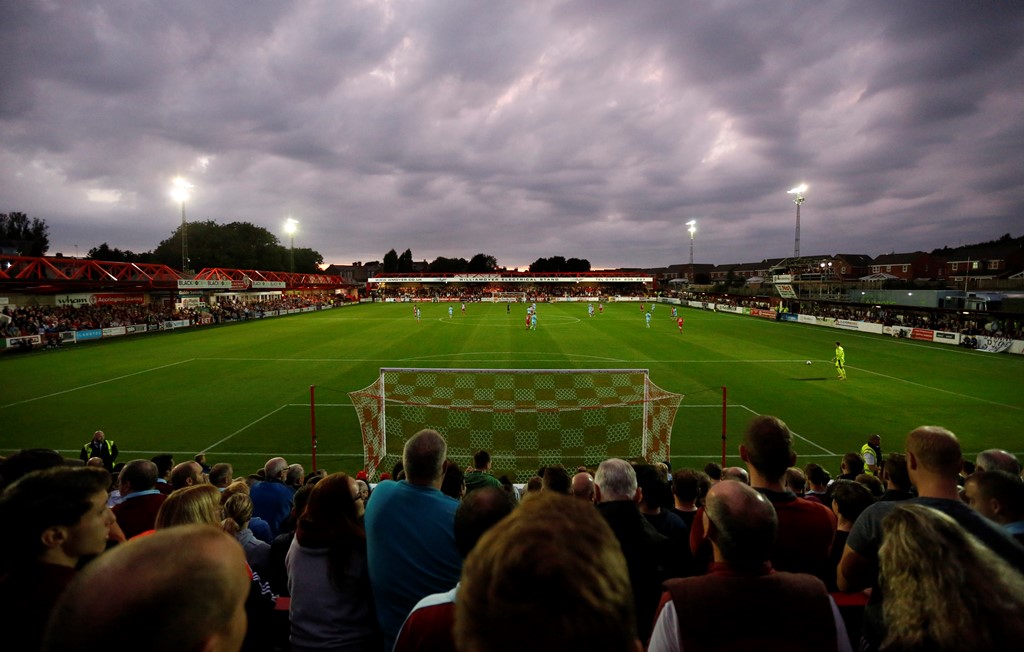 (Pictures: Action Images via Reuters)
By Mat Guy
AS A young boy before the age of the internet, League Two, or Division Four as it was known then, was a mystery; a set of results read out a long way down the Saturday afternoon results service on Grandstand, a league table of obscure-sounding teams at the foot of the page in the Sunday paper.
Obscure – yes, uninteresting, irrelevant – to a ten-year old boy, most definitely not.
Crewe Alexandra, Tranmere Rovers, Hartlepool United, Rochdale – in a world before Google, these teams appeared weirdly exotic in their relative anonymity. Where on earth did these teams even come from?
Though they inhabited 'lowly' Division Four, the fact their scores, attendances and league position were afforded the same tabulated space in the papers as the three divisions above them suggested to a young boy that these teams surely meant something.
No matter that fixtures attracted only a few thousand, their appearance on Grandstand, in the paper, demanded, of me at least, intrigue and respect.
But beyond the paper, information on these teams remained, at best, scarce.
Thankfully all was not lost for an intrepid little football explorer; as saved up pocket money and a few stamps in an envelope sent off to Steve Earl Football programmes would result in a package of treasures from the depths of Division Four.
Teams would take form through never-before-seen club badges, action shots of supporters in strange ramshackle stands, engrossed at the players before them.
Though smaller in stature, it was clear these clubs meant something, everything to those captured in time within the pages of these programmes; the results and statistics of their team collated with the same precision and reverence as in Liverpool's.
To a young boy brought up on First Division football in Southampton, it was captivating. But it wasn't until I was old enough to physically start visiting these 'backwaters' of the beautiful game that their true vitality began to shine through.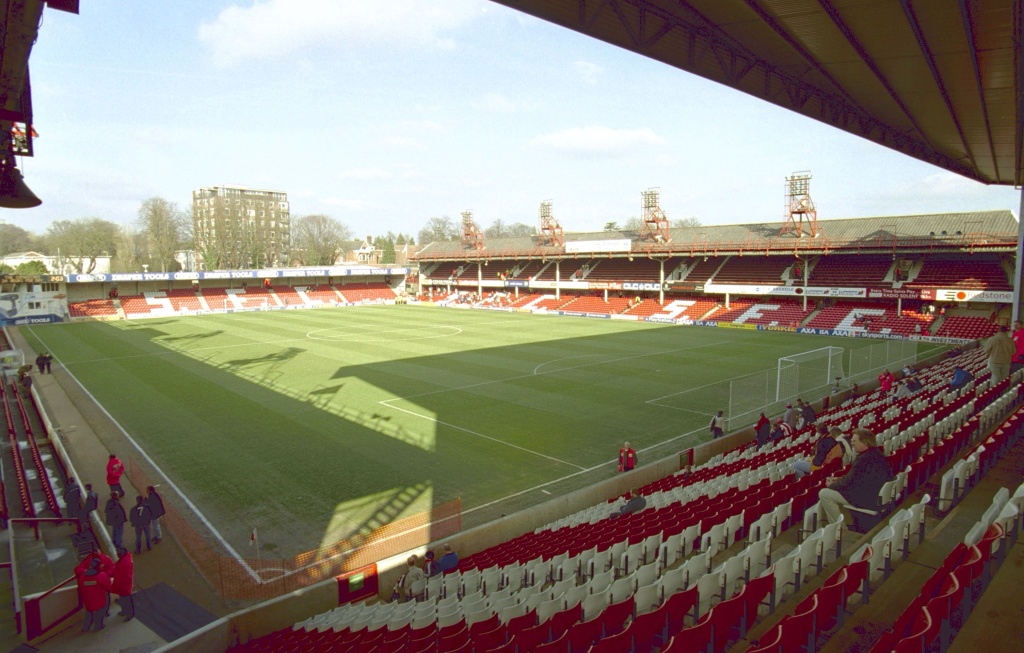 So then, to a fixture that hopefully, somewhere, would ignite another young boy or girl's sense of adventure at the unknown. If the prospect of Accrington Stanley versus Crewe Alexandra doesn't do it, then romance in football is surely dead.
The Wham Stadium, Accrington, drenched in unseasonably warm April sunshine, forever finds itself at the foot of League Two attendance tables.
Where many clubs in the Football Leagues basement division survive on gates of three thousand, Stanley must often contend with half that.
It can be a frugal existence, where every pound taken on the gate, in the club shop, from every programme sold is precious – and must be spent wisely.
Which is why in the club shop, Dan and Keil – ticket sellers, shop managers, PA announcers, kit men, ground staff, social media assistants, and anything and everything else that might need doing on any given day – are trying to sell their remaining stock of key rings.
'Reduced to 50p – a bargain that, a cracking little key ring', Dan enthuses to a browser, who buys two.
'They have the old-style pound coin token on them, that you use on shopping trolleys at the supermarket,' Keil explains in hushed tones as Dan starts in on his next pitch to another unsuspecting customer. 'Of course, they will be useless soon with the new pound coin coming out.'
The sound of the till registers another sale.
'But despite that they are still perfectly good key rings. Nothing wrong with them – apart from the coin bit.'
In a slight lull in trade they run a quick stock count.
'Sixty-seven sold already!' Dan beams.
In League Two, waste is costly, every penny counts.
At the bar, Stanley die-hards Darren and Gary explain that fans in League Two see rivalry between teams in a different light than others higher up the food chain.
'There are rivalries between teams in League Two, most definitely, but rarely on the hateful scale you can sometimes find elsewhere,' Darren explained. 'There seems to be more of a kinship between  fans down here – we all appreciate how hard it is to keep your club going, year on year, often without any success on the pitch to speak of.
'You might want to stuff the opposition, but you also really respect the dedication of the travelling support. It isn't easy surviving in this league. Supporters of League two teams most definitely have more in common than not.'
'Our closest rivals are Morecambe,' Gary adds, 'but it is a friendly rivalry. They are having a terrible time of it at the moment; players and staff not getting paid, the future looking rocky. We've been in a similarly perilous financial position. It isn't fun. You just hope they come out of it. We take no pleasure in their plight.'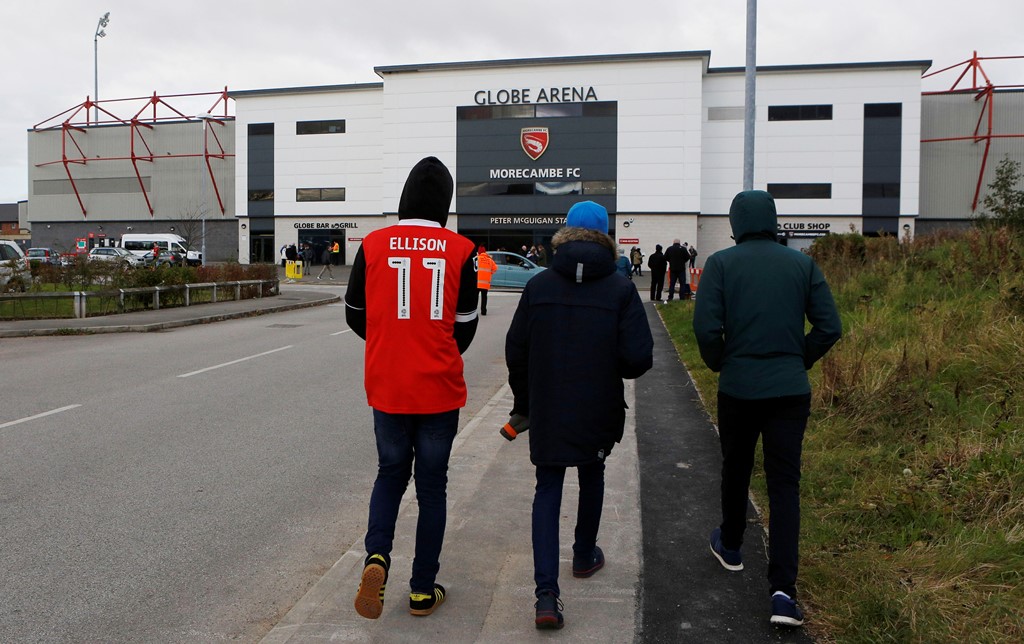 It may 'only be League Two', but on the pitch the football is exciting, skilful and enthralling, as both Accrington and Crewe play a fast, neat, passing game; Crewe's famed academy providing the backbone of a youthful side happily removed from a relegation scrap after a run of fine form.
Accrington are looking up, too. An unbeaten run of 12 games has seen a season spent looking nervously over their shoulder transformed into an unlikely late push for a play-off spot.
But it is Crewe who take charge of the first half. A long-range Liam Cooper effort and a neat dink over the keeper from Chris Dagnall give the Alex a commanding half-time lead.
Despite that, Stanley fans are in good spirits at the break. After a season near the foot of the table, there is a relaxed resignation at the seemingly impending end to their unbeaten run, and with it any talk of what always looked to be an unlikely charge at the play-offs.
Old friends leant against the barriers on the Clayton End stand and looked out at the small (smallest in the Football league) Wham Stadium that had long since captured their hearts, that drew them in every other Saturday no matter what kind of run the team is on.
Sun-drenched hills of East Lancashire rise up to meet blue sky in the distance; the tips of wheeling arms from a hazy wind farm whirr silently.
At the far end, Crewe fans shield their eyes on the away terrace that is exposed to the elements, some spending the break craning over the back of the terrace to watch an amateur match on a pitch a little way beyond.
From the road, it would be all too easy to miss the Wham Stadium altogether, to miss this idyllic half-time scene, as the home of Accrington Stanley nestles in a dell behind a run of houses.
A blink-and-you-might-miss-it view of the red stanchions of the small main stand appear as you drive past a fleeting break that accommodates a small car park for The Crown pub.
For a match that attracted a little over 1,700, it was a case, for the vast majority of the football-loving public in the UK, of blink and you might miss Stanley's amazing comeback while glancing across the football results in the following morning's papers.
The resignation of a good run coming to an end clearly hadn't been on the minds of manager John Coleman or his players, as Stanley came out a team reinvigorated. A relentless, concentrated assault on the Crewe goal began by a team clearly believing that something special could still be achieved this season.
As the Stanley fans behind the Crewe goal roared their heroes on, their faces as engrossed and invested as those captured in those Division Four programmes decades earlier, centre-back Mark Hughes  willed the ball into the net from close-range. Then a few minutes later, a buckling Crewe gave away a free-kick on the edge of the box.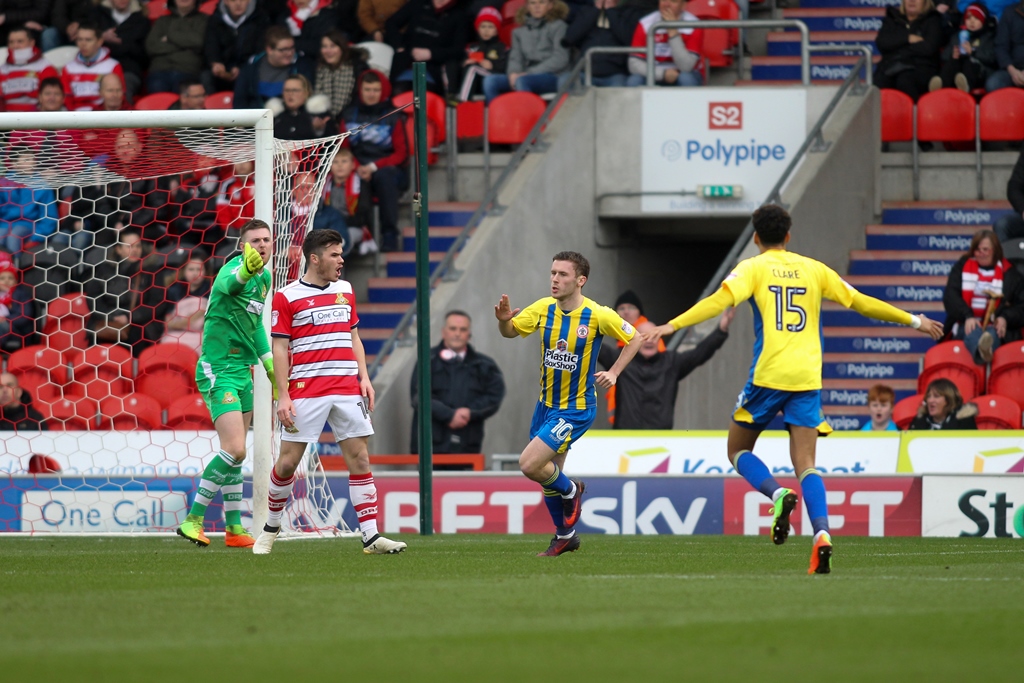 Up stepped in-form Shay McCartan to curl yet another shot into the top corner, proving that the five he scored in March to earn him the Sky Bet League Two Player of the Month award were no flukes.
And as the clock ticked down, and Stanley pressed, it was Hughes once more who thundered home another close-range effort to send the Stanley Ultras into delirium.
The impossible dream was still on; as friends on the terrace filed back into the pub, the final scores elsewhere streaming in on the television revealed the gap to the play-offs was now down to four points.
But maybe more important than the four-point gap – more important than the faint dream of glory being discussed from group to group across the bar – were a few salient points worth mentioning. That among a crowd of 1,700 – 400-or-so coming from Crewe – not one on-duty police officer was present. Just a handful of stewards, and the respect of one set of fans for another.
That to the 1,200 die-hard Accrington Stanley fans, who are there come rain or shine, come unlikely promotion pushes, relegation battles (historically much more frequent) or mid-table obscurity (often celebrated with as much gusto as the above two), it is all secondary to the joy of having their true love, their passion, their identity in Stanley – and no matter what happens on the pitch, it will still be there next season.
This belonging for the hardy few has them fundraising to help re-decorate the changing rooms, to help sign players on loan, pay off unpaid bills, has them travelling the length of the country to support their team.
And you can replace Accrington's name with that of Hartlepool's, Carlisle's, Exeter's, indeed Crewe's, whose fans mingle in the pub after the match with good humour and grace despite defeat.
Because, to a greater or lesser extent, Accrington's story is their story – is the story of League Two.
It is a story where players and supporters still mingle together for a pint after the match, live on the same street, worry about unpaid bills and the mortgage.
It is a refreshing antidote to the money at the top end of the game and, for those that know, it is a League Two love affair.
Mat Guy's book 'Another Bloody Saturday: A Journey to the Heart and Soul of Football' is published by Luath Press and is available through Waterstones, Foyles, Amazon and direct from the publishers, priced £8.99.
*This article originally featured in the April/May edition of Late Tackle.
Follow us on Twitter here and Like us on Facebook here. You know you want to!