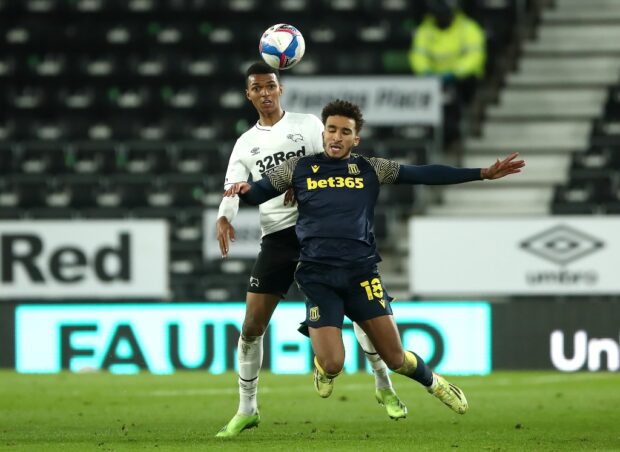 CALLUM BOYLE examines how Morgan Whittaker is making a name for himself at Derby County…
A LITTLE over a year ago, Morgan Whittaker was a pivotal part of an impressive Derby County U18 side, helping them to win U18 Premier League North and subsequently become national champions by defeating Arsenal 5-2 in the final.
Whittaker alone scored 24 goals from 37 appearances as well as boasting 16 assists for the U18 and U23 teams respectively in the 2018/19 campaign.
Fast forward to the present day and the 19-year-old attacker is a regular in the first-team squad and rubbing shoulders with the best of the Championship, having only made his senior professional debut against Scunthorpe in the Carabao Cup at the start of last season.
Whittaker isn't the only player to have progressed to the first team from the talented pool of Derby youngsters. The likes of Louis Sibley and Jason Knight have also made the step up to the senior squad, with the latter signing a new long-term four-year deal the same day as Whittaker.
However, unlike the traditional route of playing through the academy side, the lively forward took a slightly alternative path compared to his teammates to get to where he is now.
Having been at Derby since the age of seven, Whittaker took a year out of academy football to play local Saturday and Sunday League football – a far cry from the ever-increasing pressure of being in a professional football club's academy.
Playing for village side Caythorpe & Fulbeck – where I played alongside him – the England youth international has fond memories of his short stint in grassroots football and how it helped him to develop his game, but also looks back at it as the moment he realised he saw his long-term future in a professional football environment.
"I had a year away from Derby because I had just moved to a new house in Caythorpe and it was too far to travel each time I had training or a match," said Whittaker.
"I had a year out to play for Caythorpe and I really enjoyed playing Saturday and Sunday League football, but, at the same time, it also made me realise how much I missed playing academy football.
"It definitely helped me because it showed me just how different academy football is in comparison to playing in a Sunday League environment.
"I learned a lot during my time away from Derby and it has really helped me to get to where I am today."
The transition from local parks to Pride Park has been a real highlight for Whittaker but even he probably couldn't have imagined lining up alongside England's record goalscorer Wayne Rooney at the start of his breakthrough season.
The former Manchester United legend made headlines across the globe after he confirmed he would be moving to the East Midlands in January on a player/coach deal after a spell in the MLS with DC United.
Having grown up in an era which would have seen Rooney in his prime, Whittaker has relished the opportunity to be in the same environment as the 34-year-old on a daily basis.
"It's crazy because he has achieved so much in football, such as being England's record scorer, and I get to train with him every day," he explained.
"Being around him all the time, you see how professional he is and how hard he works, which is why he has been as successful as he has been.
"As a young player it doesn't get better than to learn from someone like him. It gives a young player like me confidence and it makes me want to achieve more.
"All the first team players have been really good with the younger lads coming through. I am always learning from them.
"I was very pleased with my first season because I played a lot more games than I thought I would and also signed my new contract."
But it wasn't all smooth sailing as the 2019/20 season was brought to an abrupt halt in March because of the Covid-19 pandemic.
The much-anticipated return of football finally happened in June as Derby returned to action – finishing just outside the play-offs in a respectable tenth position.
On a personal level, the final game of the season saw Whittaker fulfil his dream and score his first senior goal in a 3-1 win at Birmingham City.
"It was a moment I'll never forget," he said. "I saw the opportunity and knew that it was a great chance. I was so happy when I saw the ball go in the back of the net.
"Scoring in the final game of the season and celebrating with all my teammates was a very special moment. It has given me the confidence to kick on and improve this year."
A change of squad number from 49 to 18 suggests Whittaker is frame for first-team involvement. He started the new season where he left off, coming off the bench to score the winning penalty in a shoot-out win against Barrow in the first round of the Carabao Cup.
Having had his first taste of professional football last term, there will now be expectation on him to improve and add more goals and assists to his game. One thing that's for sure, though, is he has talent. He is certainly capable of becoming a force to be reckoned with in the coming years.