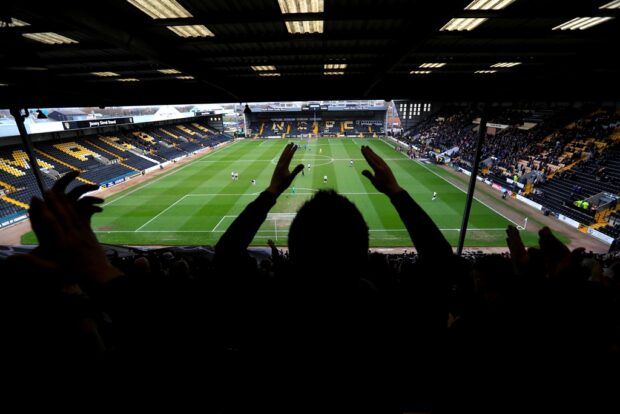 IAN KIRKE reflects on the importance of his favourite football side in his life…
IN MAKING the assumption that you have felt love, I am guessing you have experienced the physical and emotional pulls and pushes too? The highs, lows, and the levels in between.
Personally, I know I have been in love, am in love, yearn it, have missed it and have been completely stumped by it, lost it then found it again. An emotional contradiction wrapped up in a heart-shaped enigma.
Google describes love, rather usefully, as being complex!
Here's a question to consider, though. Can I really be in love with my football team, Notts County?
As I write this, Notts have failed again and the pain is real, although I shouldn't be surprised. In 2007, The Telegraph revealed that Notts were the most stressful team to support.
But as the devastation of losing to Harrogate Town in the National League play-off final was at its immediate post-match peak, I wanted to make sense of how gutted I felt. Indeed, how closely these raw emotions echoed those of a love lost.
Whilst sitting at Tenerife South airport (Covid-19 had put the kibosh on any thoughts of attending Wembley), I pondered, whilst others no doubt were more angered at having to quarantine for two weeks once back in the UK, how I really felt? No one had died so it wasn't that bad.
The closest comparison that I felt comfortable with was the feeling of an end- of-summer romance and, just to rub my nose in it, she had walked away hand- in-hand with a guy from the 6th form!
I felt more than just miserable and on the run-up to the game I had experienced fractured sleep and a loss of appetite, too. All the classic signs, I would contend, of love.
A win would have elevated us back to the English Football League after an excruciating year in Non-League football and allowed my club to reclaim the title of the oldest Football League club in the whole damn world once again!
Then Harrogate Town came along and won, quite rightly, with room to spare. If you do not share such a passion for a football team or association with a similar entity, I fully acknowledge that it may only appear to be 'a game'.
But let me explain, and whilst doing so compare with the various stages of my experiences of love, that it's not that simple. Indeed, the game itself from kick-off to the final whistle can often be the dullest part!
For instance, it's the anticipation during the days beforehand (will we hit it off?). The planning of how to get there (where shall we eat?). The euphoria of a win (they like me!). The despair of defeat (was it me?).
Of course at the match, and assuming it has some action of note, the near misses, the decisions that go against and the fortunate ones that go our way by the referee, who can never see what us unbiased supporters see, only add to the drama (from my experience real love will always have drama once that initial three-month emotionally-charged hiatus has elapsed).
My relationship with Notts County began when I was ten years old. I was born in Nottingham and lived in Stapleford, a parish of the great east midlands city, until my family moved to Bicester in Oxfordshire when I was five.
My grandma remained in nearby Chilwell and my Dad would spend every third weekend driving up to see her.
In those days I tagged along for the pocket money, sweets and Mr Kipling cakes that we always had with Saturday night dinner and, if I'm honest, little else.
That all changed when my Dad, principally a Reading fan, took me to the football!
Nottingham has a great footballing heritage with, then, three league teams to choose from. In addition to County, there were Nottingham Forest and Mansfield Town. I was taken to all three, so I had to make a choice.
At ten, critical thinking isn't a particularly well-developed skill. It was easy to discard Mansfield Town since they were in the then fourth tier of league football.
The ultimate life choice became a straight shoot-out between County and Forest. At the time I went to Meadow Lane, Notts were marginally above our noisy neighbours from across the River Trent in the second tier and I liked their colours more. Remember, I was just a kid!
Let me not forget the great players too and especially the brilliant centre- forward Les Bradd, the all-time leading goalscorer for Notts County and instant boyhood hero.
Like a star-struck lover, I have remained loyal ever since, even though the red half of the city went on to win the Division One (now Premier League) title a few years later, back-to-back European Cup wins and more League Cups than you could shake a stick at, etc. (yawn!) whilst the mighty Magpies didn't have to invest in any additional trophy space.
Having said that, my Notts County Subbuteo team were virtually unbeatable! Yet for all the lack of on-field success, Notts ultimately became my point of stability.
At ten years of age, this had never crossed my mind although as the decades passed and I began to be exposed to the challenges of life, the need for an unwavering place of escapism, safety, and consistency became an enduring part of my identity.
Love can very often change things: my children introduced me to a love I never knew existed and death took away, amongst others, the love of my wife and Dad.
Yet throughout the enforced changes to my life, many of which I wouldn't have ordinarily chosen, Notts County remained stable in that it existed embodied in the stadium along with all of my childhood dreams, aspirations and the spirit of my best mate ever, my Dad.
Players come and go and there are ground improvements but Notts are permanent. Solid. Ever-present (or so I thought as latterly this perception was challenged).
The place I would ultimately go when things were tough for me and more often, after the passing of my Dad, on my own. The only place where I wouldn't be judged, even if I gave our own players an expletive mouthful from the safety of the Derek Pavis Stand, shunned or criticised.
A place where I would be with others yet, if I chose to be, alone too. Yet this affection isn't contagious.
When Lucy and Adam were born, they were instantly enrolled as junior Magpies and although my daughter didn't get into the football tradition, I wasn't that downhearted since my son would be a Notts fan…
Like father, like son, as always happens in the Sunday afternoon films. Yet this is real life and love doesn't always follow such a clear trajectory.
A tad before his third birthday, I took Adam to his first match away at Oxford United. I can't remember the score yet I clearly recall him holding my hand and looking up at me with his beautiful blue eyes at the half-time whistle and blurting out the never-to-be-forgotten statement, "Daddy, can we go home now?"
In July 1999, I knew that I would be able to successfully reinforce his footballing genetic code when Arsenal came to Meadow Lane and played a friendly match as part of the transfer deal of our then starlet Jermaine Pennant to the Gooners.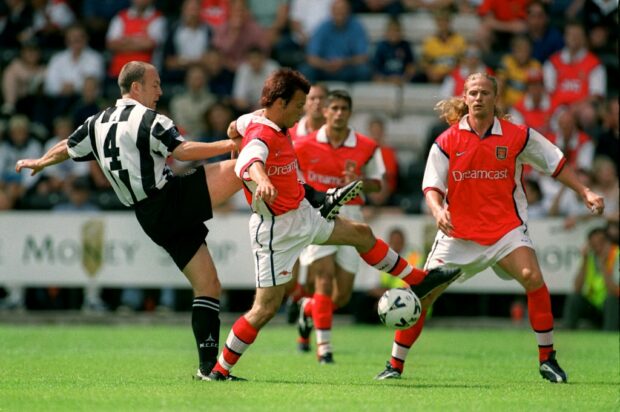 On arrival at the ground, a mate of mine gave him an Arsenal shirt to wear and as an impressionable six-year old, who knew the entire visiting side too, he became a supporter of the Londoners.
To be fair to Adam, he has remained a loyal Gooner and I should not forget that the love of a football club can very often be driven by the colours!
I have experienced more lows than highs, but, then again, true love isn't always glitzy in the end. Loyalty, reliability and a sense of family belonging are, at least in my humble opinion, the most important drivers although I do like an emotionally charged adrenaline ride once in a while and I have seen Notts lift a few trophies during the last 47 years!
My company, Training For Success, became corporate sponsors where our party were always graciously looked after by club ambassador, the one and only Les Bradd, inducted into the club's Hall of Fame last year.
Les must meet hundreds of corporate visitors and I was, no doubt, just another face in the crowd. How wrong was I? At the half-time whistle at Yeovil Town away in August 2016, I went for the customary brew and heard a shout, "How are you, Ian?"
I turned to see a smiling Les. He remembered me and I was a ten-year old boy once again.
A few years later, we were relegated to the National League. For a brief moment in time at the County Ground, Swindon, we took the lead whilst Macclesfield Town were being beaten at home by Cambridge United.
I began to believe that miracles can happen. Just as the miracle of watching my two children being born as a result of love.
Then reality cruelly popped my artificial bubble as we eventually lost, Macclesfield drew, and we lost our league status for the first time in our 158-year history.
Then the real sh*t happened. The club was put up for sale and there was a real chance that Notts would be no more. The most unsettling time ever in the history of my club was ended as a stroke-of-midnight takeover was agreed by the Danish knights in shining armour Alexander and Christoffer Reedtz with, as rumour had it, only a handful of minutes to spare before we became extinct. That night I got totally drunk and poured out my feelings and my love of Notts to a very attentive West Ham fan. Well, I will give him the benefit of the doubt as he was probably more pissed than I was.
Not for the first time, my unbreakable emotional ties with my club made me cry. But not in front of him!
My love affair with Notts County was allowed to continue and, as much as I find most football memes naff, I have to admit that 'I'm County 'til I die!'
So, can I really be in love with Notts County? If the spirit of the club had a consciousness and responded to my utterance of the immortal Kojak quip, "Who loves ya, baby?", the emphatic reply would be, "You do!"
Come on You Pies!