Have you herd the one about the cows?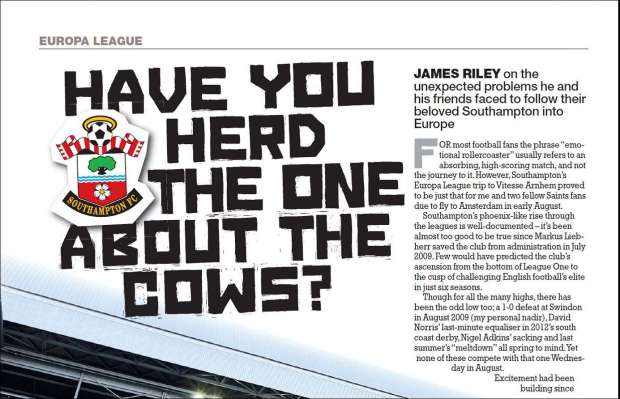 By James Riley
For most football fans the phrase "emotional rollercoaster" usually refers to an absorbing, high-scoring match, and not the journey to it. However, Southampton's Europa League trip to Vitesse Arnhem proved to be just that for me and two fellow Saints fans due to fly to Amsterdam in early August.
Southampton's phoenix-like rise through the leagues is well-documented – it's been almost too good to be true since Markus Liebherr saved the club from administration in July 2009. Few would have predicted the club's ascension from the bottom of League One to the cusp of challenging English football's elite in just six seasons.
Though for all the many highs, there has been the odd low too; a 1-0 defeat at Swindon in August 2009 (my personal nadir), David Norris' last-minute equaliser in 2012's south coast derby, Nigel Adkins' sacking and last summer's "meltdown" all spring to mind. Yet none of these compete with that one Wednesday in August.
Excitement had been building since Arsenal's FA Cup triumph confirmed our place in the 2015-16 season's Europa League. Yes, you read that correctly, excitement for the Europa League – the bane of the Premier League's middle class. After all, it's only the second time that Southampton have qualified for European competition in 31 years.
We were ready as soon as the draw was made on July 17. The trip had been meticulously planned – hotels had been strategically booked, gluten-free restaurants mapped and travel-sized toiletries replenished. We would spend the Wednesday night in Amsterdam, get a train to Arnhem on Thursday afternoon, watch the match, celebrate until the early hours and then leisurely head back for our mid-afternoon flight on Friday. Even Jose Mourinho would have appreciated the attention to detail.
So, Wednesday arrived and my two companions drove up to my flat on the outskirts of London, we ate and then enjoyed a relaxed tube ride to Liverpool Street to catch the Stansted Express. We narrowly missed the 14:10 service, but no bother we thought, there's another one in ten minutes.
The next train left as scheduled and would arrive at Stansted Airport an hour before our flight's boarding gate closed. We had already checked-in online, so that would leave us with plenty of time to walk through security.
We had also managed to grab a table seat and the train's Wi-Fi worked. Nothing could stop us now…that was until our train came to an unexpected halt at 15:08, a couple of miles from Stansted. Our driver nervously started to make a tannoy announcement: "Ladies and Gentlemen, er, we've, um, just run over a herd of cows. Um, I'm sorry, er, but we won't be going anywhere for a while."
Cows?! Did he really just say cows? Cue fits of laughter and terrible puns. He must be having us on, I thought, we hadn't felt anything! But soon the severity of the situation became clear, and as time slowly ebbed away the smiles were replaced by frowns and finally scowls. It was now 4 o'clock and we still hadn't moved. Agitation had set in.
We were finally given permission to move an hour after the accident, but not onwards to Stansted. No, we would be going back to Bishop's Stortford where we would have to make our own way to the airport. We were greeted by chaos – passengers from other trains had already congregated over most of the platform to queue for the dearth of taxis. We decided to leave the station and forlornly look for a bus in the town centre.
Eventually we found one, but to no avail. We reached our fluorescent-coloured airline's customer service desk just before 16:45 to be told our flight had already left (it hadn't) and that there weren't any available flights in the London area until the same time the next day – match day.
Panic engulfed us as we frantically browsed our smart phones for alternative travel arrangements with rival airlines, coaches, trains, ferries – we briefly contemplated hitchhiking from Paris!
Our search continued as we sat on our delayed coach back to Victoria Station, but the euphoria of each potential breakthrough was met with a crushing low as flight after flight, coach after coach, everything sold out.
I had begun to accept the most bitter of defeats – imagine Kevin Keegan sinking behind the advertising hoardings at Anfield after Stan Collymore's winner against Newcastle in 1996.
The Smiths' anthem 'Meat is Murder' had started to take on new meaning to me with the irony that our European adventure would be curtailed by cattle, when we received a lifeline. We found a flight from London City Airport to Amsterdam at 8:35 the following morning. They were expensive, but at least we would still get to the game. Now all we had to worry about was Thursday's tube strike.
We needn't have though, because although Wednesday had been stressful, Thursday was serene – a contrast to truly embody the cliché 'a game of two halves'.
We woke early enough to catch the first train to Waterloo, and as we crossed Waterloo Bridge alone, at 5:30, I was eerily reminded of Cillian Murphy's opening scene in 28 Days Later. There wasn't a soul or selfie stick in sight.
We continued on to Bank Station and hopped on the DLR direct to City Airport, arriving nearly two hours before our flight. Enough time for us to grab breakfast and collect our thoughts, but as I nursed my Earl Grey waiting for our flight's boarding gate to open, an earlier flight to Amsterdam flashed up as cancelled. But before the colour could completely drain from my face, our gate flashed up as open and we were finally on our way.
We arrived at Schiphol for 11:00 and, after a whistle-stop tour of Amsterdam, boarded the train to Arnhem soon after. As if to compound the insanity of the past 24 hours, we befriended a couple of fellow Saints fans who told us Australia had been skittled for 60 on the first day of the fourth Ashes test.
It was mid-afternoon when we reached Arnhem and we headed straight to our hotel. After a powernap we left for the Korenmarkt – the scene of the reported violence between Vitesse and Southampton fans. There was little sign of violence or tension; in fact all we saw in Arnhem was harmony and respect between fans, regardless of age or background, as they mingled before and after the game.
We did see a bendy bus full of the arrested troublemakers as we walked over the Nederrijnon our way to the GelreDome, and you could count the number of fans in football shirts on two hands. Subsequent reports have suggested that it was a group of Feyenoord fans who were responsible for the altercation.
As for the match itself, Graziano Pelle's fourth-minute goal ensured that the rest of the tie was academic and allowed the Saints fans to enjoy the party atmosphere; a particular highlight of which was the second-half serenading of the "mighty Kenyan" Victor Wanyama. It was also the calmest I had felt throughout the whole trip.
Sadio Mane's late strike was the icing on the cake, and we left the stadium to toast Saints' success long into the night. Despite the nightmare start, we had the trip we had dreamed of – perhaps fitting given the events of Ronald Koeman's first season in charge.
As we waited for our flight the next day, sleep deprived and hungover, the draw for the next round had been made. Saints had been paired with FC Midtjylland from Denmark. Isn't Brentford's owner their main shareholder, I mused. I wondered what our ticket allocation would be… the emotional rollercoaster had started to climb once again.
Tagged Europa League, Southampton