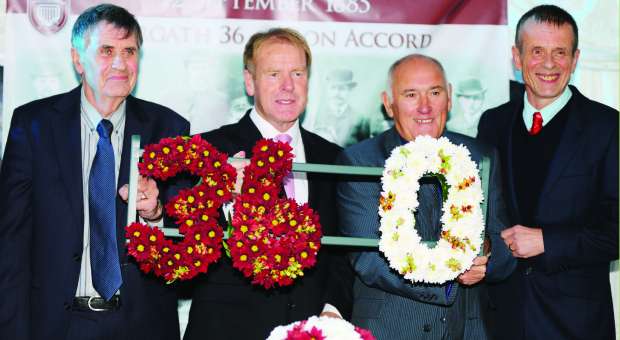 Matthew Edwards looks back at Arbroath's 36-0 win against Bon Accord in 1885…
In British football's glittering and longstanding history few stories compare to the remarkable story of Bon Accord's crushing 36-0 defeat to Arbroath on September 12, 1885 in the first round of the Scottish Cup. It is a story fused with falsehoods, muddled scores, on-field antics, absurdity, strange coincidences and one man's attempt to not be written out of history.
In 1885, the Scottish FA sent out an invitation inviting the newly formed Aberdeen football club Bon Accord FC the opportunity to participate in the first round of the Scottish Cup. Contrary to popular belief, Bon Accord was an established footballing outfit, albeit in their early infancy.
Formed in 1884, the team lacked any real professionalism or footballing know-how, but were delighted when they were drawn with the vastly experienced Arbroath FC, who themselves were formed in 1878.
For Bon Accord, Arbroath FC, who had just turned professional through the legalisation of the sport in Scotland in 1885, were deemed highly attractive opposition. Newly registered as part of the Forfarshire Football Association in 1883, which comprised of 18 teams, Arbroath had earned a good reputation in Scottish footballing circles and a good pedigree as a cup specialist team having beaten Dundee Harp 2-1 at Rollo's Pier during the first Forfarshire Cup in 1883, watched by over 5,000 specators. The following year they beat Glasgow Rangers 4-3 in the Scottish Cup only to have the match controversially re-arranged due to a complaint by Rangers officials that the pitch was too small.
The Scottish FA sided with Rangers and ordered the match to be replayed whereby they trounced a disheartened Arbroath 8-1. Upset by the manner of their exit, the Maroon Boys sought to make their mark on the competition this time round and set about putting Bon Accord to the sword.
As the big day arrived, legend has it that Bon Accord turned up on the day of the match without any form of standard kit or appropriate footwear. To compound matters, their goalkeeper failed to arrive for the match which saw centre forward Andrew Lornie reassigned to goalkeeping duties. Seen clearly as a portent of what was to follow, Bon Accord, who possessed little footballing prowess, or any player with an ounce of skill that was comparable to Arbroath's professional players, were promptly thrashed 36-0.
During the heavy rain and windswept match, Arbroath chalked up 43 goals only for referee Dave Stormont to disallow seven 'perfectly good' goals for 'offside', even though, by his own admission, he felt they were perfectly valid:
"My only regret was that I chalked off seven goals, for while they may have looked doubtful from an offside point of view, so quickly did the Maroons carry the ball from midfield, and so close and rapid was their passing, that it was very doubtful whether they could be offside."
The Arbroath score should have officially stood at 43-0, had Stormont had not succumbed to a sense of pity towards the visitors as the embarrassing scoreline that was notching up at a rapid pace.
One can also sympathise with Stormont, for the unfolding slaughter mustn't have been pleasurable to officiate and terribly demoralising for the Bon Accord players.
With the ball whizzing past Lornie's desperate dives at a rate of a goal every two-and-a-half minutes, as John Petrie and forwards David Crawford and Jim Buick tormented the Aberdonians' backline, it is small wonder that Bon Accord sought a damage limitation strategy. Their plan…cheating and time wasting.
Their lack of urgency in retrieving the ball when it went out of play or after a goal sent the Arbroath players into irate fury where they accused the footballing newbies of debasing the beautiful game with their unsporting antics.
Some might contend that Arbroath were ruthlessly professional in their demolition of Bon Accord, while others will mark their behaviour as unfair and somewhat greedy, in light of the hammering they were dishing out.
It should be noted in Bon Accord's defence that the game was played in an era one notch up from jumpers for goalposts. During the late 1800s, football matches were played without nets.
Having conceded so many, you can forgive Lornie for not wanting to hurry off and return the ball so quickly. He was more used to sticking the ball in the net and not trying to prevent them zipping past him.
As the match descended into farce, and the goals rained in on Lornie's goal, spare a thought for Arbroath's goalkeeper Jim Milne Sr who allegedly did not touch the ball and spent the entire game sheltering from the rain with an umbrella given to him by a spectator. The game finished with a 36-0 trouncing that has never been beaten to this day.
The young slinky skills of winger John Petrie, who had recently signed from arch-local rivals Strathmore, notched an impressive goal tally of 13 goals during the match, the highest ever in British history (Petrie is joint top scorer with Archie Thompson, who scored 13 in Australia's 31-0 rout of American Samoa in 2001).  With such a comprehensive victory, Arbroath duly celebrated that evening.
Remarkably, on the same day in the same competition, and less than 20 miles away, Dundee Harps thrashed Aberdeen Rovers 35-0 at East Dock Street Park (16-nil at half-time). Captain D'Arcy junior bagged an astonishing ten goals, while D'Arcy senior popped up with a solitary goal, too. The other goalscorers on that day were McGirl who netted a double hat-trick, Murphy who scored five, Murray who pitched in with four goals and Neill, Rock and Lees who each bagged themselves a hat-trick. With some confusion over the official score, the referee and Dundee Harps secretary settled on 35-0, as opposed to 37-0 which the referee had recorded. Not wishing to embarrass Aberdeen Rovers, and going with the score tallied up by Dundee Harps' own secretary, the ref telegraphed the Scottish FA with the official result.
Buoyant by the cup-winning massacre of Aberdeen Rovers, ex-Arbroath player Tom O'Kane, who had recently transferred from Arbroath to Dundee Harps, realised the significance of the victory. Believing that he had taken part in the highest score in British/Scottish footballing history O'Kane decided to send a telegram to his former team-mates boasting of Dundee Harps' cup-winning achievements. To his shock, he received a telegram back claiming that they had outdone him by winning 36-0!
Initially, believing it to be a wind-up and a humorous jape, O'Kane was mortified to discover upon his return to Arbroath that evening that the result was indeed genuine. Sensing he was being written out of history, he was beside himself, especially as the match referee had recorded 37-nil. Horrified and unable to sleep, the following morning O'Kane ran 18 miles from Arbroath to Dundee to notify club officials in an attempt to get their score altered – to no avail.
One of the falsehoods around the Bon Accord story is that the Scottish FA, due to an unfortunate administration error, mistakenly sent their invitation to Orion Cricket Club instead of Orion FC. Upon receiving this bizarre invitation, Orion Cricket Club decided to duly accept the Scottish FA's request, changing their name in the process.
This is seemingly untrue, as Orion FC was not formed until October 1885, a month after Bon Accord's legendary defeat. Still, the legend added to the romance of the tale or perhaps was populated by the ex-players of Bon Accord as a means of saving face due to such a hefty thrashing. Propagating such a falsehood may have gathered momentum over the intervening years, till it had widely become the gospel truth. The other theory could be that the team comprised members of Orion Cricket Club who set about establishing their own football team as a means of keeping themselves busy during the winter months and lured by the opportunity to take part in the Scottish Cup. Such was the rules of the Scottish FA at time, teams could submit to take part without any prior experience.
Either way, Bon Accord's performance has gone down in the annals of Scottish and British football history as the greatest professional loss in any competitive game (only beaten internationally on October 31, 2002 when Madagascar's As Adema beat SO L'Emyrne 149-0, though there is some conjecture about the validity of this score as  SO L'Emyrne threw the match and scored 149 own goals in protest at a contentious last minute penalty in a 2-2 draw with DSA Antananarivo which prevented them from competing for the title). More recently, FC Infronet Tallinn of Estonia smashed Virtsu Jalgpalliklubi 36-0, which included defender Trevor Elhi scoring ten times!
That year, Arbroath went on to slaughter local rivals Forfar Athletic 9-1 in the next round, Dundee East End 7-1 in the third, before finally bowing out of the competition in a keenly fought 5-3 loss to Hibernian in the fourth round. As for Bon Accord, the records show that they entered the Scottish Cup twice in subsequent years (1891-92 and 1903-04). In the former, they beat Stonehaven 8-0 away before losing to Aberdeen 5-2 at home.
Whether these teams were the same club cannot be ascertained.
What is for certain is that Bon Accord will always be remembered in Scottish and British footballing folklore for the David vs Goliath match that quite didn't go to plan.