All Crazee Now – English Football and Footballers in the 1970s, by David Tossell, published by Pitch Publishing, Price: £19.99
DAVID Tossell's story of English football in the 1970s, All Crazee Now, is a special treat for nostalgists and football connoisseurs.
This tour-de-force of 512 pages, including Index, Endnotes, Acknowledgements and Roll of Honour, is an engrossing account of football and footballers set against the backdrop of the political, cultural and economic events of the time.
The big personalities of the decade all feature, including managers such as Brian Clough, Don Revie and Bob Paisley; playing icons Kevin Keegan and George Best and the maverick talents of the likes of Stan Bowles, Alan Hudson and Rodney Marsh.
There are notable comparisons between some of the big characters of the time. In 1975 Margaret Thatcher became leader of the Conservative Party and Brian Clough became manager of Nottingham Forest.
'Thatcher would later describe her manner of dealing with cabinet members as "I don't mind how much my ministers talk, as long as they do what I say".
'And Clough, whose method of discussion with players was, "We talk about it for about 20 minutes and then we decide I was right".
'It was the period when The Iron Lady and Old Big 'Ead were ready to make history.'
The book does not shy away from the dark side of the decade and the stain of football hooliganism, racial tension and the power of the unions.
There was, however, a significant breakthrough for black players in the 70s though they had to contend with the overt racism of the time which included having bananas thrown at them, racist chanting and death threats.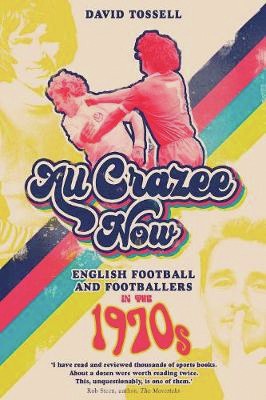 Viv Anderson, Laurie Cunningham, Cyrille Regis and Brendon Batson, amongst others, were agents of change and helped a new order to assert itself in the British game.
There is analysis of the important games of the decade, including the special FA Cup ties: Colchester versus Leeds in 1971; the Leeds versus Sunderland final in 1973; Leeds versus Wimbledon in 1975 and, perhaps most memorably, Non-League Hereford knocking Newcastle out of the cup in 1972.
The mid-70s FA Cups represented a more equitable football time for many fans. Second Division Sunderland triumphed in 1973, West Ham won in 1975 from a position of 13th in the First Division, Southampton did so from the Second in 1976 and Ipswich won in 1978 after finishing only three points from relegation in 18th place in the top-flight.
This extensively researched 1970s football epic is highly recommended and deserves your attention. There are plenty of amusing passages and anecdotes.
There are references to television programmes, pop music and popular culture which will keep those of a certain age suitably entertained, but it will also attract younger readers who want to learn about a turbulent and transitional period for football and the country in general.
Rating out of 10: 9