Is it Just Me or is Modern Football S**t?, by Jim Keoghan, published by Pitch Publishing, Price: £12.99
IT'S always tempting as you get older to think that everything was better back in the day.
To be fair, author Jim Keoghan is the first to admit that not everything was golden before football suddenly became awash with money in the Premier League era.
"I might look back on my first faltering footsteps as a fan in the early 1980s through rose-tinted specs, but I'm aware enough to recognise that what I experienced was not footballing utopia," he writes.
"The crush of the terraces, the language used that should never be used, the absence of consideration for anyone smaller than 6ft and not built like a brick s**thouse.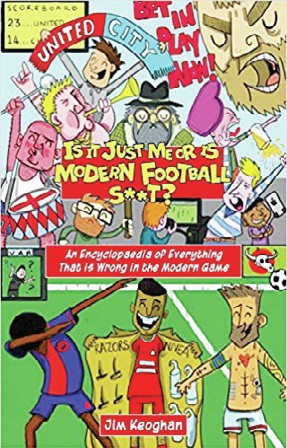 "And the play! It's a good idea to never look back at videos of the once great teams from your club's past."
Keoghan admits that the game is 'technically and tactically better' now and that football 'remains the game that we love', but there are many things that grate with him about the modern game.
"Massive financial inequality, selfie-obsessed supporters, Michael Owen as a pundit – the crimes of the modern game are seemingly limitless," he adds. To make his point, Keoghan takes us on a highly entertaining alphabet ride through the things that annoy him most.
Put across in bite-sized chunks, the book will have you chuckling at regular intervals.
There's clearly plenty of thought that has gone onto it and Keoghan covers a wide array of topics.
Take letter A as just one example. It covers A4 protests, advertising hoardings, agents, armchair scouts and autobiographies.
Further down the line, you've got things like deadline day, half scarves and kissing the badge.
It's all done in an entertaining and well-written style. The multi-faceted cover illustration is also top-notch.
Rating out of 10: 8