Playing For Keeps, by Chris Pullen, published by Matador, Price: £9.99
WHAT better inspiration for a novel than the world of Non-League football? It certainly appealed to Merstham vice-chairman Chris Pullen.
The 60-year-old's first book, Playing For Keeps, has goalkeeper Matt as the central character. He plays for Isthmian League Reigate Athletic but attracts Premier League interest when he shines in the FA Cup.
Off the pitch, he falls in love with Anna but also has chemistry with local paper football reporter Jess.
"Writing a book was an idea in my head for a few years, but I never really had the time to do it," said Pullen, who has been involved with Isthmian Premier Merstham for the last six years. "Lockdown was a 'now or never' moment for it.
"I had a brief flirtation as a player with Wimbledon in the Crazy Gang era, but I probably wasn't quite good enough to make it as a professional. Dave Beasant was in front of me – and he wasn't too bad!
"Merstham were one of my clubs in my playing days and I've been around Non-League football for many, many years. It's always struck me that there aren't many football novels so hopefully I can plug a gap in the market."
The fictional tale is well written and Pullen's on and off-the-pitch experiences in football have given him a good insight into the game. The story is an entertaining one as Matt tries to balance part-time football with his job and personal life, and Pullen injects plenty of twists and turns into the fictional tale.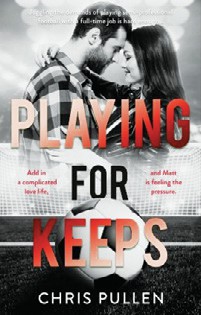 Now that Pullen, who has worked for law firms in marketing and development, has got his debut novel out of the way, will he consider a follow-up?
"Absolutely, there's a second book under way," added Pullen, who also played in goal for Kingstonian, Wimborne Town and Whyteleafe. "The first one finishes at a point in which it can go in a number of difference directions.
"I promised myself years ago that I would write a book and it's one of the best things I have ever done. If people read it and enjoy it, that's great."
Personally, I'm already looking forward to the next instalment.
Rating out of 10: 8