All Together Now, by Erik Samuelson, published by Pitch Publishing, Price: £19.99
ALL Together Now is billed as 'The Extraordinary Story of AFC Wimbledon' – and it's hard to argue with that.
As soon as an FA Commission allowed Wimbledon FC to up sticks and head for Milton Keynes in one of the most bizarre footballing decisions ever made in this country almost two decades ago, devastated Dons supporters made plans to form their own club from scratch and go again.
The results have been clear for all to see. AFC Wimbledon worked their way up from the Combined Counties League to the Football League in a mere nine years.
Nowadays they ply their trade in League One and have a newly built ground just a stone's throw from their old Plough Lane home.
It has indeed been an 'extraordinary' adventure and shown just what fans can achieve when they all pull together and have a common goal.
Erik Samuelson was an ideal person to put the story together, having been involved virtually from the start.
Having followed his native Sunderland in his childhood days, he switched allegiance to Wimbledon FC when his career took him to London and he started to take his sons to support their local team.
When the club moved to Milton Keynes, he gave up his job in the City to be finance director and then CEO of AFC Wimbledon before stepping down in 2019, though he continues as chair of the club's charitable arm.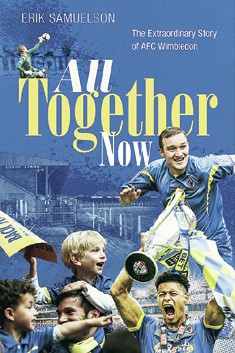 And no one can say that he hasn't done his homework for this book. With 400-plus pages, it's a comprehensive and well-researched account of the rise of the Dons, telling the story both on and off the pitch. He's spoken to many of the leading protagonists and covered acres of ground.
Personally, I particularly enjoyed the early chapters about setting the club up, getting into a league, building a team and finding somewhere to play.
Centre-back Matt Everard summed up well what it was like to play for a start-up club with such a strong support.
"It was a once in a lifetime opportunity to play for a big club – what it is like to play as a pro," he said. "Playing for Wimbledon was the golden ticket for players like us."
In his introduction, Samuelson states: "This book isn't about football matches, goals and saves. It is about the people in football, their resilience, their determination to right a wrong and their incredible commitment, all set to a backdrop of the game we love."
He's certainly done it justice.
Rating out of 10: 8