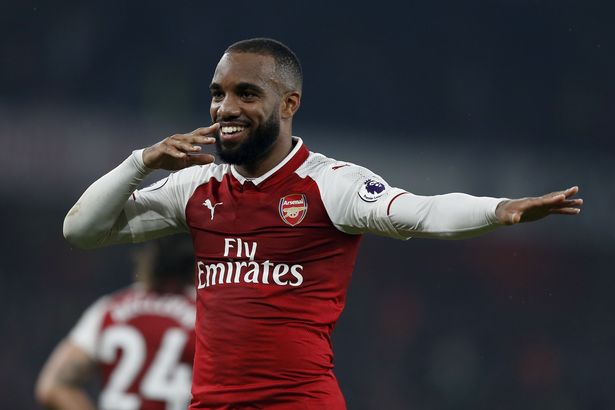 Arsenal fans must feel as though they have entered a parallel universe after the club splashed out close to £60 million on new striker Pierre-Emerick Aubameyang. The Gunners have a reputation for parsimony, but they are starting to loosen the purse strings as Ivan Gazidis aims to deliver on his "catalyst for change mantra". Aubameyang's arrival follows hot on the heels of a £50 million summer deal for Alexandre Lacazette and begs the question: how will Arsenal fit both of these strikers into their starting 11?
It has been the most frenetic January transfer window Arsenal fans have ever known and it must make a nice change to be centre of attention rather than frustrated bystanders. They offloaded wantaway winger Alexis Sanchez, a supremely talented forward but a toxic presence in the dressing room after becoming disillusioned with life at the club. In return they received Henrikh Mkhitaryan in a swap deal with Man Utd, and will relish the opportunity to partner him up with Aubameyang once more. These two played together at Borussia Dortmund and combined for an astonishing 59 goals and 31 assists in their final season together in 2015/16.
Then, with all the deadline day focus on the record breaking signing of Aubameyang, they pulled off an even bigger coup, straight out of leftfield. Fans were overjoyed to learn that star player Mesut Ozil had signed a new contract to remain at the club until 2021, quashing long-standing rumours that he was set to follow Sanchez out of north London. He is now the highest player in Arsenal history, earning a reported £350,000 per week, so he will be the first name on the team sheet.
It seems highly likely that Arsenal will want to start Aubameyang and Mkhitaryan together due to the strength of their understanding on the pitch, and the supremely intelligent Ozil will slot seamlessly into that set-up. But that leaves a colossal question mark over Lacazette, who has flattered to deceive since joining from Lyon in the summer. Much excitement greeted his arrival, thanks largely to his phenomenal goal scoring record in France, but he has registered a mere nine goals this season. In mitigation, he has not enjoyed the service he would have expected, and he has shown flashes of his finishing ability, while he also holds the ball up well. But Aubameyang has a better goal scoring record in a more competitive league, and he is a lot quicker and sharper, so if Arsenal were playing only one of the two, you would expect him to start and Lacazette to be benched.
However, one of them could be shunted out to the wing. Aubameyang operated as a wide man when he first joined Dortmund, who had Robert Lewandowski up front, but he enjoyed far greater success in a central role. Wenger, who famously converted Thierry Henry from a winger to a superstar striker, is likely to see the appeal in playing him down the middle. That would leave Lacazette forced to accept a supporting role, and it may be that Wenger harbours concerns over his physical prowess when it comes to leading the line in the gruelling Premiership. He has the ability to make an impression out wide, but he is in danger of becoming the Sylvain Wiltord to Aubameyang's Henry.
Another option would be to resort to an old-school two up front, and Aubameyang and Lacazette operating in tandem is a tantalising prospect. They could dovetail nicely, feed off one another well, and Aubameyang's pace and ability to stretch defenders could actually bring out the best in Lacazette. That would leave Arsenal stacked going forwards, but short of bodies at the back and liable to concede plenty in every game. Perhaps that is Wenger's plan: to go all-out attack for the rest of the season, with the LMAO of Lacazette, Mkhitaryan, Aubameyang and Ozil all on the pitch at the same time, terrifying opponents, while the threadbare defence wobbles along.
Either way, it will be fascinating to see what sort of system develops at The Emirates. A sportsbook like 5dimes has odds, review them and you will see that the Gunners are favourites to win their upcoming games, but they are distinct outsiders to finish in the top four. Spurs and Liverpool are in better form and have a head start, so it will take something special to overhaul them now. Could that something special be a strike partnership of Aubameyang and Lacazette, fed by Ozil and Mkhitaryan? You never know.