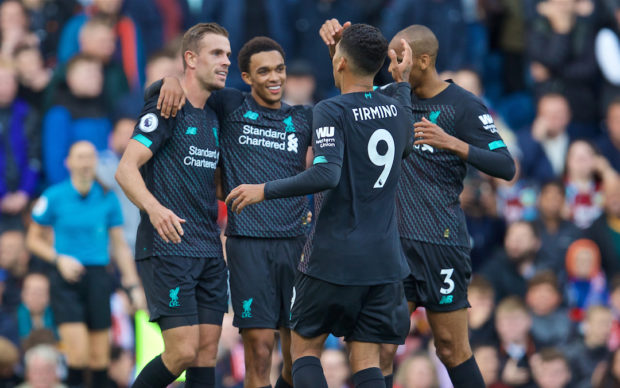 After the 3rd round of English Premier League, the picture is getting sharper. Liverpool and Manchester City are easily outscoring opponents while others are struggling like in previous seasons. Manchester United started the season with an easy victory of 4 goals to 0 against Chelsea, and just when their fans started to believe, they threw them the truth to the face. Nothing has changed on the red side of Manchester. They became the average EPL team and that is so sad. Unlike them, the blue side of Manchester, the Citizens played draw against Tottenham and won other 2 games. This is a decent score for both of the teams. Arsenal started their season well but they couldn't play against Klopp's red machinery at the Enfield Road. Reds have won the game with 3 goals to 1. Their fans seem to believe that this season is theirs. To be honest, we think that as well. It is hard for Manchester City squad to keep up the pace from previous seasons, and it would be fair that Reds receive a bit of luck as well. Other teams do not seem to be serious candidates for English Premier League Title.
What
can we expect from round 4?
First of all, we are going to find out is the
Watford the most serious candidate to go back to Championship. It would be
worrying for them if they lose 4 games in a row. Newcastle at the home court
usually play good and after winning against Tottenham they would love to defeat
the Hornets squad. Afterward, we are going to find out can the Arsenal defeat
Tottenham and keep their hopes alive. 9 points after round 4 would be a
promising sign for them. Tottenham can't afford to lose another game and we
could have a great game in front of us.
Betting
preview of round 4 + free online slot
Southampton
– Manchester United
Punters usually like free bet without
deposit as they can bet on them with less of a
risk. Punters can just choose a brand, complete the registration process and then
can start betting for free, no deposit required! Here are some important
betting tips for punters who are looking to increase their winnings;
Southampton lost their first home game against Liverpool with 2 goals to 1.
Although they lost, they showed some good football and their fans shouldn't be
worried too much. Southampton should reach the top half of the table
comfortably. Manchester United just like in the previous season are playing
hot-cold they could beat many teams, but they don't have consistency at all.
This should be a very interesting game but it could be a low-scoring game. The
draw with the result of 1 goal to 1 is looking very possible to us and that is
why we are going to predict that the game will have between 2 and 3 goals.
Southampton – Manchester United 2-3 goals @5/6
(1.85) [Bet365)
Manchester City – Brighton
Manchester
City has proven to us already that they are an
amazing squad. They love to play against opponents like Brighton. Brighton is
usually playing offensive football and it looks fine against the majority of
the teams. But against Citizens, it can be very stressful for their fans. The
city is tending to destroy the enemy when it is at the ground, unlike many
teams who love to pull the brake when the game is decided, Manchester City love
to make their fans proud and sometimes 6 or 7 goals are quite possible.
Manchester City – Brighton both teams to score
@6/5 (2.20) [Bet365]
Manchester City – Brighton total over 4.5 @6/5
(2.20) [Bet365]
Burnley – Liverpool
Burnley started their season in a good way. They
easily defeated Southampton with 3-0, lost to Arsenal and played a draw
with the Wolves at Wolves court which is just fine for them. Unfortunately for
them, they are playing against probably the best team of the league currently.
Klopp's squad caught their rhythm and they are grinding enemies without mercy.
Burnley should be satisfied if they give some resistance to the Liverpool, but
everything except high victory of Liverpool would be an enormous surprise.
Burnley – Liverpool – HT/FT 2-2 @10/11 (1.90)
[Bet365]
Burnley – Liverpool – Liverpool to score 3 or
more goals @3/4 (1.75) [Bet365]
Burnley – Liverpool – Liverpool to score in the
first half @1/2 (1.50) [Bet365]
Enjoy the games and good luck.