Football is Better with Fans, by Tony Rickson, published by Pitch Publishing, Price: £12.99
IT WAS somewhat ironic that we only realised how important fans were until they weren't there.
The coronavirus pandemic forced supporters to stay at home and watch games however they could, while the matches they would usually have been at were played out in front of empty stadiums.
All the atmosphere, passion and colour had suddenly drained away.
Suddenly, everyone realised that fans are more than just a cash cow, they make a massive difference.
This realisation has been well captured by Tony Rickson in Football is Better with Fans. He gets to the heart of what being a fan is and covers a comprehensive range of issues and subjects.
It's well summed up in the blurb that goes with the book: "Filled with fascinating stories, anecdotes, opinions and social media comments, Football is Better with Fans explores what it means to be a supporter.
"It's a light-hearted look at the lives of loyal fans, the fun and games they've enjoyed, their songs, banter, commitment, tattoos and traditions.
"The book doesn't shy away from tragedies, hooliganism or racism, and looks at the role of supporters in the rejection of the European Super League.
"But mainly it's a joyful celebration of football fandom and the pleasure we get from it."
The book has been cleverly put together with chapters on a host of topics and there is plenty that will make you chuckle. But it's balanced by some meatier issues, too.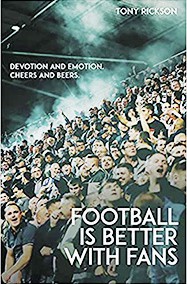 Putting it together has even caught the author by surprise.
"I set out to write this book about the fun of being a football fan," he said. "It was definitely intended to be light-hearted because I knew there was plenty to laugh about and lots of things for us to enjoy. But it's taken me in other directions as well, and I found out more about myself along the way than I'd ever previously considered."
The wider approach is welcome – and recognition of fans is timely right now.
Rating out of 10: 7