Ronald Koeman Hates Christmas Now, Probably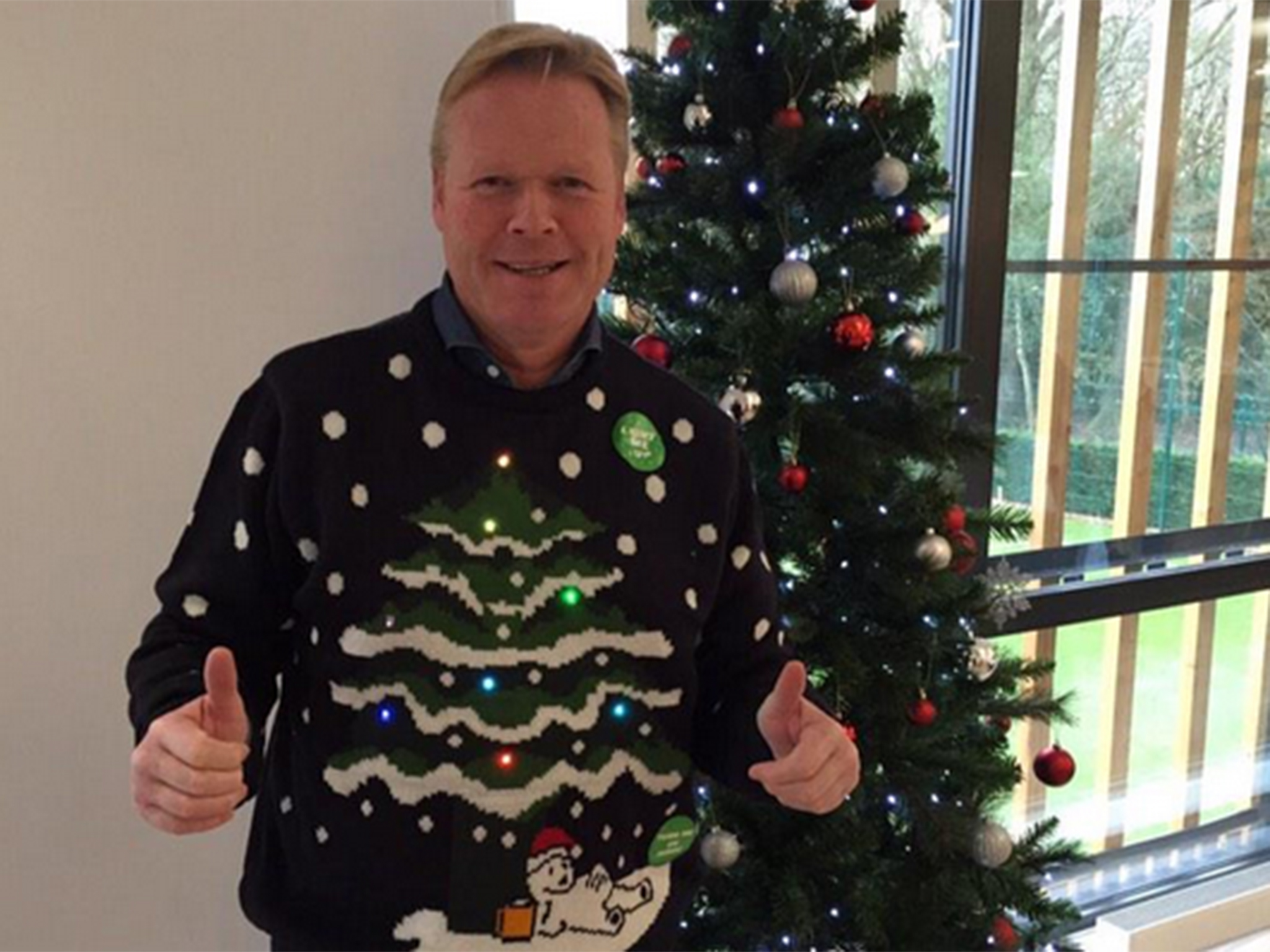 The joys of social media, eh?
Ronald Koeman just wanted some nice Christmas decorations. Ronald Koeman just wanted to make his Christmas tree, around which his family could celebrate the birth of the baby Jesus with much merriment and festive abandon, look nice and Christmassy. Ronald Koeman could not do this because modern football culture is irreversibly out of control and must be stopped.
The Everton boss tweeted out a picture of his, I'll admit, bloody marvellous Christmas tree, dressed to the nines in tinsel, baubles, ribbons, love hearts (?) and decapitated Father Christmas heads.
All good, right? All very nice and festive, right? Wrong.
Turns out Koeman's decorations looked a bit too 'Liverpool-ey' for his legions of Everton-supporting followers, who weren't happy with the redness of his tree.
Choosing to ignore the fact that red is the dominant Christmas colour (see Father Christmas' outfit, Rudolph's nose, Coca Cola, cranberry sauce, literally everyone's tree decorations), Toffee supporters on Twitter chose to call him up on his MASSIVE BETRAYAL.
One fan was so angry he went completely off message:
Eloquently put, Baelofeu.
About nine minutes later, Koeman tweeted a picture of an un-offensive, not-at-all-red re-decorated tree:
You're fooling no-one, Ron: tree decorations take hours of labour, blood sweat and tears, no mere mortal could've done that in nine minutes.
Either way, Koeman's 'new tree' appeased the masses and now everything is hunky-dory again, except for the grim sense of realisation that we now live in a society where football managers feel forced to change their Christmas tree decorations, because this is football in 2016 and no-one can escape judgement from the seething, unrelenting outraged masses, not even in their own homes.
Ronald Koeman can never eat, drink, wear, touch or buy anything red, ever again.
Merry Christmas, everyone!
Tagged Christmas, decorations, Everton, Liverpool, Ronald Koeman, rubbish, tree, twitter