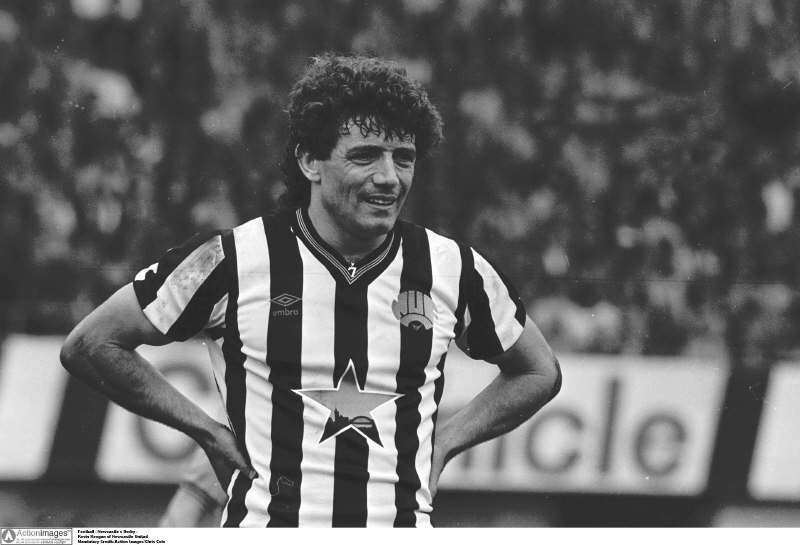 By Jonny Brick
Can it really have been two entire decades ago? Anyone aged 25 and above will know instantly that the phrase 'love it' is indelibly associated with a figure the journalist Ian Ridley called 'football's last romantic', Kevin Keegan.
Bobby Robson would tell his Ipswich players of the 'brave, courageous and effervescent' England international who ran himself ragged for his country, a player whom Robson would famously omit from his first England squad when he took over in 1982.
Born, appropriately as it would later turn out, on Valentine's Day 1951 as Joseph Kevin in Doncaster to parents who had moved down from the North-East, he became the face of footie in the post-George Best era.
The perm, the grin, the self-deprecation and, above all, the talent made him a hero of the fans, and also the non-football fan's favourite footballer.
After an early trial with Coventry, he signed for Scunthorpe, initially on 90 shillings a week, lower than his wage as a teaboy and messenger, and needing two buses and a hitchhike to get to training. He then moved across to Liverpool for £50 a week, doubling his salary, and endeared himself to the Kop thanks to his telepathic partnership with John Toshack.
Due to an FA Cup defeat by Watford in 1970, Bill Shankly was forced to rebuild his great side, and Keegan was the number seven in the team built by Shanks and later steered so successfully by Bob Paisley.
The face of the Green Cross Code off the pitch, Keegan worked hard and played every game, all 61, of the 1975/76 season. The Reds won the UEFA Cup in which Keegan scored the winning goal in a 4-3 aggregate success against Club Brugge. He'd also netted in the first leg of the final.
(Interestingly, that team had nine Englishmen in it, and all four of Liverpool's goals in the two legs were scored by Englishmen, including the famous first by galloping Ray Kennedy to make it 1-2 in the first leg.)
Keegan, like Alex Ferguson, worshipped the exciting Real Madrid team who had won the 1960 European Cup in Glasgow. He wanted to play abroad, and any club could buy out his contract for £500,000. Hamburg pipped Bayern Munich to the signing and Keegan famously won consecutive European Footballer of the Year awards with them (1978 and 1979).
His team-mates, though, were upset that this star (who admittedly spoke decent deutsche) was on £2,000 a week. In 1980.
Yet if Keegan earned good money, he also created it.
As both player and manager at Newcastle United and as Manchester City manager, he instantly helped to boost gate receipts.
His first match at St James' Park in his two-year spell as a player in the early 80s (following a two-year stint at Southampton) was watched by 36,000; the previous game at the ground barely had 10,000.
Keegan took a cut of the gate receipts, and the arrangement suited him and the club. Then, in 1984, he took a chopper out of Newcastle and 'retired' for seven years before getting an itch.
In 1991, Keegan took over as gaffer of the Toon, living in a house owned by 'Mr Metro Centre' Sir John Hall, the club benefactor who had given Keegan a ten-year contract and financial backing to elevate Newcastle from the second tier to the top of the first.
Martin Hardy tells the story of his first spell as Newcastle manager in Touching Distance, and it really is romantic, both for the club and for that era of English football, still adjusting to the influx of Carlos Kickaballs and the second Taylor Report recommending all-seater stadiums.
Keegan converted Rob Lee from a winger into a holding midfield player and purchased Andy Cole and Les Ferdinand to score the goals, before spending over £6m on Tino Asprilla. Frenchman David Ginola moved to Newcastle to play for his hero.
"We worked hard but it was always with a smile," said Ginola.
Keegan saw his job as 'to put on the pitch what the fans want to watch'. When he reckoned his opponents had sussed Andy Cole out, he sold him to Ferguson in exchange for Keith Gillespie.
Ridley would relish covering Newcastle games in this era, as they headed towards the top of the Premier League and chased their first title in 70 years.
It was 'an astonishingly vibrant period…full of fascination and intrigue'. Just like Claudio Ranieri and Leicester City, right?
That 1995/96 season was the first I remember watching, as an eight-year-old looking forward to football coming home that summer.
Ferdinand's run of 12 goals in eight games seems Vardyish, Ginola was the Riyad Mahrez of his day, and Newcastle were seven points clear on New Year's Day 1996, the absolute summit of their time in Generation Live on Sky Sports (Generation LoSS).
Do you remember the game at Anfield on April 3, screened on Sky? If not, Youtube it. Liverpool's David James let in three but his team still won. Ferdinand got Newcastle's first from an Asprilla pass, Ginola ran 40 yards and expertly put them 2-1 up. Robbie Fowler, who had opened the scoring, made it 2-2 after 55 minutes after a Steve McManaman pass.
Then Asprilla kept onside and chipped James for 3-2. Liverpool's equaliser came at the back post from "COLLYMOOOORE!" past the late, blameless Pavel 'is a Geordie' Srnicek.
In injury time, nobody picked up Collymore on the left-hand side after "Barnes, Rush, Barnes, Rush" exchanged passes. The ball from the former Hornet and future Newcastle player was perfect.
Oh, it gives me chills, and Kevin Keegan nightmares.
But it was after the Leeds game on April 29, which Newcastle won 1-0, that Keegan used Sky as a platform for his ire against Alex Ferguson's mind games.
He still gets people coming up to him asking if he would parrot his contribution to Generation LoSS.
Ginola reckons in that moment his gaffer stopped thinking of his team and thought only of beating the mighty Govan gaffer at his own game.
Newcastle's subsequent 'Devon Loch collapse' was almost unprecedented – Ridley brilliantly compares it to 'watching a sleek Ferrari hitting a wall in slow motion' – and the first thing King Kev did afterwards was to spend £15m of Hall's dosh to bring in Alan Shearer, who did pretty well for Newcastle and took them to the 1999 FA Cup Final.
Keegan also, it is forgotten, prised Mark Lawrenson from Sky Sports and used him as defensive coach. With Terry McDermott Keegan's assistant, there were plenty of Liverpool connections. Then Keegan resigned, went to Fulham, repeated his promotion success under Mohammed Al-Fayed and was asked to take over the England team.
Euro 2000 was a write-off, and England lost the last match at the old 'twin towers' of the Empire Stadium, Wembley, to a deflected Didi Hamann free-kick.
Keegan, who had just lost his mum, announced his resignation and the decade of Sven, Fabio and Faria Alam began.
After England, Keegan bossed Manchester City – winning promotion to the Premier League as First Division champions in 2001-02 – and Newcastle for nine months in 2008.
After all he's achieved in the game, it is a crime for Generation LoSS to remember Kevin Keegan, the grinning face of football in the age of the hooligan, purely for one 'rant'.
As the 20th anniversary approaches, we should embrace the memories of one of England's finest footballers and the last of the great romantics.
How the famous rant came about
In January 1996, Newcastle had a 12-point lead at the top of the table and looked odds-on to win their first league title for almost 70 years.
But then Alex Ferguson's Manchester United stepped up a gear and began to erode the Magpies' advantage, including a crucial 1-0 win at St James' Park in early march courtesy of Eric Cantona's strike.
With the Red Devils beginning to gain the upper hand in the closing stages of the season, Ferguson suggested teams like Nottingham Forest might not try as hard against Newcastle as they did against his team.
After victory at Leeds on April 29, Keegan cut loose on Sky:
"When you do that with footballers like he said about Leeds, and when you do things like that about a man like Stuart Pearce…
I've kept really quiet but I'll tell you something, he went down in my estimations when he said that. We have not resorted to that. You can tell him now, we're still fighting for this title and he's got to go to Middlesbrough and get something.
And I'll tell you, honestly, I will love it if we beat them. Love it.
But it really has got to me. I've voiced it live, not in front of the press or anywhere. I'm not even going to the press conference. But the battle is still on and Man United have not won this yet."
Sadly for Keegan, there wasn't a happy ending. His side drew 1-1 at Nottingham Forest on May 2 and then 1-1 against Tottenham at home on the last day of the season, May 5.
Manchester United went to Middlesbrough on the last day and won 3-0 to wrap up the title. They finished four points ahead of the second-placed Toon.