TYPE the word 'hero' into an online dictionary and you'll probably get a definition along the lines of "a man of distinguished courage or ability, admired for his brave deeds and noble qualities".
Those words couldn't better describe Bulgarian midfielder Stiliyan Petrov – a man who represented his country over 100 times and enjoyed distinguished spells with CSKA Sofia, Celtic and Aston Villa.
His on-field exploits will be remembered fondly but it's his "brave deeds" over the past 18 months that will set him apart from the majority of professional footballers.
In March 2012, Petrov was diagnosed with acute leukaemia. He battled the condition with the courage and determination he showed on the pitch and in August that year it was announced he was in remission.
But rather than focus on himself and his family life with wife Paulina and his two sons, Petrov established a foundation to support people going through the same experience and has since worked tirelessly to fundraise and improve awareness.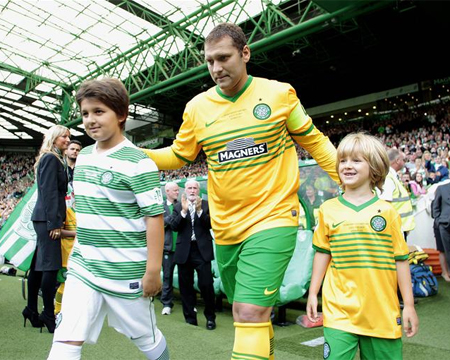 So my heart sank when I saw that a game he organised to raise money for the foundation – a Legends XI versus a Celtic XI at Celtic Park  – was somewhat overshadowed by a popstar being sick.
Rather than focus on the great cause or the cash raised by a bumper ground of around 60,000, the headlines were stolen by Louis Tomlinson.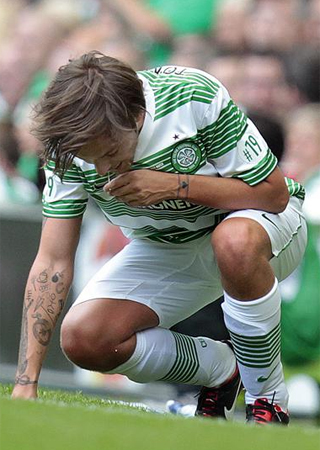 For those of you that don't spend Saturday evenings glued to reality talent shows, Tomlinson is a member of One Direction, the world's biggest boyband and a global money-making machine.
The 21-year-old, who signed non-contract forms with hometown club Doncaster Rovers in a transfer window PR stunt, came on as a substitute but his appearance was short lived, with a tackle from Aston Villa's Gabriel Agbonlahor forcing him off.
Tomlinson subsequently threw up twice but the consequences for Agbonlahor, who says he will apologise to Tomlinson in person, were longer lasting – he received death threats from distraught 'Directioners' on Twitter.
Don't get me wrong, it's great that Tomlinson decided to support the cause – his inclusion in the game would have drawn teenagers from far and wide and boosted the Celtic Park attendance.
But for a robust challenge, made in a contact sport, to be blown so out of proportion by obsessed teenagers is a worrying, albeit unsurprising, reflection on today's society.  It shows quite how out of hand social media has become. Death threats over a tackle in a football match? Do me a favour!
Tomlinson is hero-worshiped by his adoring fans. Boyish good looks, the ability to sing and  the backing of media mogul Simon Cowell will get you a long, long way these days. I don't have a problem with pop music or the megastars it creates but when compared to Stiliyan Petrov, a man who has not only fought a truly debilitating illness but helps others do the same, it's clear who the real hero is.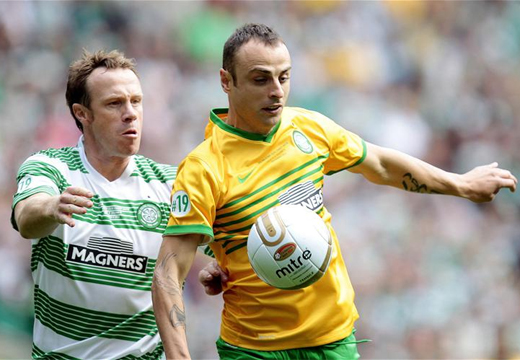 The game itself proved to be a highly competitive, entertaining affair, with Petrov's Legends XI beating Celtic 5-3.
Fulham frontman Dimitar Berbatov netted a hat-trick for the Legends, while Bulgarian winger Martin Petrov and Westlife singer Nicky Byrne also got on the scoresheet.
Ex-Celtic strikers Henrik Larsson and Pierre van Hooijdonk were on target for the Hoops, with actor Warren Brown also bagging a goal.
The fixture raised thousands of pounds for the Stiliyan Petrov Foundation and that, rather than celebrity cameos and death threats, should be what the game is remembered for.