Time's Up! When Is The Right Time To Blow The Final Whistle?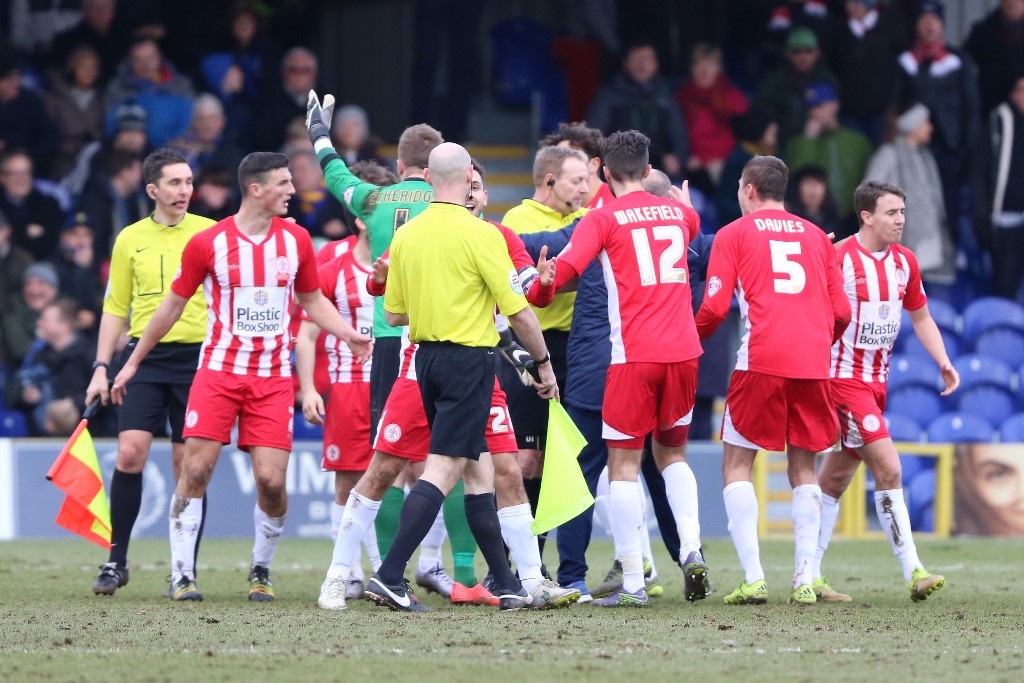 (Picture: Action Images via Reuters)
By John Lyons
SHOULD referees blow the final whistle at a 'safe' point in play – or when time is up? It's a question that people have asked after a couple of major incidents in 2016.
First of all, let's go back to March and a League Two clash between AFC Wimbledon and Accrington Stanley. The match finished 0-0 but there was a major talking point as the first period came to a close. As Stanley's striker Billy Kee's shot flew into the next, referee Trevor Kettle blew for half-time – and, therefore, chalked the goal off.
Stanley boss John Coleman was dumbfounded. "There is not a lot I can say," he said. "It was comical. I have never seen that in my 46 years of competitive football as a player and a manager.
"I thought the ref had blown his whistle as the ball was going into the net. The ref said he had blown it beforehand. I hope I will be proved wrong on the replays but I think everyone in the ground was flabbergasted.
"Referees do make mistakes, they are only human, and that's what makes football so special – there are talking points and arguments."
Did Kettle's decision have any major repercussions. Well, Accrington would say 'yes' after missing out on promotion on goal difference to Bristol Rovers on the last day of the season.
Okay, the game would have been different if Stanley had gone into the break with a 1-0 lead, but they would have had a better chance of earning two more points than the solitary one they eventually collected.
After being pipped to promotion by the Pirates, the Lancashire outfit were then beaten in the play-offs by, yes, you've guessed it, AFC Wimbledon.
If Accrington were left wondering what might have been, then spare a thought, too, for National League South outfit Whitehawk and, in particular, midfielder Javier Favarel.
With his side's FA Cup first round tie against Stourbridge in early November locked at 1-1 in the dying seconds, the Argentinian let fly with a stunning 25-yard volley that whizzed into the back of the net.
Incredible, unbelievable, but Favarel's ecstasy suddenly turned to agony as he realised referee Robert Whitton had blown the final whistle as he connected with his superb strike.
Goalkeeper Ross Flitney was so furious he was sent off for his protests to the referee. Whitehawk boss Richard Hill told BBC Radio Sussex: "I've just said to the referee 'why don't you just wait two seconds?' But time is up so he has to blow the whistle."
Hawks striker Danny Mills felt the goal should have been allowed. "I think the way the ball has sat up, the referee has to leave it and see what happens," he said. "It was an unbelievable strike. A split second before and we would be in the second round, but it is what it is and we have to forget about it now."
Whether Whitehawk felt quite so calm after losing the replay 3-0 at Stourbridge is anyone's guess. They would have earned £18,000 for beating the Glassboys and bagged an attractive second round tie against League One side Northampton Town.
So, what is the correct situation regarding incidents like these. Well, if you take a look at the Laws of the Game, you need to examine Law 7 – the duration of the match. Part of this covers 'allowance for time lost' – and covers: substitutions, assessment of injury to players, removal of injured players from the field of play for treatment, wasting time and any other cause. It then continues: The allowance for time lost is at the discretion of the referee. In other words, the referee, who acts as timekeeper, decides when to finish the match.
In that event, we go back to the original question: Should refs blow the final whistle at a 'safe' point in play eg: a goalkick – or should they blow when time is up? I know many people will say, like Coleman, that the referee has made a mistake by blowing at a crucial moment.
Indeed, the FA are understood not to be keen for officials to do this. However, the more I think about this, the more I come to the conclusion that the referees must simply call time when time is up – irrespective of what is happening in that moment.
Why? Well, if a referee is, as he should be doing, keeping a proper check on time using a stopwatch and taking into account injuries etc, then there should come a certain moment when it is half-time or full-time. Surely he should blow up at this time. If not, he is adding more time than there should be.
Let's put the boot on the other foot. How would, for example, Stourbridge have felt if referee Whitton had added a few extra seconds to the game when he knew time was up – just because Whitehawk were in a good position? Surely that's not right.
Indeed, how would the referee have felt if Whitehawk had scored and he'd awarded the goal when he was playing 'overtime'? Pretty bad, I would imagine.
I just don't think referees should be made to manufacture the finish of a game, though this has been commonplace for years. How many halves of football end with a goalkick? An awful lot.
In reality, if halves were allowed to finish when they naturally should, you would have a range of outcomes and it wouldn't be out of the ordinary, as it is now, if something happened on the whistle.
I can't write this article without referring back to one of the most famous cases of this type of incident – Welsh referee Clive Thomas disallowing Zico's last-gasp 'goal' against Sweden in the 1978 World Cup finals.
Thomas, Kettle and Whitton have been pilloried for their actions, but I believe that's unfair. For me, it's simple – time's up when time's up.
*This article originally featured in Late Tackle. The next edition is available on April 20.
Tagged Accrington Stanley, ASFC, EFL, Football League, National League South, Non-League, referees, Trevor Kettle, Whitehawk, Zico