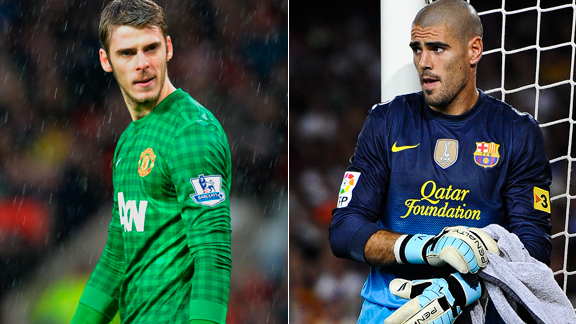 By David Cartlidge
As David de Gea pulled off another string of stunning saves at the Emirates on Saturday evening, one would be forgiven for thinking Manchester United probably don't need another goalkeeper. That assertion in part, might well be correct. Saying they don't need Victor Valdes however, would be incorrect.
Even when he was in his finest form with Barcelona, the contribution by Valdes to the team was often overlooked. Imagine then, how people must view him after eight months on the sidelines. The answer in some quarters would be not at all. This is however the best goalkeeper in Barcelona history. He has played more games for them than any other stopper, and won more of the famous Zamora trophy than any other goalkeeper as well. He has collected 19 titles, including five leagues and three European Cups. This all, somehow, is still overlooked.
The best in the business
When talking about Valdes, it should be remembered that for best part of two years he was the best goalkeeper in Spain. Don't let his lack of full international caps fool you, for the Vicente del Bosque era has been until recently, built around the same structure, with faith in the individuals that brought about a first major International trophy. Had Valdes not been injured on that cold night at Camp Nou against Celta Vigo, things might've well been slightly different in Brazil over the summer, when the hapless Iker Casillas was between the sticks.
Valdes' development at Barcelona as a goalkeeper was outstanding, both on and off the field. On it, Barca's radical system meant he was left open often, being forced into one v one situations on a regular basis. His game was built well around this, perfecting the art of shutting down the angles of opponents and using every inch of his most impressive asset – his agility.
Character
Then, of course, as we have seen with Manuel Neuer recently, the ability to use his feet and play out from the defence was vital. Off it, while an introvert character, he was vocal within the dressing room; a leader. Intelligent, occasionally blunt, but above all always constructive. A video once emerged of him tearing a strip off Xavi for neglecting his defensive duties. He was in the right too, an example of his undisputed leadership qualities.
All this is important given he would be competing with De Gea, and the competition is important for the young goalkeeper, both mentally and from a general team concept. The 24-year-old needs to be kept on his toes, and while his form has been astounding for some time, a drop off can be expected at some point.
The presence of a more experienced squad mate would be of great motivation, but also education too. Valdes dealt with the pressure of Barca, a club he once described as "having a year there, is like two". While the haranguing of De Gea has died down considerably, playing for United remains high pressure, and it needs a special character to combat the day to day challenges. Valdes' support would be invaluable, someone for De Gea to confide in and be reassured by.
Remaining Concerns
The only doubt surrounding Valdes should be his fitness. Everything else is simply not an issue. The experience, the ability, the character, and – as a bonus – the understanding of Louis van Gaal's philosophy. Despite the slow process of recovery at Old Trafford, the club are expected to reacquaint themselves with European nights once again in an arena where English sides are struggling to compete. Van Gaal's men are heading in the right direction, and who knows how quickly they could head there once this treacherous run of injuries subsides.
Valdes was an essential figure on a European stage with Barca, winning those three trophies, and his presence could be of importance even if it's initially from the bench. Having the ability to rotate quality for quality is an asset few can afford, and those that do, are the best. Real Madrid, Bayern Munich, Chelsea; they all have two strong goalkeepers. If United wish to be amongst the elite again, they must shape up like them. Then there are injuries, loss of form and other aspects to take into account. Valdes in the squad would be the strongest safety net possible.
This isn't a gamble, this is a dead cert. A world class player on a free transfer? United can only pay if they miss out.