Mourinho may be forced to admit Lampard mistake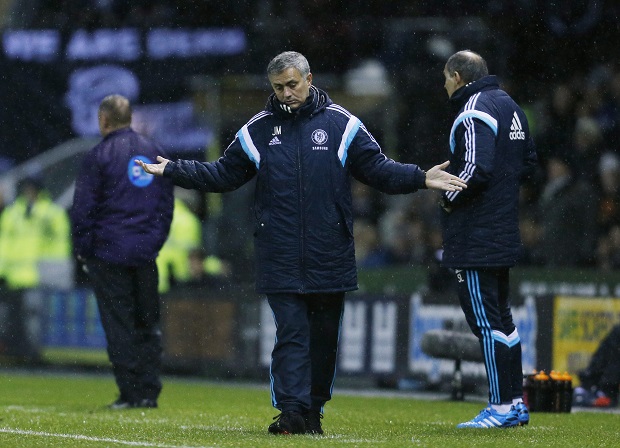 Even though Jose Mourinho won't admit it publicly, he must surely now be regretting his decision to let Chelsea legend Frank Lampard leave the club on a free transfer.
Mourinho did not kick up a fuss when it emerged in the summer that Chelsea were allowing the midfielder to move on but his goalscoring form for title rivals Manchester City this season must be aggravating him – even if he is not showing it.
Lampard has found himself at the Etihad after joining City's sister club in America – New York City – and then agreeing a loan switch back to the Premier League. The move itself has angered some as City, the English version, have managed to exploit the situation to suit their needs and land one of the best midfielders of the past 20 years in a semi-underhand way. They've managed to pull the strings and tweak the rules somewhat to secure the 36-year-old's services and they are reaping the rewards.
Initially, the former England international was only expected to stay until the end of the year but it now looks increasingly likely he will remain in Manchester for the whole of the campaign. He has already weighed in with six goals in all competitions – including the equaliser against, inevitably, his old club and the winner in the narrow away success at Leicester recently.
Despite his veteran status, Lampard is proving he is far from past it and, while he will not be a regular starter under Manuel Pellegrini, with the demands of Champions League and domestic football continuing in the second half of the season, his experience and ability is sure to be vital.
Mourinho, however, is maintaining his stance publicly that it was right for Chelsea to send him on his way after a glittering 13-year career at Stamford Bridge and he says the Londoners are not missing having Lampard around.
A quick glance at the table would back up that view – for now at least – as Mourinho's side sit three points clear of City at the top, while the Portuguese coach argues if Lampard was still a member of his first-team squad he would be blocking out others who deserve a chance – particularly youngsters pushing for opportunities coming through the academy.
He will also rightly point to the fact that the likes of Eden Hazard, Oscar, Willian and the brilliant Cesc Fabregas have all chipped in with vital strikes for his side so far from midfield and wide positions so they have not missed Lampard's bursting runs from deep or, importantly, his goals.
Everyone at Chelsea, not least Mourinho himself, will be watching on closely whenever Lampard is called upon, hoping he does not further blunt their title hopes with more key goals as the two clubs attempt to justify the football betting odds by going head-to-head for the title over the coming months.
But if Lampard continues to impress for City in his cameo roles – and, who knows, his goals prove to be the difference in the title race come May – the Chelsea boss may be forced to change his tune.
Tagged Chelsea, Frank Lampard, Jose Mourinho