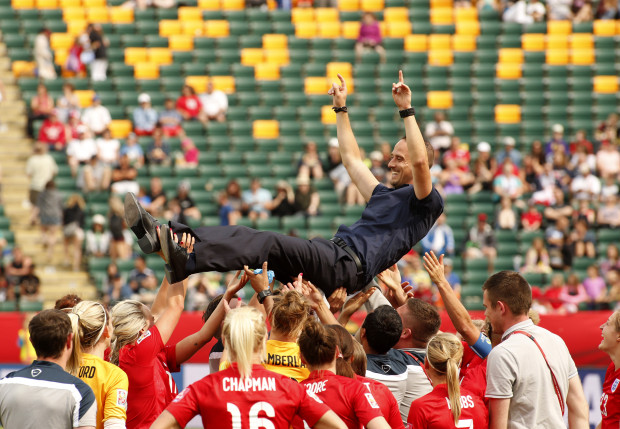 In the aftermath of England's inspirational victory in the Women's World Cup quarter-final, goalscoring hero Jodie Taylor could scarcely control her emotions. "To start a game, score a goal and help make history with England has been my goal for four or five years," she said, tears of joy and relief rolling down her face. "It's just amazing."
Indeed, it was amazing. It was the greatest accomplishment in the annals of English women's football.
By beating Canada, the superb host nation, before 54,027 in Vancouver, the Lionesses became the first England team at any level to reach a major semi-final since 1990, when Bobby Robson's men lost to West Germany on penalties.
Accordingly, when watching this fresh and vibrant women's team, so likeable and entertaining, one could sense history in the making. Positive history. The kind of history that had an entire nation talking in fervent tones of optimism.
Taylor's raw passion was characteristic of an entire squad determined to earn a place in the pantheon of English footballing glory. Merely donning that white shirt and playing for England meant the world to these girls.
It was the pinnacle of their sporting lives; a dream played out in unbelievable reality. Each player had an unquenchable thirst to represent their nation, unsullied by money or celebrity, which was an absolute pleasure to watch. Together, they played with so much fight, so much passion and so much heart that it was impossible not to be deeply excited.
The key word there is together, because this team had more togetherness than any I've seen in a very long time, including the men's game.
When watching their matches, one could see the cast-iron belief, the absolute conviction, pouring forth. Every player was united behind a common goal, a shared objective, which they wholeheartedly felt was achievable.
England Women didn't just want to win the World Cup, they truly believed they could, hence a remarkable spirit and infectious morale permeating the group.
In the end, they fell agonisingly short of that target, losing the semi-final to Japan when Laura Bassett scored that excruciating own goal in stoppage time, but, along the way, they achieved something arguably more difficult: they restored pride to the national game, and quelled the scepticism native to England fandom.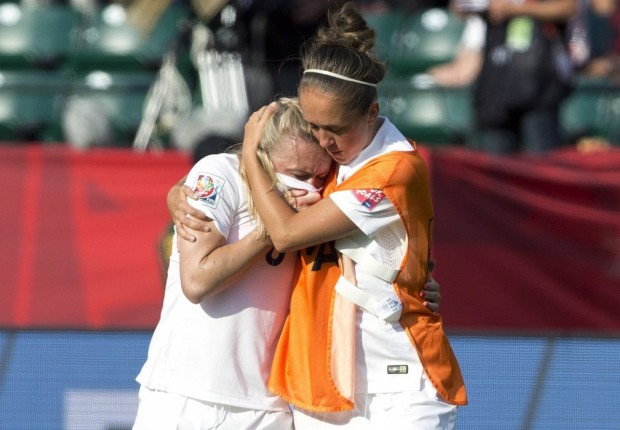 For so long, the men's national team has failed to meet expectations, falling out of major competitions early and generally deigning to show any hunger for the game.
The Lionesses, however, were easily the most likeable England team in a generation. For once, England have mustered a team, so successful and humble, that makes your heart swell with pride, rather than break in perpetual embarrassment. And that's a welcome change.
Also a welcome change is the man heading this revival, manager Mark Sampson. An energetic Welshman, Sampson fostered an incredible camaraderie and atmosphere within his England squad, which was noticeably missing in the final throes of Hope Powell's tenure.
While undoubtedly a legend of the female game on our shores, Powell struggled in later years with selection and philosophy, and her reign became increasingly stale and strained.
Sampson, on the other hand, has been a breath of fresh air, giving his players the freedom to express themselves and fulfil their collective destiny.
He's given a new lease of life to women's football in our country.
Of course, the Women's Super League, bringing greater professionalism, has helped enrich the sport immensely in recent years, but wealthy clubs such as Liverpool, Chelsea and Manchester City placing more emphasis on the ladies' game has also helped.
Later this year, select women's teams will feature in the popular FIFA video game for the first time, a tremendous testament to the improving quality and stature of the female game. Hopefully, this recognition, at long last, will encourage even more people to get involved and grow the sport.
But inequality does still percolate, unfortunately. The very best female players earn approximately £35,000 per year playing domestically in England, or roughly what Wayne Rooney makes every 20 hours.
Obviously, the men's game is a commercial juggernaut, with obscene television revenue fuelling a ludicrous economy, but still, these women have been more entertaining, played with more passion, and done more to instil pride in our national game in the past three weeks than Rooney & Co have done in the past decade. Surely they should receive a fairer financial reward.
Surely Steph Houghton, the peerless captain who reads the game with incredible acuity, should be paid more. Likewise with Taylor, the star striker who works incessantly for the team, and Lucy Bronze, the industrious right- back who scored two crucial goals.
Perhaps England's success will attract more media coverage, sponsorship, supporters and, as a result, bring more money into the game.
But ultimately, the lack of pretension and egotism so often derived from excessive salaries is what made this England Women's team so special, so unique. They're normal people who love playing football, just as we love watching it. They're heroes of humility, rather than stars of self-interest.
As Taylor says, the Lionesses "just want to make England proud of us". And no amount of money could ever replace that fiery passion, that ceaseless yearning.
by Ryan Ferguson