The biggest football club in the world?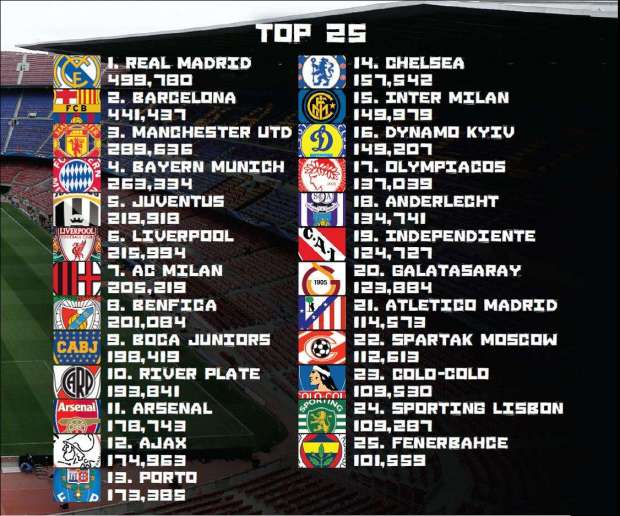 By Ryan Ferguson
Football fans have always debated which club is the biggest in a specific city, region, country and even the entire world. In pubs and on the radio, at matches and in newspapers, the topic has generated more passion and created more agreements than anything else in the game's lexicon.
Mainly, the intrigue is born of rivalry. We want our club to be perceived as larger, more important and better-supported than the enemy down the road. However, in the glitzy world of modern football, the desire to be seen as a big club is also inspired by the PR machines that whir in the bowels of every ground.
Now, clubs aren't merely competing with their local or national rivals, but also with juggernauts of the global ether. Accordingly, these days it's incredibly important for clubs to be seen to be acting big, such as when making a bold transfer seemingly just to compose a grandiose tweet and score thousands of new followers, who will then hopefully buy astronomically priced merchandise, nourishing the monster.
Thus, in our age of pretence, where every team tries to convey a purified image, I wanted to penetrate the conjecture and finally rectify the problem of ranking each club in terms of size. I yearned to dismiss subjective opinion and investigate the world's megaclubs through a quantifiable prism. I sought numbers, evidence and tangible data to clarify our preconceived views.
In this regard, my first step was to strip the problem down and return to basics. I sat down and asked myself, as a lifelong fan, what actually constitutes a big football club. Trophies won was the main factor, I concluded, alongside fanbase, facilities and financial clout.
Next, I searched for ways to quantify those categories. Obviously, deciphering a club's major honours is pretty easy, but grading the other criterion was a little more difficult. Nonetheless, I decided Twitter followers and Facebook likes would be a strong way of calculating a club's fanbase, while its stadium capacity would give a strong indication of facilities, and its record transfer fee would be an ideal barometer of fiscal muscle.
This gave me a basic framework from which to work, but, before going ahead and inputting all the relevant data into a spreadsheet, it of course had to be weighted. After all, winning La Liga is a whole lot harder than winning the Croatian Prva HNL, just as winning the modern Champions League is more difficult than winning the old European Cup.
Therefore, to solve this problem, I used the domestic UEFA coefficients to weight each European league in terms of difficulty, with more points awarded for winning the more prestigious competitions.
Then, I applied common sense logic and knowledge to place the South American, African and Asian leagues on the same scale.
Moreover, certain data, such as stadium capacity, social media scores and transfer fees, had to be watered down to a suitable level, to prevent a team particularly strong in one area from totally destroying the study.
Finally, with a structure and algorithm in place for ranking the world's biggest clubs, I had to sensibly select which teams to include. Attempting to rank every club in the world is, of course, totally impractical, so I settled on those clubs that have won at least 3 per cent of all domestic titles and cups in the history of their national association, plus any team with a stadium exceeding 30,000 in capacity. These numbers may seem strangely arbitrary, but the line had to be drawn somewhere, and those seemed like reasonable cut-off points.
Ultimately then, my search included 321 teams from 59 different countries. Over a period of two months, I entered more than 4,000 individual pieces of data into a spreadsheet, before arriving at a final list of teams and scores that, by my reasoning, ranked the world's largest clubs in order of magnitude.
Perhaps unsurprisingly, the two Spanish juggernauts came out on top, with Real Madrid winning from Barcelona in second. Los Blancos scored 499,780 points in my study, with the Catalans managing 441,437. Real's record transfer fee of £85m for Gareth Bale undoubtedly helped, while their 16.4m  Twitter followers at the time of my investigation trumped Barca's 15.4m. The 99,000-seat Camp Nou was a major boost for the Barcelona case, but Madrid's superior history in Europe was ultimately the deciding factor in a typically close race.
In third place on my scale was Manchester United, the biggest English club, with 289,636 points, though their lack of sustained European glory, at least compared with Real and Barca, saw them never really challenge the top spots.
Bayern Munich came in fourth with a score of 263,334, before a big drop to Juventus, Liverpool, Milan and Benfica, the only other clubs to break the200,000-point threshold.
Boca Juniors ranked ninth, a mere 4,500 points ahead of their great Buenos Aires rivals River Plate as the largest South American club; Urawa Red Diamonds (Japan) were the dominant Asian team, though ranked 181st overall; and Al Ahly (Egypt) topped the African section with 65,003 points, 51st in the world.
In terms of England, Arsenal followed the aforementioned United and Liverpool, with Chelsea fourth; Manchester City fifth; and Everton beating out Aston Villa and Tottenham for sixth. I was actually surprised by Chelsea's apparent underperformance, as 157,542 points saw them ranked as just the 14th largest club in the world, behind sleeping giants such as Porto and Ajax, but that reminds us that football didn't begin in 2003, and that history, tradition and heritage count for more than nouveau riche petroleum dollars.
Accordingly, Dynamo Kyiv fared exceptionally well, coming in at 16th overall, but a lack of continental success blunted the efforts of Galatasaray, whose gargantuan fanbase carried them to 20th place, ahead of rivals Fenerbahce.
In other rivalries, Sunderland beat Newcastle; Leeds toppled Nottingham Forest and West Ham; and Celtic edged Rangers by just 3,000 points.
Across Europe, Dortmund were adjudged as bigger than Schalke in Germany; Roma larger than Lazio in Italy; and PSV more substantial than Feyenoord in Holland. Meanwhile, Dinamo Zagreb beat Hajduk Split in Croatia; Legia Warsaw edged out Gornik Zabrze and Wisla Kraków in Poland; and Goteborg defeated Malmo and AIK as Sweden's leading powerhouse.
Further afield, São Paulo saw off Corinthians and Flamengo in Brazil; Penarol were bigger than Nacional in Uruguay; Kaizer Chiefs loomed over Orlando Pirates in South Africa; and Club America got the best of Guadalajara in Mexico.  The MLS was dominated by LA Galaxy, while New York City FC ranking as the fourth-largest American club barely a year into their existence was also noteworthy.
My investigation also threw up some intriguing brainteasers traversing conventional borders. For instance, the numbers suggest Anderlecht are bigger than Atletico Madrid; that Marseille are larger than Manchester City; and that Steaua Bucharest are greater in size than Everton.
Ultimately, we won't all agree with these results, but that's the truly great thing about football, and particularly about this study.
It gives us things to talk about and diverts our attention away from the banality of everyday life. In the grand scheme of things, it may not actually matter which club is the world's biggest, because we all love our clubs too much to genuinely care.
But, in quieter moments, when football is the only thing to occupy the mind, timeless debates such as this provide much-needed sustenance. And now, you can add some statistical evidence to your inevitable bar-room squabbles.
Tagged MLS, Premier League, Serie A