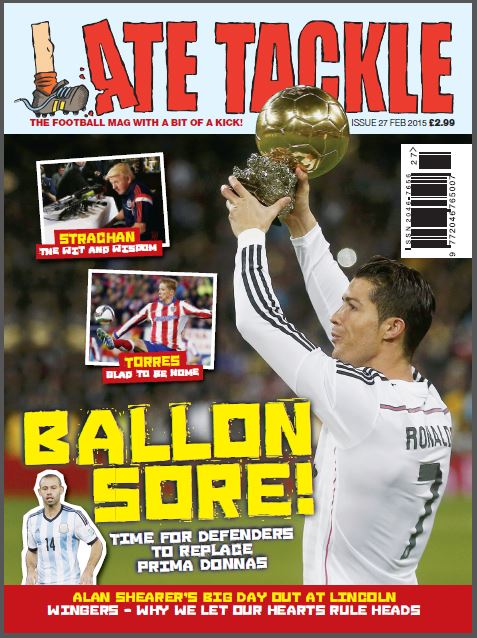 THE NEW issue of Late Tackle is in your shops now! You'll be able to find us in over 400 WHSmith and Martin McColl's stores, along with numerous independent retailers across the country. You can find your local stockists here.
If you're having trouble finding a copy, there's always the option of a postal subscription, so you can have the magazine delivered direct to your door.
Or you could take out an online subscription which gives you access to Late Tackle wherever you are, just so long as you have an active internet connection.
Ballon Sore! – Chris Dunlavy argues that defensive players deserve greater recognition in the Ballon d'Or awards, and Roy Hodgson surely agrees
Al's Big Day Out At Lincoln – Alan Johnson remembers when the world's most expensive player, Alan Shearer, made his Newcastle United debut at Sincil Bank
10 Reasons Why We Keep Going Back – David Henningham explains why, despite the cost, it's impossible to kick the football habit
Gordon Strachan, A True Football Personality – Felix Keith hails one man cutting through banality and cliche in the football media
When Ipswich Kids Beat Bale, Walcott and Co…  Dave Bodymorereflects on the night the Tractor Boys's youngsters saw off Southampton's starlets, and the different path they have taken since
The 45th Minute Sucker Punch – Ray Harper believes it's time to attach more emphasis to the effects of a goal on the half-time Whistle
Legia Warsaw – Ryan Hubbard looks at how Poland's Champions are trying to stamp out their biggest problem
Don't Blame The Ref!– John Lyons says managers need to take a look at themselves before criticising the man in black…
El Nino – David Bodymore explains why Athletico Madrid is the perfect place for Fernando Torres to recapture the form that once made him one of the deadliest stikers on the planet
Winter of Discontent – Gary Tedder recalls when his beloved Arsenal were stunned by Third Division Swindon Town in the League Cup Final in 1969
Diving Bored

–

Rob Bradley

suggests revamping the penalty laws could be one way of trying to curb the growing menace of diving in football

Be Careful What You Wish For! – Gary Tedder on how the Leyton Orient revolution hasn't turned out exactly as planned
Rooney Ready For The Record – Liam Newman says that 2015 could be a year to remember for Wayne Rooney as he homes in on a half-century of goals in an England Shirt
Wingaah – James Mason tells us that we need to let our heads rule our hearts when it comes to assessing the impact of flying wingers
Disastrous Dortmund – Danny Rust analyses why Jurgen Klopp's Borussia Dortmund have had an horrendous first half of the season in the Bundesliga
The Cowshed At Last – Ryan Ferguson explains how sampling the legendary stand at Tranmere Rovers made him feel like a fully-fledged supporter
"You Only Sing When You're Winning!" – Ally McKenzie claims the obsession with success has ruined how we watch football, and that long-term fans have been priced out of the game
Mum's Tribute To Tragic Rich – Sam Elliott on how a grieving mother honoured her promise to write a book about her son
Far Away Football – Tomos Knox looks at how football battles flourish in the far-flung islands of Saint Helena, Tristan da Cunha, The Ascensions and the Falklands
Please click on the following link for some fantastic odds on football betting.
For a free sample of a previous edition please click here.