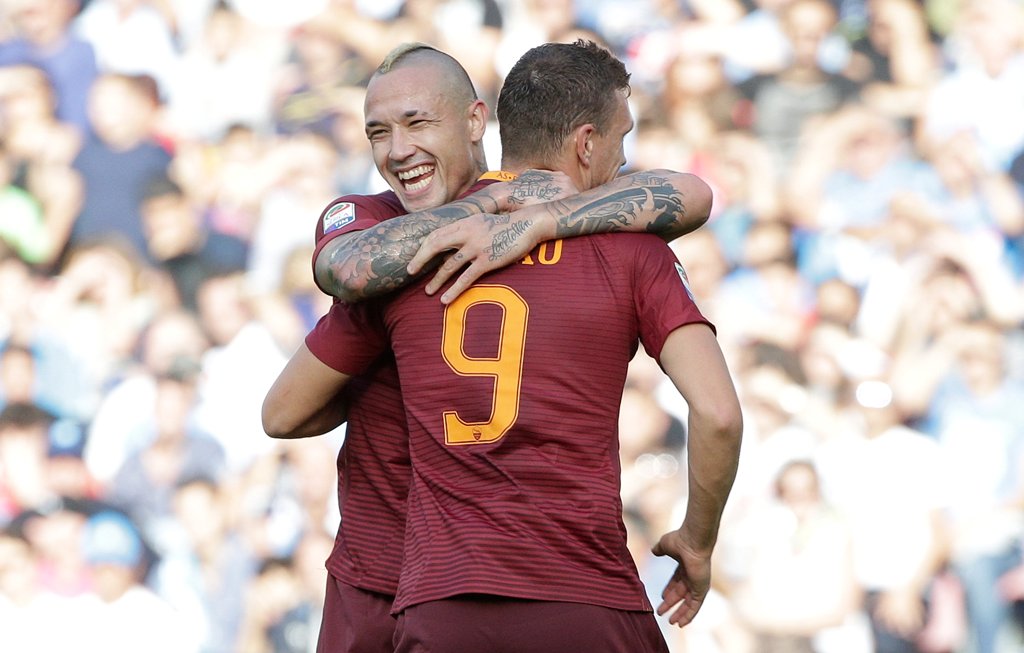 (Picture: Action Images via Reuters)
By Matt Bishop
AS Roma midfielder Radja Nainggolan has heaped praise on teammate Edin Džeko as he continues to break his own goalscoring records.
In his home country, Edin Džeko's talent has never been doubted, but after a tough time with Manchester City, some people seem to have forgotten how good 'The Bosnian Diamond' can be on his day.
However, at Roma, he's now getting back to his best, and has already notched 29 goals this campaign; three more than the Bosnian's previous seasonal best, when he fired Wolfsburg to the Bundesliga title in 2009.
After four years of being nothing more than a bit-part player at the Eithad, Džeko is the main man in Rome, and Nainggolan told Uefa.com: "No-one had any doubts about Džeko. He didn't score last season like he has this season.
"Playing in Italy isn't easy, but we all knew that he was a great striker. He wasn't lucky last season, his preparation wasn't the best, that's what was his biggest problem.
"He's very important for us, he knows how to keep the ball, he's good technically and he moves the ball well.
"He's the complete striker and I'm happy to play with him. Having Džeko in your team makes you play with the knowledge that even a small chance could become a goal.
"We have so many important players in the team and Džeko is certainly one of them."
Much like Džeko, Nainggolan is also enjoying a tremendous season at the Stadio Olimpico, and thanks to two stunning goals against Inter on Sunday, Roma are still keeping pace with Serie A leaders Juventus.
The win at the San Siro was hugely important, and Nainggolan played a huge role, but the Belgian refused to accept all the plaudits and thanked the team and his boss, Luciano Spalleti.
"We're in a great run of form and we must try to continue like this," Nainggolan said after the game. "I'm happy with how I'm playing and how the team are.
"I always thank my teammates, for me the most important thing is that the team win.
"Spalletti? I think we have a great Coach, he knows exactly what he wants from the players.
"He always speaks his mind and I think the team are doing a great job of following everything that he says."
---
Watch Nainggolan's Two San Siro Screamers
A net buster!

Sensational stuff from @OfficialRadja! ???????? #InterRoma https://t.co/QDqhUwESao

— BT Sport Football (@btsportfootball) February 26, 2017
He's done it again! @OfficialRadja scores his second screamer of the game, there's no stopping him! ???? #InterRoma https://t.co/ih3vphHac3

— BT Sport Football (@btsportfootball) February 26, 2017